Mainline
Articles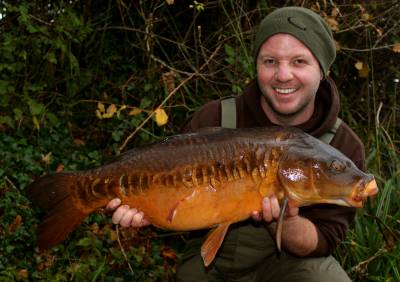 Tutorials
My Angling Highlight Of 2015
Cornish carper, Tony Welch travels to Old Mill in Devon in search of carp and a little mystery...
Carp angling today is a million miles away from what it was when I started fishing. The digital age and social media just two of the reasons it's the beast that it is. Don't get me wrong I'm not com-plaining, I like todays scene as much as I liked the early days of my fishing but there was something about the mystery of it all back then that captivated me and that is certainly something I look for these days. Unfortunately it's a rare occurrence because of the aforementioned reasons everyone knows everthing and the mystery of it all is lost in one hand but knowledge, information and a 'heads up' are well received in the other, ultimately giving the angler the greatest chance of success.

I'm a bailiff for the Southwest Lakes Trust who run many waters across the Southwest covering all types of freshwater angling and because I'm a bailiff I can, on occasion have the opportunity to fish any of the trusts waters. One of the waters however, was grabbing my attention and it couldn't wait any longer!

Much of my angling is single over nighters these days; with a young family two nights is a luxury. Two nights is what I had available to me at the beginning of December 2015, so, with that in mind I was heading for Old Mill near Dartmouth in Devon where I was given permission by the syndicate bailiff to fish a couple of nights. The lake only has a very small syndicate and it would be rare to find another angler on midweek so as you can imagine I was brimming with confidence and excited to say the least! There is hardly anything online about this lake and I only knew of one other angler who had fished it so on the face of it and from what little I knew I thought this was the place that would bring back the old memories and mystery that I so craved. I'd heard there were some truly old looking dark scaly mirrors in there, which topped out at the 30lb mark, but nobody really knows! The lake really was holding its cards close to its chest but this is what angling is all about for me, the mystery of it all and the surprise and elation when that stunning old mirror slips over the net cord and takes you back in time to the old days when you first started, when everything was mysterious and had that certain magic about it!

A day or two prior to the trip I had a quick chat to the bailiff on the phone just to get directions, as there is no postcode at Old Mill. While chatting away he asked if I was using a barrow to transport my kit. Of course I said yes (who doesn't use a barrow these days) and he just chuckled away to himself but wouldn't elaborate any further. Well, when I arrived at the lake I could see why he was laughing! OMG! The hill leading to the lake from where I parked was monstrous! As soon as I saw it I took a large gulp and immediately started thinking of how I was going to thin my kit down. It became worse, when I decided to leave the kit in the van to go and have an initial look around the ground was soft, sticky mud and I knew my slim puncture proof barrow wheel would sink into it and cause me no end of aggro! Yes, I was right, I had a nightmare getting to the top of the hill but with the thought of those lovely old carp I dug in deep (excuse the pun) and did a few trips eventu-ally ending up at the dam wall. As you can see from the photo it's some slope!
Old Mill is a small 4.5 acre reservoir set in the bottom of a valley and surrounded by a pine forest, it's a stunning lake to say the least. When I walked around I could see that no one had fished the lake for some time and I couldn't walk all the way around due to the forest butting right up against the lake at the top end. The lake had captivated my imagination and I was in angling heaven without even so much as setting up a single rod!

The weather conditions were forecast drizzle, low pressure and strong southwesterly winds. The wind was pushing into the Dam end of the lake and this looked a good option. However, because the lake is set virtually at sea level and surrounded by the forest the wind wasn't having much im-pact. I decided to still set up in the dam swim having not seen anything this looked the best option and I know from angling at other Southwest Lakes Trust waters the dam in the winter months is a good area and especially so the dam walls with water towers, and Old Mill has a water tower.

I picked three likely looking areas with the rods well spread out, searching out the lake, I was fish-ing! The water was deep, 24 feet deep in fact but as I keep banging on about it's only a number and doesn't matter, the carp will feed in their environment wherever they want so looking for the shal-lowest areas of the lake isn't always the best bet but I will say the shallower areas do react far more quickly to slight weather changes and cannot be ignored.

I had spread a fair bit of bait for the time of year over the rods. My thinking being that the carp aren't over fished for and would respond well in the weather conditions, especially the air pressure to a bed of bait. I probably spread 3-4 kilos of sweetcorn, Essential IB and Cell boilies over the right hand rod all soaked in the new Mainline Cell and Tutti Liquid Match Additive, MultiStim and Hemp Oil. It smelled and tasted lovely, and put up a superb slick. I spread about 2 kilos of the same bait over the other two rods combined.

Over the bait I fished a semi-stiff hinge rig constructed with Gardner Tackles 12lb Subterfuge Soft Fluorocarbon, 20lb TripWire and a size 6 Covert Chod hook. The hooklink was mounted on a CamFlex Lead-free leader material helicopter style using a Target Line Stop, Gardner Covert Safety Beads, size 12 Kwik-Loc Flexi Ring Swivel and a XL Buffer Bead. I used a Drop Out Chod Safety Clip under the Buffer Bead which I attached a 3oz Flat Pear Bomb. I like the flat pear as it sits nice-ly in silt and aids the hooking potential of the rig. I used Mainline Milky Toffee hookbaits, which had been soaked in Baileys and a standard Pineapple, which had been soaked in the Mainline Pine-apple Syrup, both hookbaits were pumping off attraction!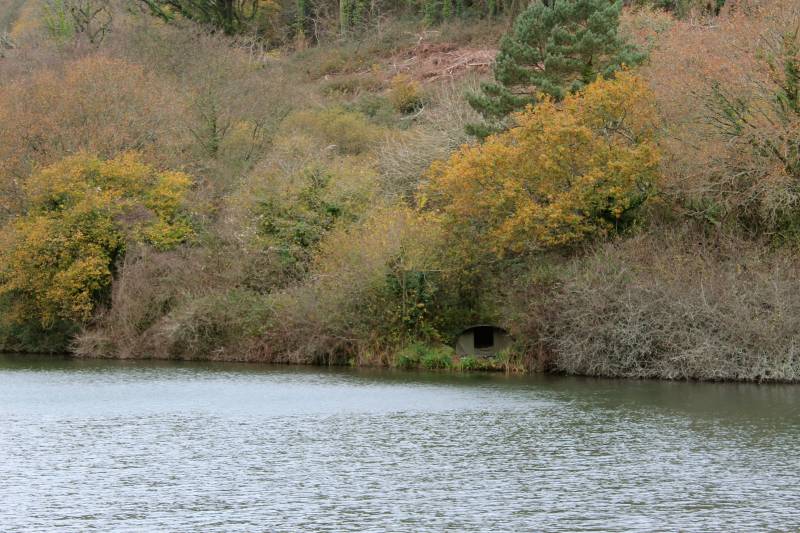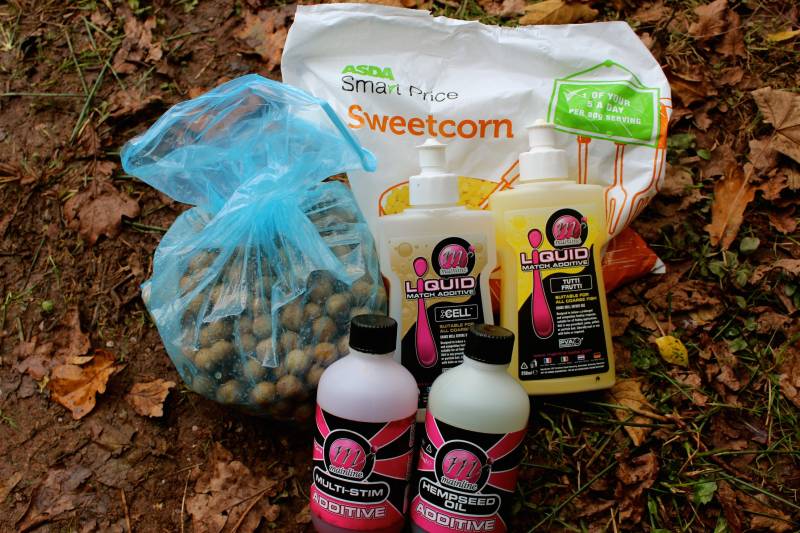 On dark I saw a few fish show mainly in the middle of the lake and not where I had placed my hookbaits but at around 6.30pm I had a take on the right hand rod, which resulted in a mid-double mirror that was a lovely looking carp. I was off the mark and delighted. I pinged the rod back out and sat back in the quiet darkness, brew in hand.

I had nothing for the rest of the night so at first light the rod I had the fish on was in and back out again within a few minutes. I was having to over cast the spot by a good rod length to bring the rig down on a tight line and onto the desired spot. In fact when I pulled the rig in the hookbait had a bloodworm attached to it so my confidence was then even higher! With the rig back in place and the other rods untouched I re baited the spot with a couple of kilos. It didn't take long and at about 9.30am the rod was away again. This time a lovely old scattered mirror was landed and this one was more upper-doubles. It was another beautiful old mirror and I was really enjoying myself. Because the right hand spot was doing the fish I decided to move a second rod to that area, not on the same spot but close to the area. Sometimes putting an extra line into a spot that's producing the goods can be disastrous and I didn't want to take the risk. Of course, sometimes it can prove to be superb with all three rods on one spot and all three working but I didn't want to take that chance on this occa-sion. It's a judgment call for the angler on the day and Old Mill isn't a runs water.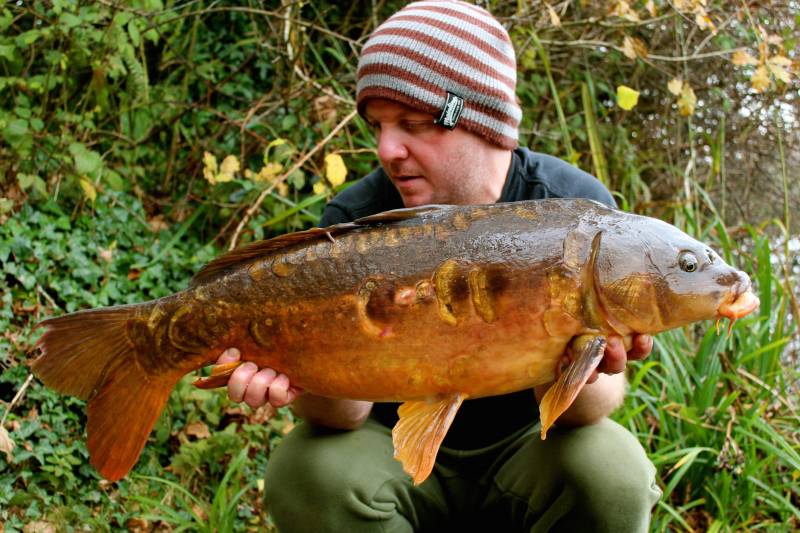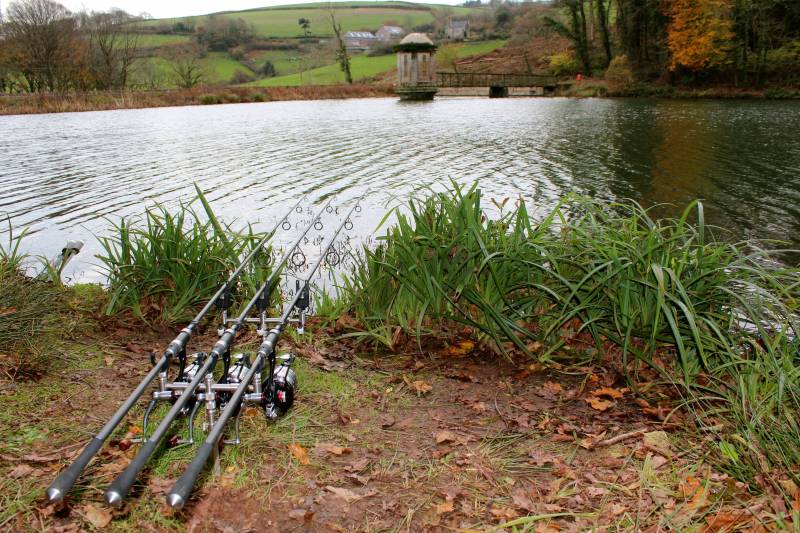 The daylight blended into darkness and I settled in for the second night, confident with the rods per-fectly in place and a big spread of bait over them. It was a quiet night and when I woke up in the morning I couldn't believe I hadn't had a bite! I started to doubt myself thinking I had over done the amount of bait having put in several kilos of sweetcorn and several kilos of boilies over each rod. I then saw two fish show over the spots and again at 9.30am the middle rod was away which turned out to be a stunning 20lb plus heavily scaled mirror, a bit funny in shape but plenty of character! I put the carp in the Gardner Retainer Sling to recover in the margin because it put up such an epic battle in the deep margins. No sooner was that fish in the sling the right hand ATT let out a couple of bleeps and the tip was pulling over on the right hand rod, I was in again and after another superb battle landed another old mirror which went just over 20lb on the scales. This one an orange col-oured linear.

I was delighted with the action and the fish I had caught, it was a truly memorable session and one I won't forget, I will certainly be wetting a line there again. Old Mill is a magical place and I under-stand there will be a few extra tickets available in 2016, I hope not too many because this lake is wonderful the way it is. Pitch black at night, no traffic noise, ultra quiet, no teenage wannabes in my swim asking me how many 40s there are! Old Mill was my angling highlight of 2015 and I can't wait to go back. I even finished up catching a low double with the rods on the ground mo-ments prior to leaving - lovely times indeed.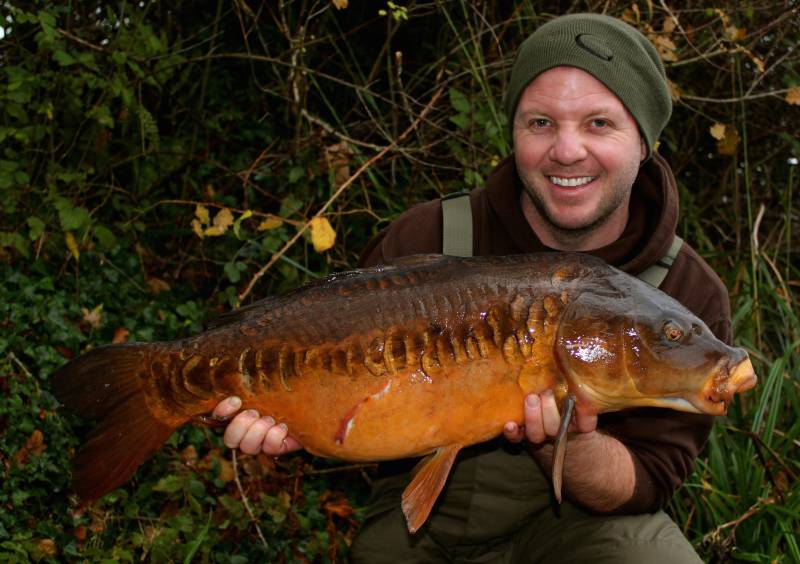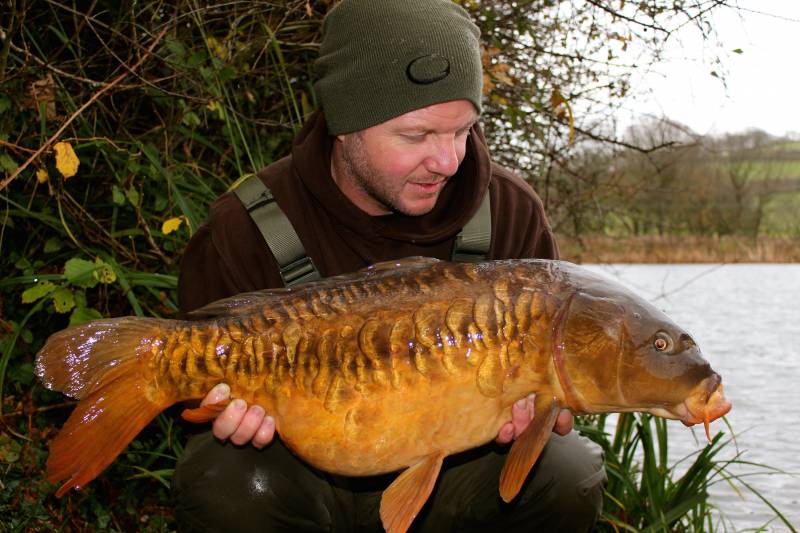 Share this article
0