Mainline
Articles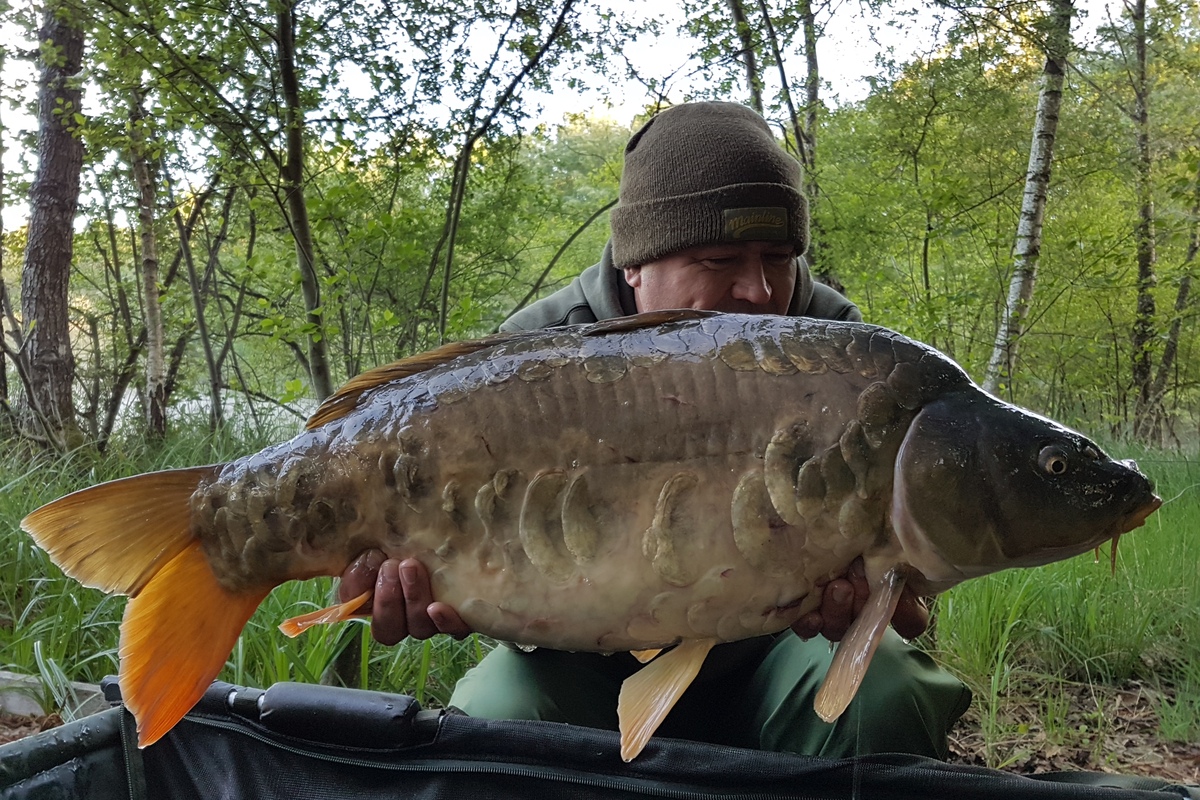 Tutorials
Mick Tuck Blog
Club waters, Syndicate, a trip to France and work night sessions - Mainline carper, Mick Tuck recalls the events of his recent fishing...
Firstly, a much needed trip over to Mainline HQ to collect some bait for a forthcoming trip to France then one of two very short unplanned trips to the Club Lake. The first of these trips I headed into a corner spot where the wind was hacking in, and I really was surprised that it was unoccupied. There's a two-rod rule on this lake and each was baited with a small scattering of Essential Cell boilies and Essential IB pop-ups on the rig. Positioned with a tricky cast close to overhanging tree lined margins.

Fishing locked-up and not waiting too long for my first opportunity, the right hand rod had a drop back and I was soon connected to a fish. After a real hectic marginal scrap it all came good and a nice sized mirror hit the spreader block. Travelling light I had forgotten my camera bag and tripod so asked the chap next door to do the honours with the phone. "Blimey mate you did not hang about" he said. The fish weighed 29lbs 2ozs and one that is known as 'Slate Grey' with quite a distinctive broken, or popped, rib.

After sorting that out and rebating the left hander was away. This time just one beep and the rod tip lurched round. Sitting not two inches away from my rods I was able to lift into it almost instantly. Out into safe open water and then into the net, again a good battle at close quarters. A little smaller this one at 16lbs 8ozs and grinning like a Cheshire Cat, poor old Alec was called upon to do the photo's again. That was it for me I never got the opportunity to return the favour, but Alec did move in after me as I suggested he should, I hope he caught.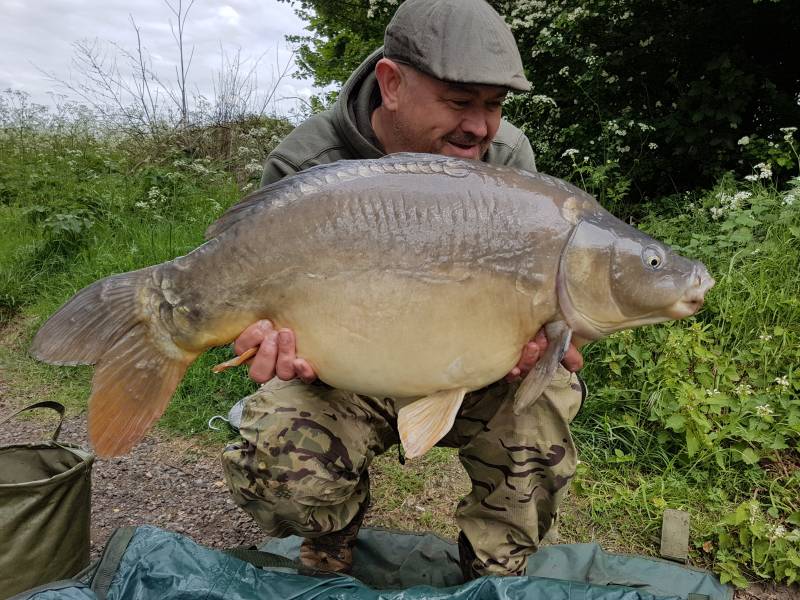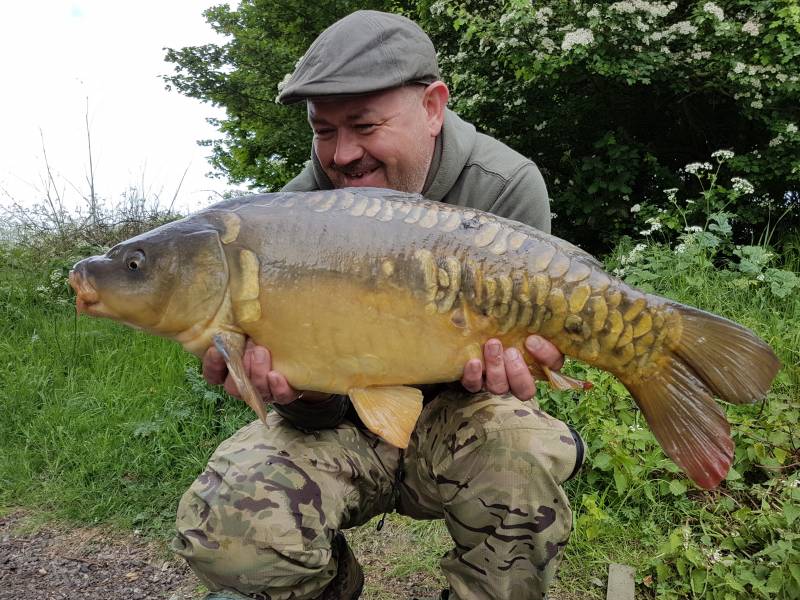 My next chance to grab a few hours fishing saw me head to the same venue after dropping my youngest daughter at Art Club. When I got into the car park a couple were just leaving after fishing the night without any action, "It's slowed right down mate", was the vibe. It was quite busy and I firstly tried for an hour in a swim away from the crowds. Not a sign. No liners, nor movement in the swim of any fish so I upped sticks.

Stopping on my way to chat to a few other members who had a few fish in the night I fancied an area that was already occupied although the chap fishing there had not caught, the same for the other member that had fished the night there too. So, a few swims further around and now at the opposite end of the lake to where I started and a fella I know, Grant was fishing. I just called out come on mate move that barrow now will ya!

It was nice to catch up with Grant who had not been out fishing of late due to work commitments. We had an interesting conversation about the way some folk weigh fish deducting weight of slings afterwards. We, like all of my close friends always zero the sling first so the weight is exact.

Anyways, as we chatted the right hander peeled off and after another great battle where the carp actually swam under the net and finally went in. Thanks for the pictures Grant, nice catching up. I called it a day shorty after that capture.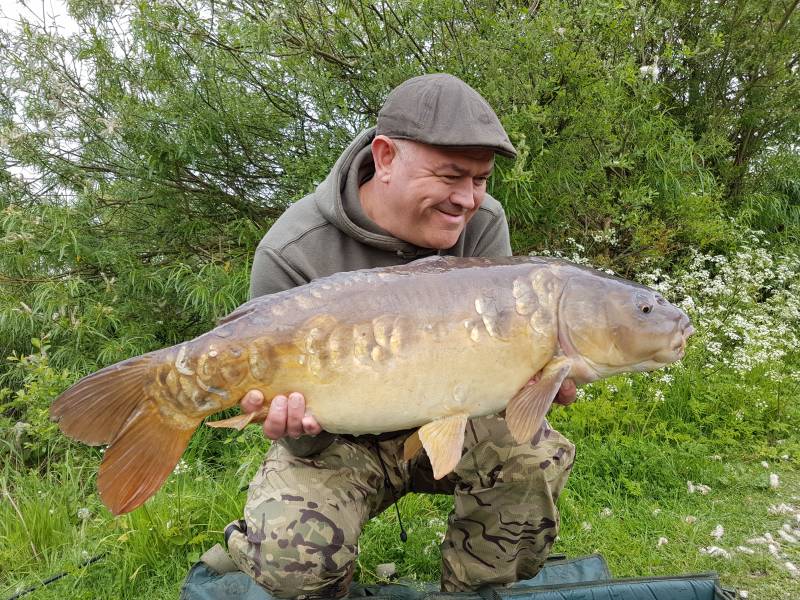 On my next outing, I ventured back to the syndicate. After having a good old look around I found some carp in the snags. I decided to leave this area alone as I had a sneaking suspicion that another area that I settled for would produce one of the A Team. It was after work and I thought to myself this barrow feels a little heavier than normal, strange. Looked down and the tyre was low needig a little air. So, I pressed on and thought I must do that when I get home. As always, rods out first in a swim that I have fished a number of times before. All three went down with a nice donk and a few pouches of Essential Cell went out over each. Sitting there on dark and the call of a juvenile owl and its parent was amazing to hear. Really love the outdoors not only for my fishing. Anyways, I wasn't quite happy with my left hand rod. Something was just not 100% right don't ask me what. So I recast and a little tighter to the tree lined margins - that's better.

Sitting there on the edge of the bed and there was a few showing. Fishing almost locked-up with my rods just an arms reach away. The left hander hooped round and I was into one that felt like it was on steroids. It knew where it wanted to go and I was not letting it. Having to tighten down harder and hold on for dear life. What a battle of at least 15 minutes before bundling it in the net on the third attempt.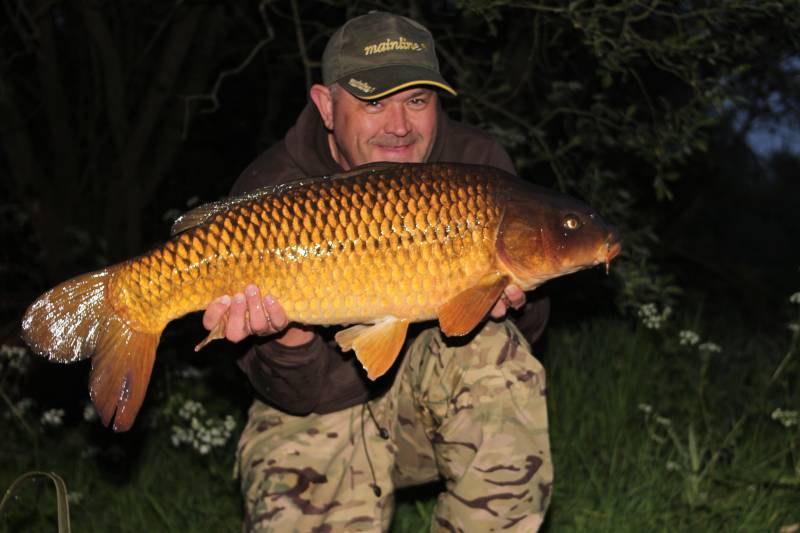 Self takes sorted and this one had a fair old paddle on it, not surprised it battled like it did. Rod back on the spot and sitting there hopeful for another to be honest. There were a few showing, to my right as well. I was considering a move but it was tipping down and having had the bite I stayed put. There were some serious shows during the small hours and one was a kaaabooooosssssh like someone dropping white goods into the lake. The water imploded and the ripples were like waves.

There was no action for me and little did I know Reg, one of the fellow members had caught the big common a few swims to my right at a whopping 51lbs. I so wish I am still carp fishing, and able to fish three nights a week when I am retired and 73 like Reg!

Pushing the barrow back to the car at 6am with a flat tyre had me puffing and blowing like nobody's business however I was happy to have caught.

After getting a new wheel for the barrow, there was no fishing for me as a few of the lakes here have started to spawn. Leave 'em at it I say. But instead a few rigs tied and preparing for a trip to the stunning Etang le Fays. A lake exclusive with nine others. Such a lovely place and Mark and Clare have worked real hard on making it what it is today.

We had arranged for Michael Webb to arrive at mine at 4am. He did, spot on, and shortly followed by Lenny and Jason Chettleburgh. Mike and I had a little too much kit to fit in the Focus Estate so Lenny kindly took it in his van. A smooth and hassle free journey down via Eurotunnel saw us arrive just before 1pm. It only seemed like I was here yesterday driving down the track, like home from home.

Greeted by Mark, Clare and Nathan the Chef we had a few cold beers then a walk of the stunning lake. The draw followed and I could not believe it when it was my turn I pulled out number one! Result! Choosing a swim with open water, snags and a bay to my right for a bit of stalking gave me a few options. The mountain of tackle was unloaded from the vehicles and for those swims farthest away the tackle gets delivered by boat.

The previous week the fish had spawned so a challenging time for our week ahead with temperatures up to 30 degrees plus, hot nights and clear blue skies. But hey, we are on holiday or is it just fishing? That's a debate Mike was having with his other half.

I was first off the mark, always a relief to get that first one under your belt. Nailed on a Multi Rig with an Essential Cell pop-up fished over a few handfuls of freebies. Mike fishing next door has had a few, a 42lb common and a 52lb mirror being the pick of the bunch. A few personal bests were achieved despite difficult conditions. Lenny with his quest for a 50lb common completed with a 53lbs stonker! Kieran (I like a nap) Dorsey with a 53lb 12oz mirror.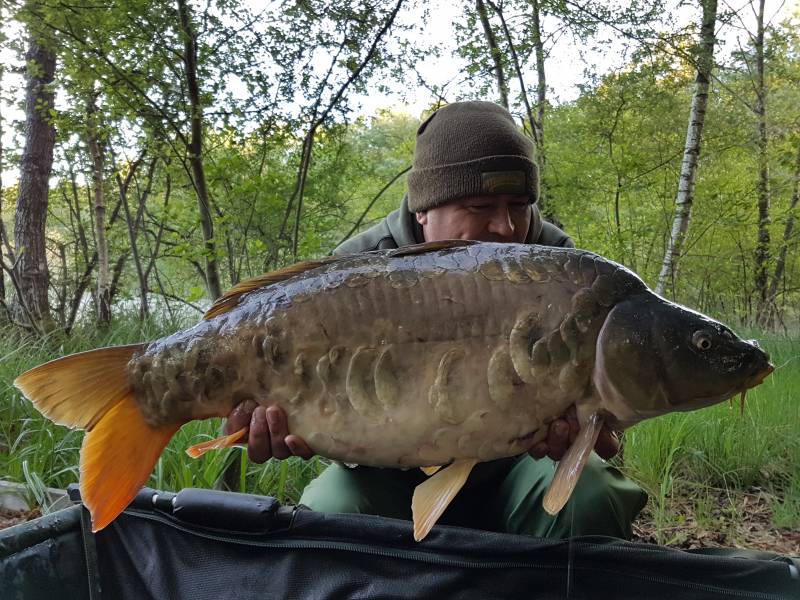 The week flew past, great banter was had and we ended up with just one that was not fortunate enough to catch losing his only bite. We really did have to work for them and finished with twenty-three landed with three of them fifties. Myself, managing four bites but unfortunately one a loss. To give you an example of what I mean by work for them here are the approaches tried by me. Single hookbaits placed on the bottom, Zigs, Multi Rigs with the bait only just suspended from the deck, margins near and far, midwater, a small amount and of freebies and I'd taken 10 Gallon of maggots too! The food here is really amazing the pictures really do not do it justice. That combined with great hosts and stunning surroundings with some kippers to go at makes it a must place to visit.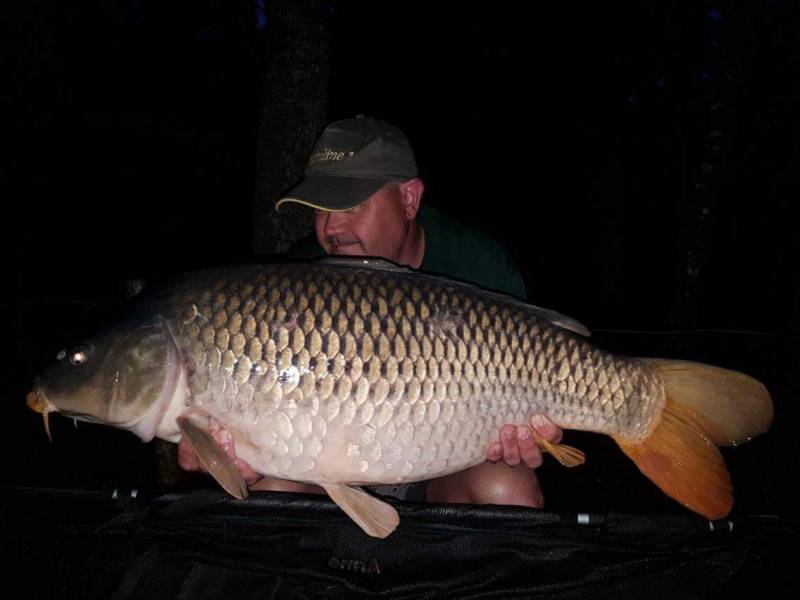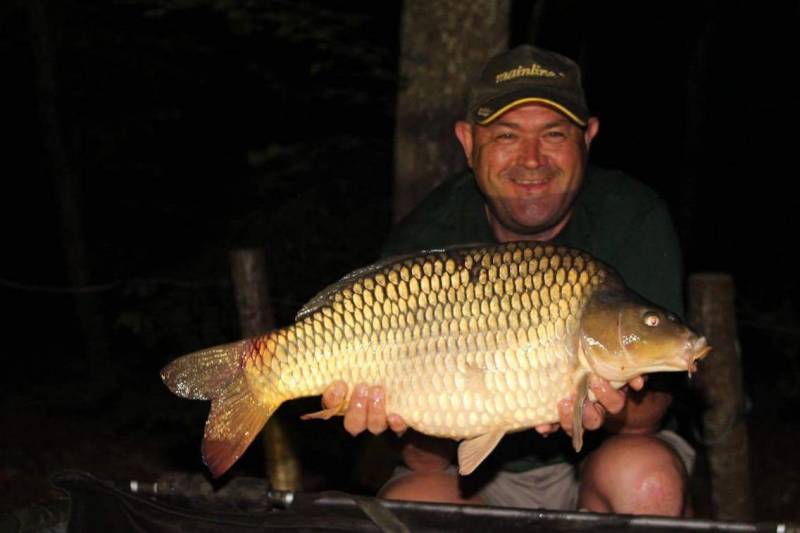 After returning home and sorting out my kit I managed to sneak out and get to the lake after work. Looked around in a few areas and could not see any signs of carp. Finally settling for a swim that looked good for a bite. A quick lead around, without a marker float, there were some nice clear areas amongst the fresh weed coming through. Three rods were positioned and I was happy with a light scattering of bait around them. Two of them had been positioned on the buzzers and I was just pushing the third stick in when the clutch was ticking away with the tip bouncing. Game on!

A proper spirited battle in open water and then up and down the marginal line trying desperately to gain sanctuary in the tree. It boiled up several times at netting distance and was very angry indeed. After a number of powerful runs, it tired and I was thankful it was in the net. This carp really did want my goodies; a really deep hookhold that needed the help of the forceps as I could not reach the hook by hand.

Twenty-four pounds and eight ounces, that'll do for sure. Self takes, slipped it back, fresh bait, spot topped-up so time for dinner. Well, that never happened for a bit. The kit was still on the barrow and one of my other rods was away! Again another great scrap, this one a common and a little smaller but still getting the old adrenaline pumping around.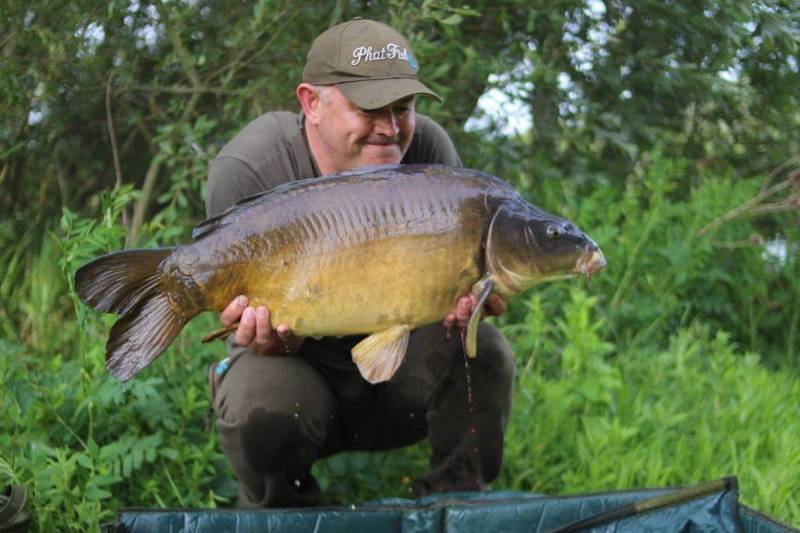 After getting the pics sorted of a lovely 13lb common I was able to get the kit off the barrow and get some food, it was now 20:40. A nice fresh pasta dish cooked in the pan with some pesto did the job and I retired around 22:30. A storm around midnight woke me with thunder and lightning, and I was thinking I could do without another bite in this. At 2am the next bite came but was very short lived. A cut-off after being connected to the fish for no more than 10 seconds, absolutely gutting.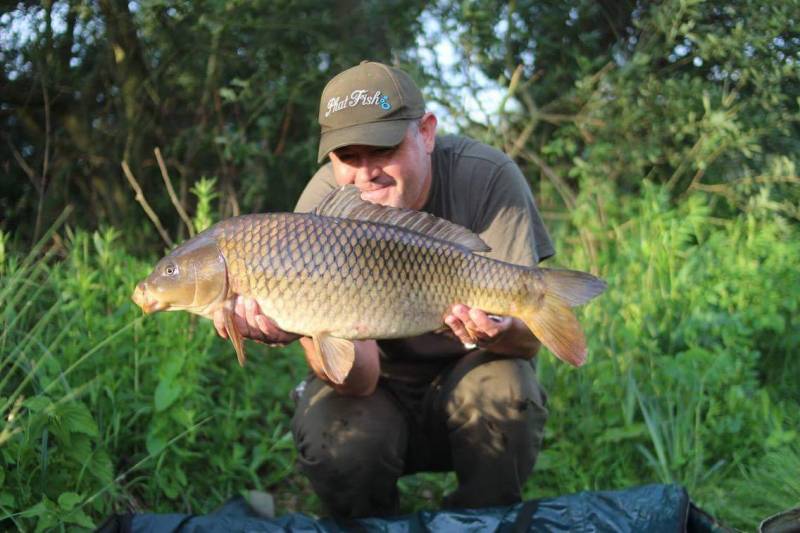 Now picture this. The following day, after having had three bites from a swim that's not often fished. So, I say to my best pal Scot (aka Lenny) get in there. He was a little reluctant but went in there and boy was he glad. In a two and a half hour spell his first was a 24lb 8oz mirror. Then a 41lbs 4oz mirror known as Polyball. Well if that was not enough he went on to have another, the much sought after 'Northern Mirror' weighing 43lbs and 8ozs.

Following on from this I had been sneaking down and baiting, quite heavily for me, in three different areas. Visit one was to ensure that the three spots were accurately marked. It did not take too long as I had roughly marked them already. Once that was complete a good helping of bait was deposited on each. As the bottom was free of weed I was confident presenting a bottom bait. My standard set-up being a multi rig with Jelly-Wire partnered with a size 6 Super Strong Aligner hook. This time switching to a rig consisting of 8 inches of 35lbs Green Jelly-Wire and partnered with a size 6 Jungle Hook. A bottom bait presented with a long Hair and in conjunction with a PB Short Shank Line Aligner.

With the rigs sorted and the clear bottom found the baits were deposited. I must admit they were sent out with a nugget of foam encapsulating the long Hair/hookbait to prevent tangling. Night one was uneventful. Nothing to report other than a 5am alarm to pack up for work.

Second trip and a slow take that weeded me straight away and gave a real solid battle. Through two weed beds, up and down the margins and then three powerful surges in an attempt to get sanctuary. Nope that never happened, in the net it went. Eventually! When I got it on the mat I recognised it as 'The Peach' and one I had previously caught at a weight of 42lbs 14ozs. More recently caught at 37lbs after spawning. Back she slid and that was all the activity, apart from more bait being deposited.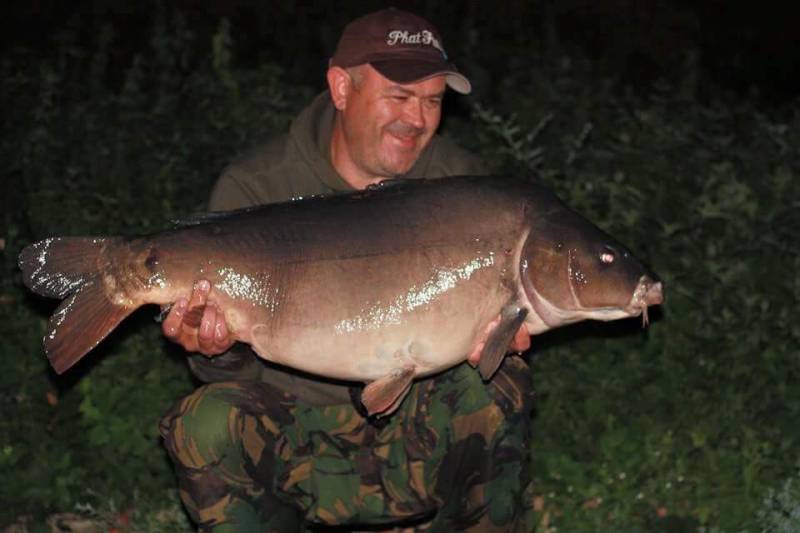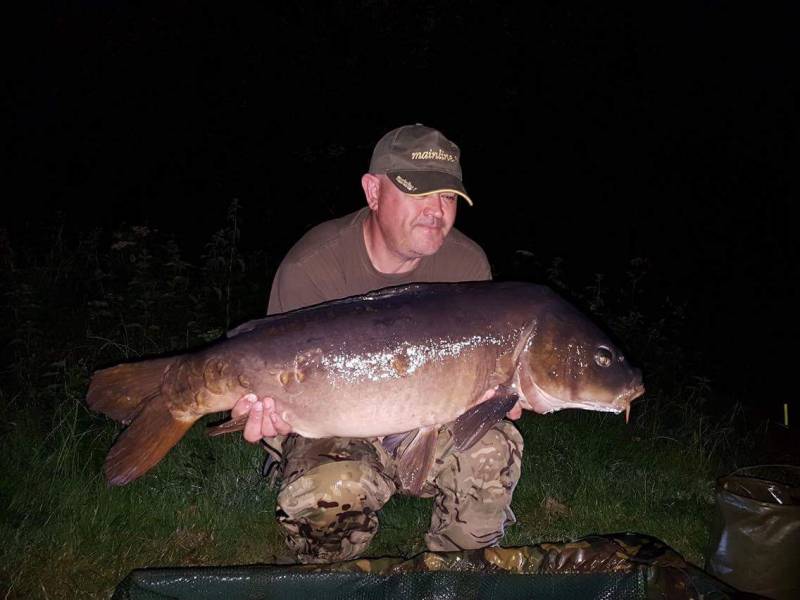 Friday and after work was done I was gagging to get back on the spots. That… well it never happened. So feeling positively confident I settled for directly opposite and as close to where I had been baiting heavily. Three clear spots found, bait out and relax.

Sitting there and watching the water after that and despite all the clattering of bait going in there were fish milling around in the swim. My train of thought regarding baiting strategy was to give them plenty of different sized morsals and by doing so would keep them grubbing around a little longer.

Turned in around 10pm with the alarm set for 5am as I was working Saturday and had to be out the gate 07:30 latest. A few indications from my middle rod at 3am and I was attached to an angry carp. Through the weed again but in the net first attempt and I must admit I punched the air in delight. A carp known as the 'Dog Fish' and thanks to Ron helping with the pictures as I had trouble with my remote.

Rod back out and I decided not to bait as there would still surely be lots of bits in the surrounding weed. Failing miserably to get back to sleep as it was now first light and beeeeep. It trundled off again however this time resulted in a loss. Carp 1 Mick 1. Hey ho, hi ho. Off to work we go, with a big grin though.
Share this article
0