Mainline
Articles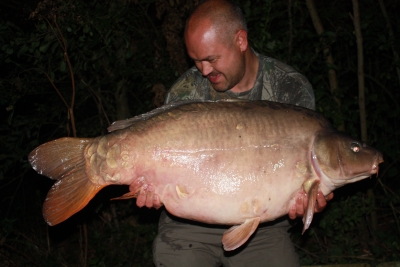 Tutorials
Mainline Baits Developed For Quick Success with Long Term Results
In this article Mainline Consultant, Mick Tuck writes about one of his all-time favourite baits Activ-8 and how it helped him achieve a great result from a trip to Teillatts, France.
Reflecting on the past success of baits from Mainline and one that has been around for some time now, I'm drawn to the ever reliable Activ-8, a bait that is catching just as many fish today as it has done year in, year out, since the day it was released. Whereas my current armoury mainly features New Grange and Cell, I simply cannot ignore the track record of Activ-8 and for that reason it features massively within my angling approach. In fact I would have complete faith in using no other bait than the awesome Activ-8. This bait has carp wanting more and more!

In 2009 I chose this as the main bait to use for a trip to the tricky Cross Channel Carping Venue, Teillatts. Venues like this very popular one do see an awful lot of pressure and bait too. So having complete confidence in bait that carp keep coming back to, again and again, was sure to be the answer. Let me share with you how our trip unfolded.

We had arrived at our destination and were greeted by the Bailiff. The week previous had fished hard, with only 21 fish out and with the hot, sunny weather forecast for our week being a carbon copy of the week before meant it would be no pushover. We had agreed up front to fish in pairs, but as there were 11 of us, obviously someone would have to draw on their own. Glen Maulkerson kindly agreed without a fuss to draw alone.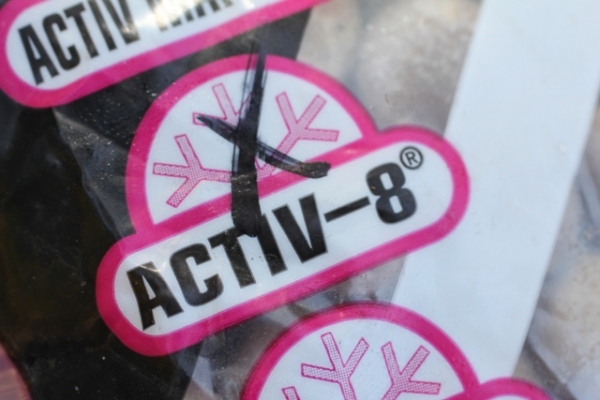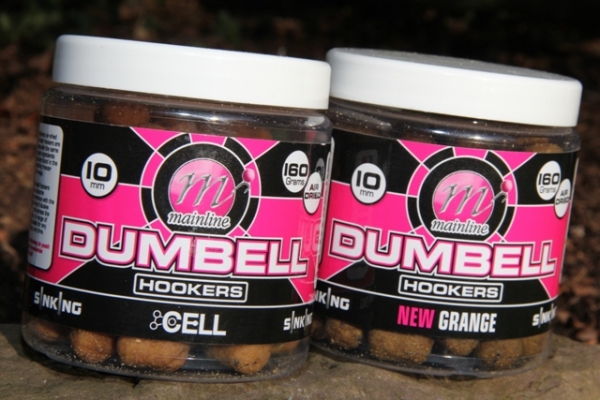 We had little chance to speak to the departing anglers, partly because we were all gagging to get a look around the lake with Bailiff Steve. First impressions were certainly looking right up my street and I had that big silly grin on my face. Steve took us round the 35 acre lake and described the features of each swim but without giving away what had been caught from where the previous week. We started from the Field Bank. Mannys, Field Bank, Middle Field, Rock on the Field, Out of Bounds, The Inlet and then The Fence. Woods Bank next with New Biffo's, Biffo's, Rock in the Woods, Doubles and Shithouse Bay. Last was the River Bank with The Crescent (that was closed due to severe weed at the time), Nice Andy's, Original Bailiffs, Gap in the Trees and Bailiffs Point.

With that done the dreaded draw was next. So the moment of truth and the draw from the hat began. The hat being a bag containing numbered balls indicating the order in which you would choose your swim. These were drawn randomly from the hat that Steve held.

A few had had their hand in before me and well I could not believe my luck when I drew number 1! Result! The look on Matt's and my face were just silly grins, beaming from ear to ear. Matt and I would have first choice and we both liked the look of Biffo's and New Biffo's on the walk around so our first choice was selected. We chose to flip for the choice of these two; I called heads and won so it was New Biffo's for me and Biffo's for Matt.

Steve the bailiff took all the gear to each swim in the van and trailer with the exception of the Field Bank swims where wheelbarrows are provided. When he dropped Matt and me off he gave us the low down of the previous weeks activity in our chosen swims. "Well boys, fair dues to the two guys that stuck it out in these swims last week. They tried and unfortunately they blanked." My immediate response to Steve was: "Well that's a relief, at least it ain't been rinsed!" Steve gave us the low down on the swims boundaries and also told us of the usual features that people fished to.

So with all the gear in the swim it was time to have a quick feel around for some spots to fish to. There was a fair amount of marginal weed to the right of my swim leading around to a small bay between me and the swim fished by Steve. A patchy weed bed at around 100 yards from the 1 o'clock position. This travelled for around 30yards to the right and creeping back to around 70 yards to I guess the 2 o'clock position. Straight out, and to the left was pretty uniform but I managed to find some likely feeling firm spots. So with the four rods out each with around 50 baits over the top, half Activ-8 and half New Grange, it was time to get the shelter up and get the gear sorted. After all the adrenalin rushing through due to the excitement of the arrival and the fantastic scene of Teillatts, the walk around, draw for swims and finally angling, I was starting to flag. So Matt, Mark and I had a few beers whilst watching the water in anticipation and then swiftly retired for a well earned sleep.

The next thing I knew my mobile was ringing and it was Matt, with a fuzzy head, thinking what the hell he's ringing for, I answered and the response was, "I got one massive common in the net!" Alright Matt two shakes. Up in a flash to Matt in the swim to my left where my eyes just could not believe the huge common he had in the net. With all the necessary sorted it was time to get the fish weighed and when looking down at it in the net Matt said "You think it'll do 50?" I have seen a few on the bank and in the bottom of my net so I could safely say, "Matt this is easy a 50!" We had called Steve as we wanted to ensure absolute care for the fish, with one cameraman and two wicket keepers! At this point I want to point out that fish care came absolutely top of our priorities and their welfare being second to none. With everything zeroed-in the lifting crook was raised and the scales went round to a massive 64lbs 12ozs! What a first fish to witness on the bank and to my nephew too! Come on the Activ-8! Hard for words to capture the moment but Matt, Mark and I were absolutely gobsmacked and grinning like cats. Matt being Matt didn't have a fully charged camera so luckily me and Mark did. He'd already borrowed my spare bivvy as his last minute packing jogged his memory to the fact his bivvy was broken, I swear he'd forget his head if it weren't screwed on. So we had a cheeky beer to celebrate Matt's result and retired. No action through the night for us boys fishing either side of Matt.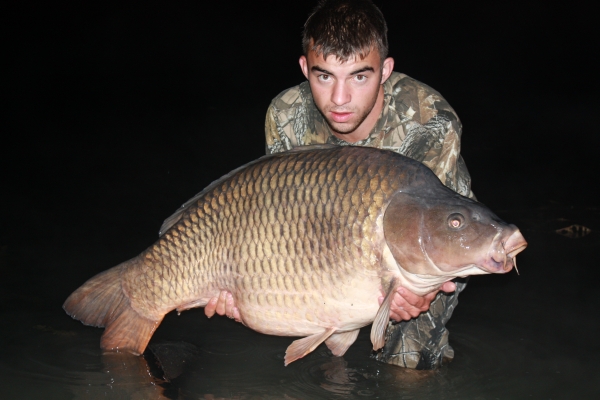 The next morning, I was up at first light watching the water for any sign of bubblers or indeed any sign of a fish in the water in front of me. There seemed to be a distinct lack of any sign of feeding in or around the weed in my water. I sat there and tied a few more rigs in anticipation of some action and started to soak some baits in lake water and salt. I was trying to create a washed out effect as these fish are very pressured. The rig choice for me consisted of a coated hook link, 25lb Atomic Jel-E-Wyre combined with a size 6 Atomic Grabba hook (Lake rules are barbless so these were removed). These were fished on a lead clip system to eject my 3oz Dung leads quickly upon pickup. Due to the amount of weed and the mussels contained in it I was also using a 45lb Kryston Quicksilver leaders of approx 30ft in length.

Sitting there going about my business and keeping my eyes peeled I had noticed a trail of bubblers moving from my left to right and decided to leave it no longer. So one rod swiftly wound in and cast about ten yards to the right of the current bubblers, followed by about 30 baits despatched with the throwing stick.

Sadly this didn't lead to any action for me at all through Sunday, undeterred on the Monday I adopted the same routine, up early and looking out for any signs and true to form another few bubblers were noticed along the same lines as the day before. Again one rod moved and positioned about ten, fifteen yards or so to the right of the bubblers, but without any freebies this time. Ten minutes later it was away and after a strong but uneventful battle, my first Teillatts carp was in the net! A mirror weighing 28lbs that also fell to the Activ-8 and I was well chuffed to be off the mark! This also prompted a decision to change my approach to fishing areas away from the typical target spots in the swim and to fish along the lines where the bubblers had been seen. Although I would continue baiting the typical spots and perhaps switch back to them later in the week.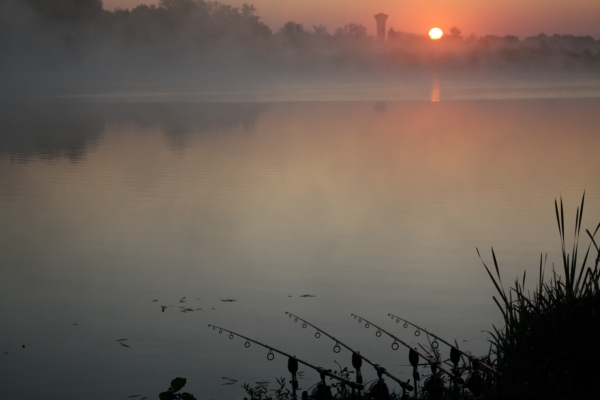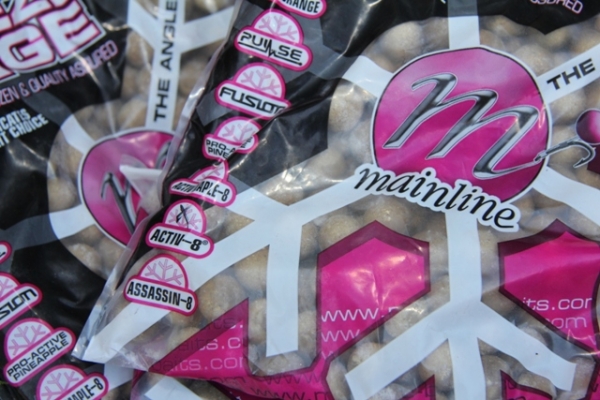 Our breakfast and the evening meal passed really quickly and I was soon sitting back in the swim with Matt and Mark. We were having a beer and discussing all things carpy when suddenly I had a take and after a really good scrap another carp was in the net. It was nearly half past eight and my second blood was a 39lb 8oz Mirror sporting one big paddle. So after getting the rod all sorted and baiting up with about a kilo of Activ-8 we had a cuppa tea and a giggle taking the micky out of Simon. A few hours passed and I was away again this time a 28lb 12oz fish falling to New Grange just after eleven. Time to celebrate; it'd be rude not to have a quick cuppa tea with Matt and Mark before retiring.

Tuesday and Glen over on the field bank had five chances overnight, banking two, a 29lb mirror and a 45lb Linear. In all honesty this was a really quiet day on the fish front for us boys on the woods bank. Mark had yet to catch and we were rattling our minds over what could be done to change this for him, in all honesty the answer was nothing other than a move. The fish just weren't feeding in his water. I lost one due to a hook pull and not a lot else happened. It was this very evening that Glen had hit the 60lb club with a massive 60lb 8oz Mirror, get in Glen!

The pressure of not catching had started to show on those that hadn't had a bite. I sat for a while in the bivvy door tying half a dozen more rigs and topping up the baits in a bucket of lake water and salt. Matt, like me had been consistently looking for an opportunity to place a bait somewhere else, but one of Matt's spots was soon to pay off rather nicely and the next bite was to him. This one just picked up line very steadily, tick tick tick tick, he'd forgot to turn his buzzer on. A good battle followed with what turned out to be another massive Mirror. Matt could certainly pick 'em out and so could the Activ-8, as the scaled went to 58lbs on the dot! Not a bad average weight so far. Glen also had a 50 on Wednesday in the shape of a 52lb Common.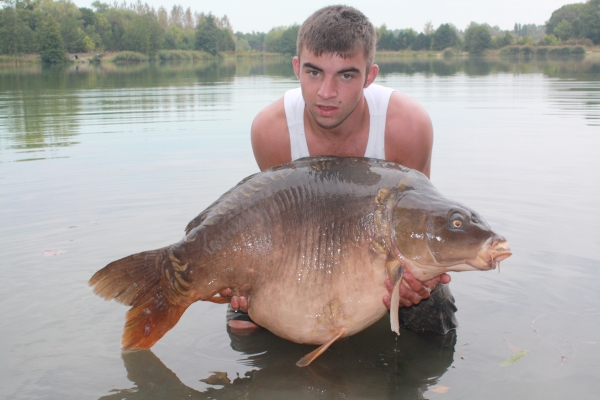 Thursday was like a merry go round! Quite a lot of swim changes to try to get everyone a bite. As usual breakfast was full of "I've had this, I've had that" and it was becoming difficult to say the least for those that were yet to catch. One of the boys even had to get up and walk out leaving their breakfast unfinished as the catch stories were just too much. It felt right to give the weedbed a try now and the typical spots I had stayed away from since earlier on in the week, having trickled in bait on these spots from the off, but fishing short to the bubblers. So I repositioned my hook-baits and baited with around 100 baits over each rod with New Grange and Active 8 that had been soaking in separate buckets. First one off was at lunchtime with the right hand rod tip knocking round to the right and I was on the rod before a single bleep had come from the buzzer, boy did this fish know where it wanted to go! It very quickly was making a beeline for the small bay to my right and no matter how much side pressure I seemed to apply was not giving up. In a flash, I was in the water to gain a better angle on the fish in an attempt to prevent if going into the bay and thick weedbeds that were present. This fish was bionic, the battle was strong and I felt confident but not completely with the barbless hooks. One massive sigh of relief when the fish was over the cord and I was staring a one pretty Common. 44lbs 4ozs of immaculate common carp and I had that silly beaming grin of mine going again thanks to this one taking a liking to New Grange.

Two hours later, I was in again on my inside right rod, this time a deeper plodding fight. Some fifteen minutes later and in the net second attempt was my largest carp so far. A very well proportioned immaculate 55lb 12oz Mirror, Activ-8 again. At this time Scot had a take too and boy was I pleased for him to have a big 48lb 8oz Mirror. They were on the bait now for sure, come on! So with my rod back out, baited up it was time for a beer and a chill to celebrate Scot being of the mark finally. It wasn't long and I had another rod tip tremble and I was out of the chair in a flash. Game on as I leant into another fish that had a liking for these washed out baits. Another good scrap and this one was a 31lb common on the Activ-8. Rods redone an hour later I was away again with the same rod, the area I was fishing was a tight little clear spot right up against the weed. This was another deep and plodding fight and in the net at the second attempt. Lifting the net displayed one very large and round and pale looking mirror. At 47lbs 10ozs this was fish number seven for me on the consistent Activ-8. All quite for a while, well another four hours before I had my next take, this was a different battle altogether with this one giving me a complete run around and did not want to give up, not surprising when I got sight of the long, athletic mirror coming to the net. This one was clearly a silt feeder as it had some really dark characteristics and a jet black mouth. It had a really skinny tail wrist and a big set of plates between the end of the dorsal and covering the wrist. The weight was 39lbs 8ozs with New Grange its downfall. I'd received a text from Mark who'd moved over with Glen to say he'd had a 38 and was off the mark, he was well happy. All these fish were well and truly nailed!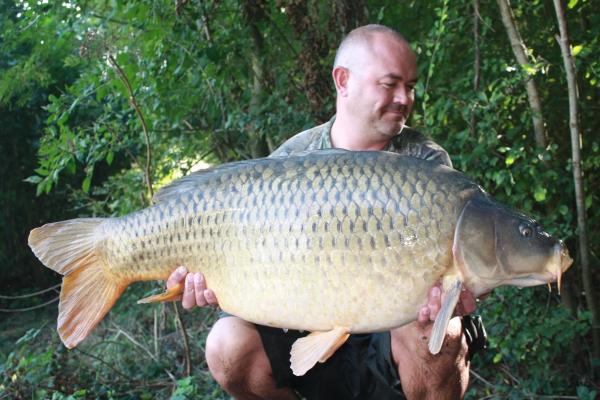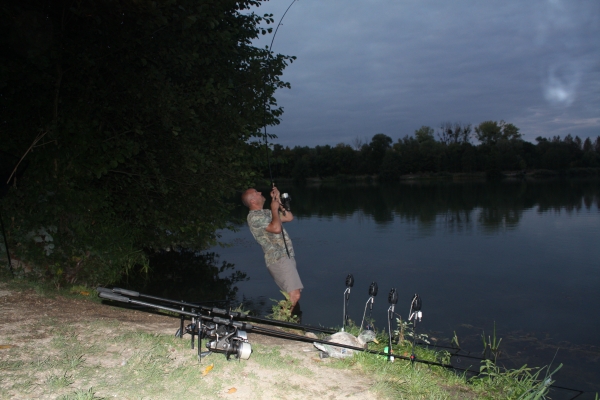 Friday started with an early alarm call for me, half past four and one of my rods had indicated a few bleeps. I was up and connected with the fish, tick tick tick from the clutch as I tried to gain some line on what felt like a heavy fish. I can't recall much more apart from netting this, probably because I was still half asleep. Another Teillatts gem and pristine carp was in the bottom of my net. I secured the mirror in the margins and quickly ran to wake Matt. C'mon boy get up and help out, I got one in the net. Matt did a spot on job as usual with all his help, I really connect with Matt and I needn't worry about a thing when he's at hand. Job done and a weight of 52lbs 9ozs! Activ-8 again! It was early afternoon until my next and what turned out to be my last bite of the week. At around 2pm I had a very pretty 21lb mirror in all its seasonal colours and lots of those starburst scales too.

Saturday and no action for me or Matt overnight and an early morning alarm was set for time to pack away. Soon all the gear was ready for Steve to pick up in the van to take it to the coach pick up point. Boy I hate packing up but was really looking forwards to getting home and seeing the family, I know I wasn't alone with this feeling. This place is truly awesome and boy the carp were still playing ball right up to the end. Matt had nobbled a 41lb mirror from Nice Andy's and Mark had a 56lb mirror when packing up!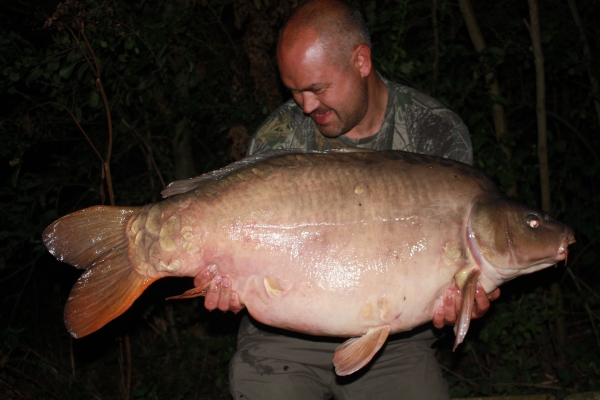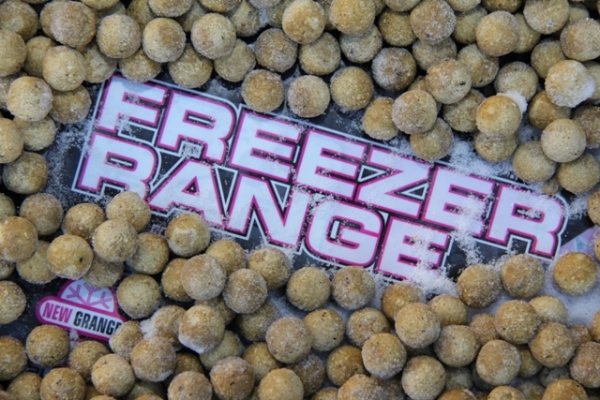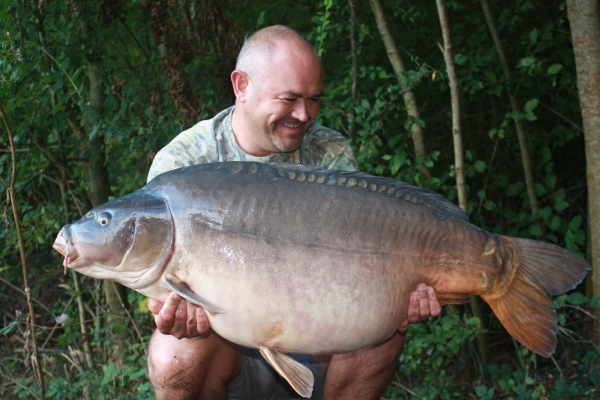 To summarise we had a total of over 75 fish falling to the rods of 13 anglers versus the 21 fish from the previous week. The end result with the awesome Activ-8 and New Grange was 10 fish landed to 55.12 including one bionic common of 44lbs and a hard fighting mirror of 52lbs 9ozs, hardly surprising looking at the wrist of the tail! If it's established bait you are looking for then look no further than Mainline Baits!

Tight Lines, Mick
Share this article
0