Mainline
Articles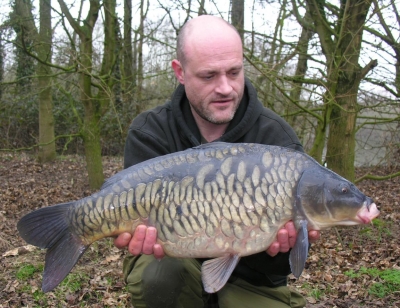 Tutorials
Matt Eaton's Mainline Blog– March 2012
After a late winter freeze, Matt is back on the bank in search of a spring time carp!
Finally the show season has ended and I've been able to concentrate on my fishing. I'd not managed to get to fish Dinton since the freeze so I was keen to get back there. As I arrived at the venue it was obvious that, despite it not being particularly warm, Spring was here and some carp action was, if not likely, certainly possible.

There were a few anglers on but nothing had been caught since January. Despite my best efforts I didn't manage to find any definite carp to set up on. I did spot the disturbance that a showing fish made but it was so subtle that it could easily have been a tench. With nothing else to go on, however, I decided to start in this area.

Two rods were fished on high attract singles, which is, by far, my favourite tactic for catching carp as they exit their winter torpor. The third was fished over 40 or 50 14mm Cell freebies and this was the rod which I found myself playing a fish on at first light. Although small, the fully scaled 14lber was welcome on my first trip back.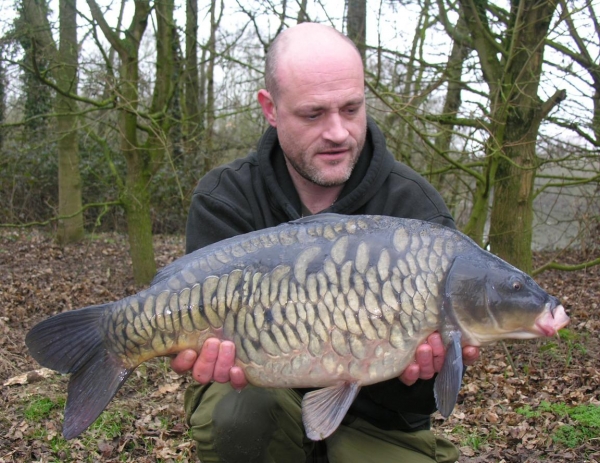 I started seeing a lot fish showing in a swim on the opposite side and was just readying myself for a move when the same rod was away again. The culprit was another stockie, even smaller than the first, but at least it seemed that they were awake and willing to feed. I re-did the other two rods, this time accompanied by a couple of handfuls of Cell and it was one of these that produced one of the older Mirrors, in winter colours, at 24lb 4oz.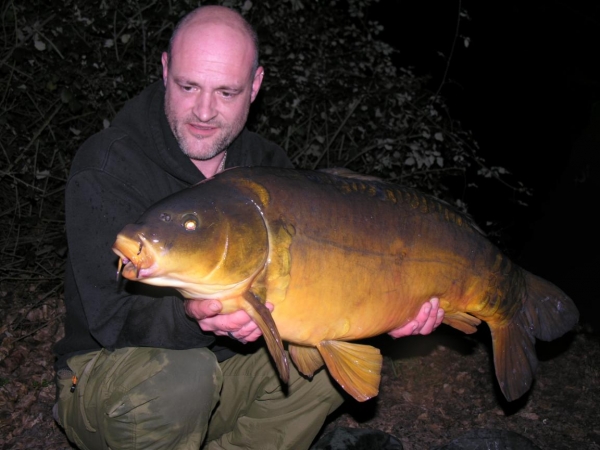 I left on the Thursday instead of the Friday as I was working on the Greys/Chub stand at the Carpin' On Show at Five Lakes. After a busy weekend I was back at the lake Monday. After the previous weeks action I was confident of some more but it wasn't to be. Two more small fish were banked but not to my rods and I left on Thursday with more questions than answers.

I spent Friday and the weekend working on the Atomic stand at The Big One in Farnborough and began my next session on Tuesday. I'd only been there for a few minutes when a fish showed in the that I'd caught the three from two weeks prior so I parked my barrow in there while I had a look at the rest of the lake. I found nothing better so stuck with this swim and saw a couple more whilst setting up.

Over the next 24 hrs I saw a few fish in the area but they didn't look like they were feeding. On the Thursday it looked as if they had moved off as the only ones I saw were a couple of swims to my left. I'd just moved all my kit, bar the rods and landing net, when I had a take and found myself trying to extract a carp from the weed. It wasn't weeded that badly as I could feel the fish but it was still necessary to take to the boat to land it. On getting above the fish I could get it moving but only up to a point where it locked up solid. Thankfully I was just able to reach the end of my leadcore leader and handlined a ball of weed in. It appeared that the fish had gone but a broad back suddenly became visible as the weed parted. My mate Lee bundled the whole lot in and we returned to shore with an old warrior of 39lb 7oz in the bag.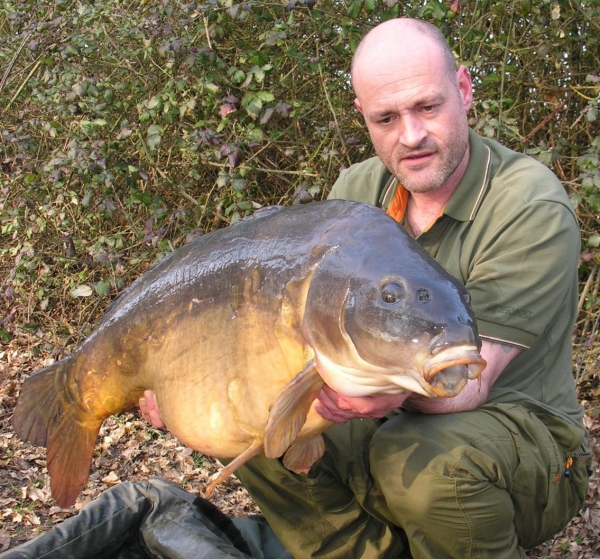 Share this article
0