Mainline
Articles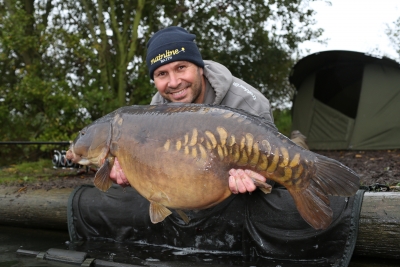 Tutorials
READYMADE SUCCESS!
Top Mainline carper, Dave Levy explains how to utilise the high-attract pulling power of shelf life boilies for more bites this winter!
Like any angler out there I guess I like to try and keep my catch-rate as consistent as possible – after all in the case of a carp angler especially, more often than not its consistency that will result in a biggie or target fish on the mat.

For me, with just one night per week on the bank, the best way to try and achieve regularity within my catch-rate is to quite simply use that night and go fishing once a week, but more importantly every week.

Sounds simple enough, but when it comes to the colder months of winter things can become a little more challenging, although not impossible. You just need to adapt your approach a bit and trust me you can still catch.

Best of all, a chance of catching at a time of year when the banks are less busy, the fish at top weights and in great condition - often displaying superb winter colours and all the motivation you need.
ADAPT YOUR APPROACH
As I've said, to keep the bites coming in winter you need to tweak your approach a little. Nothing major, you still need to keep to a lot of the things that give you confidence, perhaps even more so at this time of year, but a few things need to change to suit the reduced action shown by the fish.

As the water temperature drops so will the feeding appetite and activity of the fish, as they're metabolism slows. It doesn't matter what type of venue you fish the carp will be affected by this instinct to preserve energy in one-way or another.
Feeding spells may remain frequent, but much shorter on well-stocked waters and almost non-existent others with lower numbers of fish. Carp will very often shoal-up and/or move to deeper areas of the lake, giving very little sign of they're whereabouts.

In fact I'm sure you can often set-up in a swim that contains held-up, lethargic carp and your rigs can be very close to those fish, but… if your presentation hasn't got that extra bit of pulling power to induce some investigation you just as well be a hundred miles away!

The all-important element you simply must have in winter is attraction and plenty of it!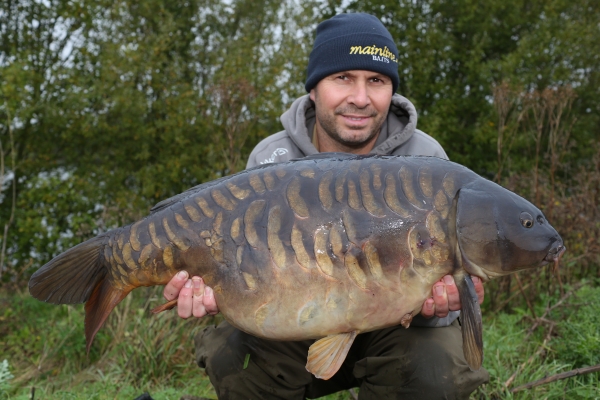 ATTRACTION
There's a couple of ways of attracting carp toward your presentation; one is visually bright baits that can induce curiosity. Baits with a high leakage of flavour are another – able to disperse sweeteners and attractors throughout the water column to induce a feeding response.

One bait that holds all of these characteristics is ready-made shelflife boilies. These boilie baits are renowned for high yet palatable levels of flavour, which in recent times have been combined with top quality; digestible base mixes to create baits like the High Impact range.

So you really have a lot of things going for you, all wrapped-up in one type of bait. Some classic winter winners can be found within the flavours on offer: Tutti, Pineapple & Banana, Fruit-Tella 50/50, as well as modern-day catch makers like Essential IB and Banoffee.

Yes, you'll find a lot of fruity flavours, after all they are some of the best winter attractors, but don't ignore the more savoury baits and fish flavours. Remember they are equally attractive and the fish would have enjoyed eating a lot of these bait and flavour types through the warmer months and could therefore welcome them.

As I've already mentioned, I'm sure we all cast very close to carp sometimes in winter, but the fish are either dormant or reluctant to swim and move too much. Burning more of their energy reserve gained through autumn that what they would regain by feeding.

A pretty hard scenario in which to gain a bite, but a time when the attractors held within these baits and especially the bright colours generally used come to the fore. Imagine someone put a plate of mash in front of you when your already full and not hungry, for the most part you'd push that plate away – but a nice cream cake with fancy icing, well that's a more attractive offer.

Similar principles apply to my shelf-life bait approach – I want something like the cream cake – highly attractive and difficult for the fish to ignore even when eating is the last thing they want to do.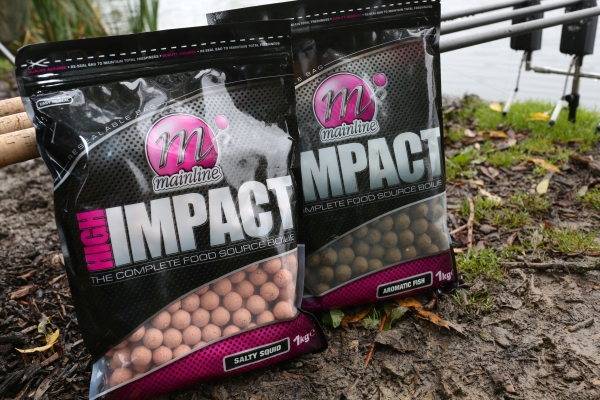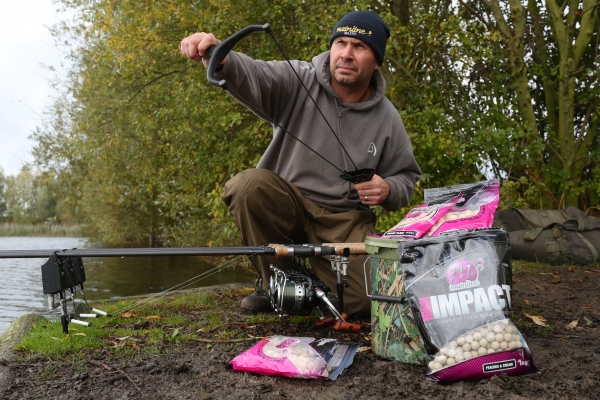 FEED
Its all about attraction when it comes to these shelf-life baits – that's they're strength so that's what I fish to and the whole reason for they're use. Meaning there's no need to go pilling it in.

Remember each and every one of these baits is giving out a massive food signal and it is that signal which is key because we're looking to do two things. Firstly match the low appetite of the carp with a small amount of bait, but also pull fish to the baited spot with this 'minimum feed – maximum attraction' approach.

Ten or twelve boilies spread around the hookbait is cracking way to fish these high-attract boilies – just enough to coach a feeding response and some activity from the carp. In most cases you're not looking for sustained feeding, you're fishing for one bite at a time. Just enough free bait so that the rig attached hookbait is quickly found and taken in a short spell of feeding.

With this small amount of feed you can afford to take your time and be super-accurate with your baiting - catapulting single boilies, one at a time. A handy trait when the days of winter are short and there's not much time before dark when you get the lake.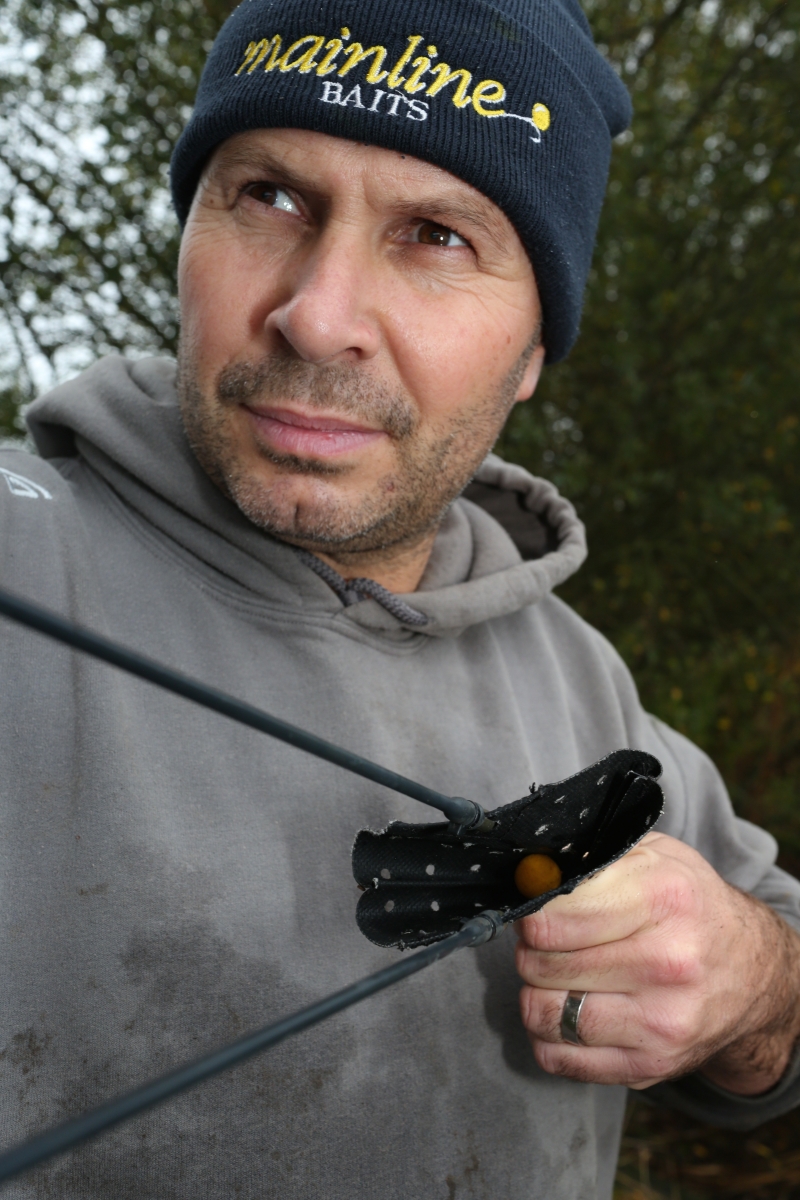 RIGS
"ONE PRESENTATION THAT TYPIFIES THE TERM 'SIMPLE YET EFFECTIVE' IS AN OLD CLASSIC, THE BUTTERFLY RIG"

I'm looking for an uncomplicated approach where I can rely upon the attraction of the bait and focus on putting it in the right place, so rigs are kept relatively simple with just the odd little tweak. If I feel I the hookbait needs some buoyancy I'll add a piece of Fake Food plastic corn to the back of a bottom bait straight out of the bag or perhaps add a small cut of foam.

One presentation that typifies the term 'simple yet effective' is an old classic, 'The Butterfly Rig', which is basically a bottom bait rig where the hookbait is cut in half and the two halves are reversed back-to-back before going on the Hair.

The rig is ideal for shelf-life baits, which are well air-dried and durable enough to be used in half, but because this set-up immediately increases the release of attraction and flavour leakage from the hookbait.

Cut a few more baits in half, tie 'em up in some funnel web PVA nicked onto the hook and you have a nice little, bite enticing mouthful of attraction – perfect!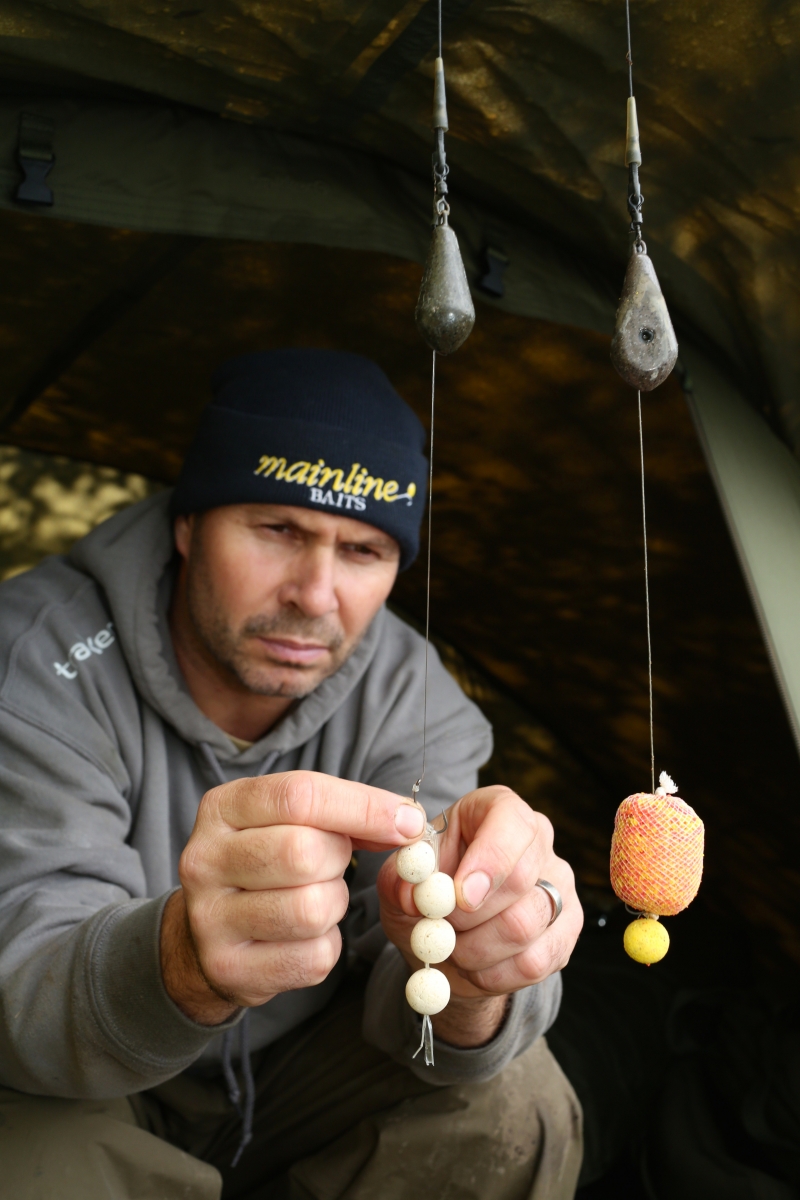 HOW TO TIE THE BUTTERFLY RIG
Here's how to put this simple presentation together...
TIPS AND TACTICS
Casting about is certainly one tactic that I use a lot, especially in winter. In summer I do like to have a 'roaming rod' cast at various ranges, different areas of my swim and toward any carp that decides to stick his head out.

During the winter months I'll often do this with all of my rods, increasing the chances of plopping my baits in and around fish. It's funny how this method very often locates small pods of held-up fish. You'll get one bite, recast to the same spot and receive more action soon after.

The high-attract nature of shelf-life baits is ideal for these sort of roaming tactics, as all you need by way of feed if any, is to hook on a small stringer or PVA bag. Crushed shelf-life boilies in PVA is particularly good.

Because these shelf-life boilies keep in the re-seal bags they come in, I'll keep what's left of one bag for the next session. Without any waste its then worth opening one or two more bags, which I'll make sure are of contrasting colours and flavour to the first.

Not only does this mean I have different options to try on different rods, I can also mix a couple of colours like red and yellow in the crusher to produce a high-attract pellet-like crumb. Tied within PVA mesh and coated with a PVA friendly liquid such as Mainlines Stick Mix Liquids (Banoffee is awesome) and you have a bright, attractive pile of bait right next to the hookbait – perfect for a winter bite.

Trimming the harder outer skin from the hookbait is another good way of increasing attraction and flavour leakage, as are the addition of liquids unaffected by cold water.

With the much longer hours of darkness through winter, I do like the addition of liquids to give the fish some help in homing in on the hookbait when they might not be feeding by sight as much. So glugging-up your hookbait and stringer or coating your bags before casting out is well worth doing.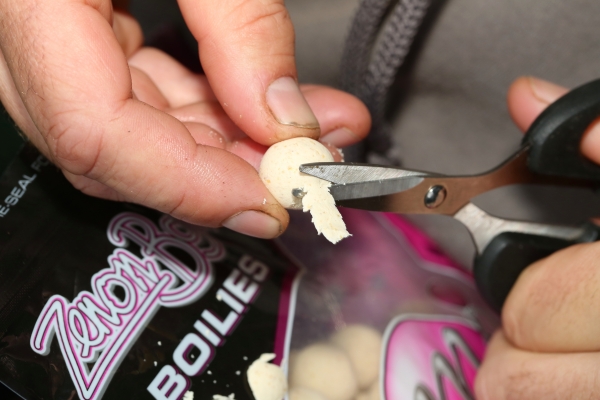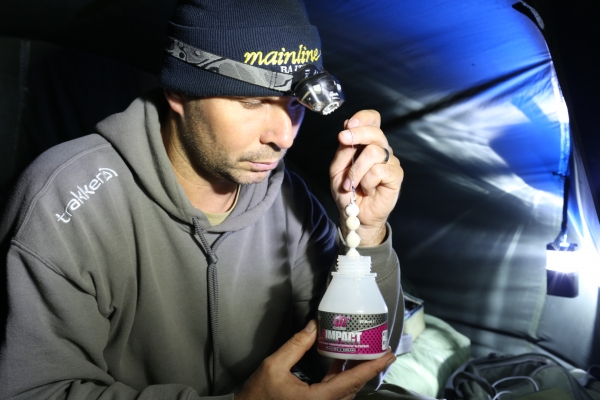 HOW TO MAKE HIGH ATTRACT CRUSHED BOILIE PVA BAGS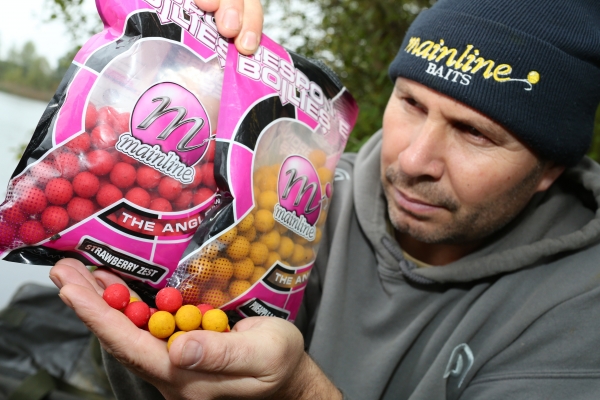 SUMMARY
Okay, I'm not going to lie there's some tough conditions to face in winter. Warm clothing and a good bivvy will take care of the cold and once you're comfortable on the bank, the shelf-life tactics shown here will help with the rest.

Matching the seasonal changes made by the carp and they're reduction in feeding activity with a high-attract presentation created from the minimum of bait.

They really are two of the key things relating to winter success, actually being out there and using suitable methods to suit the situation and attract those special perhaps most rewarding winter bites!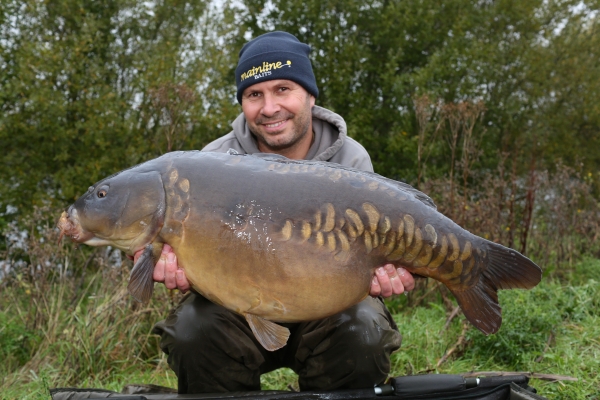 Share this article
0