Mainline
Articles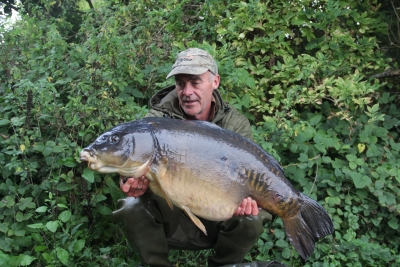 Tutorials
FAQ With Dave Lane
Top Mainline carper, Dave Lane gives his answers and advice to frequently asked questions...
HOW DO I STORE MY FREEZER BAIT AFTER PURCHASE?
I have a separate bait freezer but that is mainly because I use a lot of bait and need more space and I have never found the bags to taint anything else such as food as long as they are sealed. So you can also use a shelf of the household freezer, if you are splitting bags for use then just store them in air tight zip-lock freezer bags.
SHOULD I DEFROST MY BAIT BEFORE FISHING WITH IT?
This is not a necessity as the thaw time in water is very, very, short. Usually though I would pack the baits I intend to take the previous evening and this way they will be thawed ready when I arrive at the lake.
This depends on the amount; if I am defrosting a whole 10kilo bag then I tip them into a landing net, shake out the excess ice crystals and then spread them flat in a box, or on an old towel, and thaw them this way for a few hours. This removes any excess moisture and helps keep the bait from starting to activate on the bank.
SHOULD I LET MY BAIT DEFROST IN THE BAG?
Personally I prefer to take it out of the bag and transfer it to a bait container, such as a boilie bag or air dry bag; removing any ice first.
There are many different methods for air-drying bait. The main criteria is that the baits have enough room around them to dry without being layered, a single layer of bait will always dry better and quicker.

Cardboard boxes are good as they help to draw the moisture. Adding an agent to help drying, such as dry rice can also help and this can be sieved of in a landing net afterwards. I have an old lump of netting (originally a mosquito net for camping) a net curtain on any fine mesh net will work.

I tip the baits into this and spread them out as thinly as possible, laying them in the sun if the weather permits or on the shed floor if not.

After twenty four hours the baits should be showing signs of drying out but forty eight hours will remove all the moisture if you want to keep them away from a freezer for longer periods.

I then treat mine with the corresponding Hookbait Enhancement System dip by putting a kilo in a bucket with a small splash of dip (a little goes a long way) then I replace the lid and shake the bucket until all the baits are evenly coated; this helps to keep the baits fresh and holds back the activation process.
Again, there are different methods dependant on what you are trying to achieve. Air-dried baits can be used as they are, without re-hydrating as the lake will soon hydrate them. Alternatively, when at the lake, you can put them in a bucket with a small amount of water and any extra liquids you require, they will take on the liquid and become a lot heavier, this helps if you are using a catapult as the extra weight will make them fire easier and further.
WHAT LIQUIDS SHOULD I USE TO RE-HYDRATE BOILIES?
Share this article
0