Mainline
Articles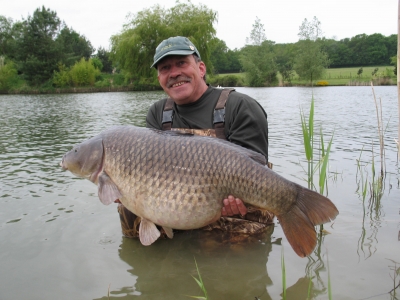 Tutorials
FAQ With Ian 'Chilly' Chillcott
Top Mainline carper, Ian 'Chilly' Chillcott gives his answers and advice to frequently asked question...
HOW DO I STORE MY FREEZER BAIT AFTER PURCHASE?
SHOULD I DEFROST MY BAIT BEFORE FISHING WITH IT?
There is, as far as I know, no hard and fast rule for this question. I have friends who have no problem using still frozen baits, but I do have issues with that. Maybe its just a confidence thing, but I like my baits to be de-frosted before use, I think the active feed triggers will be working as soon as the baits in the water and not waiting until the bait has thawed.
SHOULD I LET MY BAIT DEFROST IN THE BAG?
No, I always find it best to defrost bait in an air-dry bag. Letting them defrost in the plastic bag they came in, ensures there is still a lot of moisture around the bait, and it is this that causes the bait to go off quicker.
First of all take them out of the freezer, and ensure that all the excess ice has been removed. You can do this by putting them in an air dry bag and shake them until all the exterior ice has gone. Next, lay them out on a towel or towels, ensuring that they are not heaped-up on top of each other. This can be left in the sun for the day or days.

During the day turn the baits several times so that all the moisture is taken out of them. Once the boillies are dried out completely, store them in air-dry bags, but only put a couple of kilos in each. If you pack them in too tight the air cannot circulate around them, and it can start to form condensation and consequently moisture will begin to turn the bait off once again.

I am lucky in that my boillies come with a corresponding Response Pellet, and are available in the same flavours as the boillies I use. If you put a few handfuls of those in with the boillies, it means that the pellets will continue to take moisture from the bait without making them stink of normal trout pellets.

Many say store them in a cardboard box, but in my experience this just makes the bait smell of cardboard, not what the doctor ordered at all! They can be rehydrated when you get there with a little bit of hookbait dip if you think the drying process has taken something away from your bait, but to be honest, I have never really found the need.
An air-dry bag is a mesh container that you put your frozen baits in to defrost them. They are also, as the name suggests, the bags that you use to air-dry your baits for longer periods out of the freezer. They come in different sizes so make sure you get one, or as many as you need, that will hold the volume of bait you want to defrost or dry out.
WHAT LIQUIDS SHOULD I USE TO RE-HYDRATE BOILIES?
As I've already mentioned above, for me the Activator liquid or Hookbait Enhancement System dip that matches the freezer bait flavour (Hybrid Freezer Bait plus Hybrid Activator) are the best liquids to use where rehydration is concerned.
Share this article
0