Mainline
Articles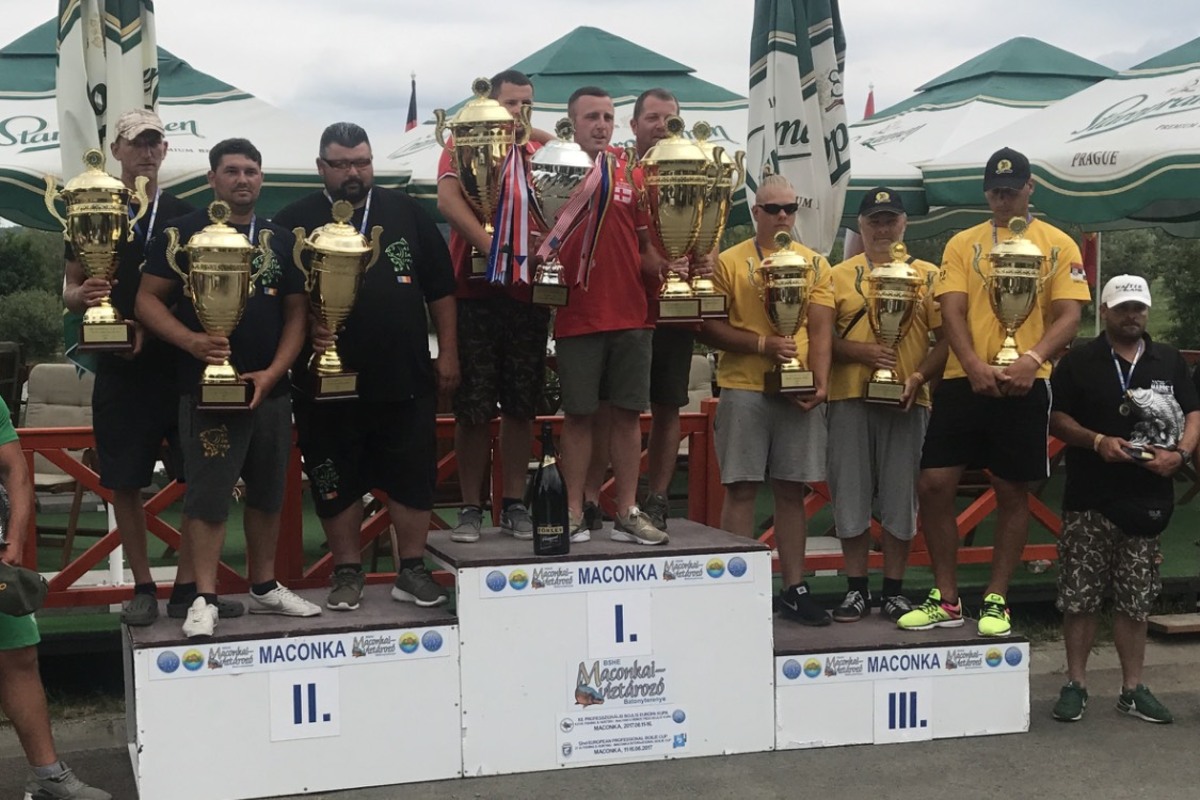 Tutorials
European Professional Boilie Cup Champions!
Mainline's Billy Flowers recalls an historic back-to-back European Professional Boilie Cup win!
Last year myself, Tom Maker and Mark Bartlett travelled to Hungary to compete in a 115-hour endurance match (five days and five nights fishing) The match is the European Professional Boilie Cup, this was our first-time fishing in Hungary and our first time seeing the venue. We fished very well as a team as always and we led the match from the very start until the end finishing up on a total weight of 1067kg. We were only the fifth team to ever catch over a tonne in weight of carp during a match on the famous lake Maconka.

The lake is a stunning lake that enables every team to have plenty of water to fish from your peg number, the swim is marked out with yellow tape on the floor this indicates how big the swim is and gives you your boundary lines. In the water are also two marker poles that follow the same line as the tape from the swim with the left one being a red pole and the right hand one being green and these are placed at 100 meters and light up during the dark so they can be easily identified. This is perfect as there is no reason that any team should cast into another team's water (a very clever idea for a match).

How the draw works for this match is in a way of 'out the hat draw' but the difference is you get a second chance to go again, because you pull a swim number out of the pot and then you get one minute between the three of you in your team to either keep it or throw it back in the pot and choose another. If you do opt to choose another swim then your second one you have to keep so it is a gamble. Last year we pulled out swim C1 and not knowing the lake at all we went with our gut instinct and chose that swim to keep, as it looked a decent area, and we ended up winning the overall event by over 200 kilos from this area so was it luck or just good angling?

Well the only way to tell would be to re-enter again next year and have another go.
With this mind, I re-entered us the same name as last year 'Duster Champs' into this year's competition to have another go at the intense match against another 31 teams from all around the world. There was a change in team this year as Mark Bartlett was replaced with my match fishing partner Jamie Londors as Mark couldn't make it due to family commitments, this meant this year's team was myself, Tom and Jamie. Me and Tom had pre-warned Jamie about the match and that it's hard work and effort for a full five days, but Jamie being Jamie the more we were telling him about it the more he was getting excited to get there and fish the event!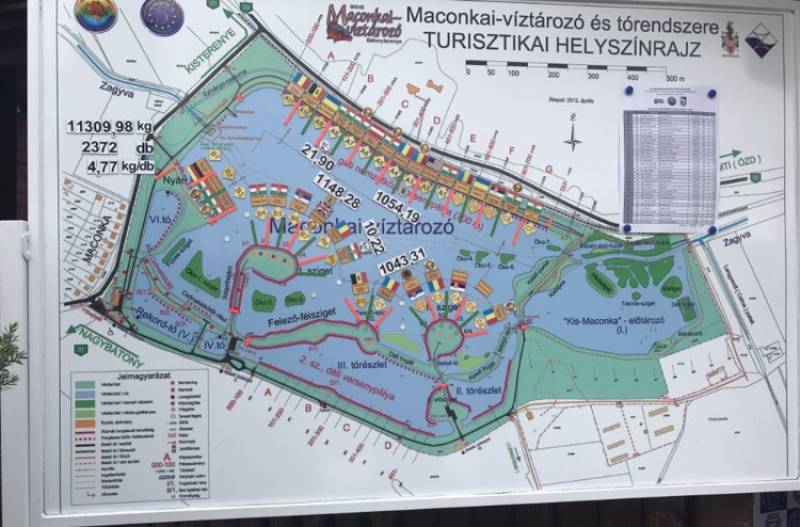 As we had fished it last year we had a good idea on how much bait we would need we organised all the bait from all sponsors, who I must say a very big thankyou to because without these bits it would make it a lot more cost effective for us to enter this prestigious event. All the bait was packed in England and evenly disrupted into 30 kilo boxes and sent out to Hungary.
Knowing that the boxes of bait arrived safely it was now a case of getting our cases packed with our terminal tackle and reels, all our rods were loaded into the rod tube and we were soon on our way to Hungary very excited.

After a short one hour drive from Budapest it was Jamie's first sighting of the lake, and he was very impressed on how clean and well-kept it was and straight away he said this is going to be a good match just from looking at the lake, myself and Tom were buzzing as well just looking at the lake brought back very good memories for us. That afternoon we prepared some bait and tackle in our hotel room so that we were ready to fish from the off. The evening before we had a nice sit down dinner and a bit of a social and catch up with a good few teams that we have made friends with over the years that have all travelled from different countries to fish the event. Not wanting to be too tired for the start of the match we got our heads down early to try and get a good night's sleep before the potential carnage starts the following day!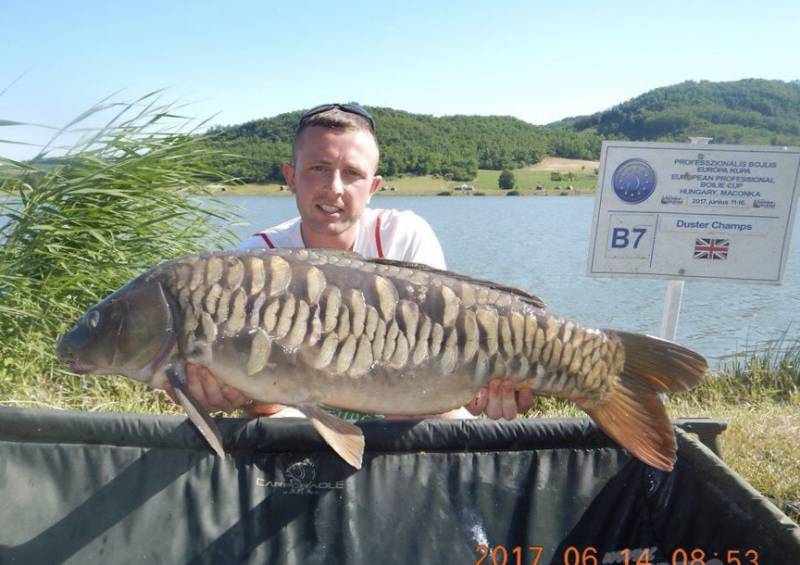 The morning of the match we were all up bright and early buzzing to get to the lake, we had another walk around the lake and between the three of us discussed a few areas that we really fancied, with other areas that we thought were okay and there were three or four swims that we didn't like at all. Knowing this meant this would affect how our draw for swims planned out. Because how the draw works is that you get to pull a swim out of the hat, and then you have one minute between you to either keep it or put back, but if you put the first pick back then your second pick is final and you have to stick to that swim so it's a gamble but it can pay into people's hands sometimes. Knowing this we decided that we would take the risk and if it was a swim that we weren't too keen on then we would throw it back and go for the second swim (risky stuff). We were due to draw 10th out of 32 teams, we decided that Tom would pull the first peg and if needed I would pull the final peg. Tom went up and pulled swim C3 and after a lot of thinking even though it wasn't the worst area of the lake we took the gamble and put it back, for me to then pull out swim B7. Before the match, we fancied a middle peg of B section so we were happy with our choice until after the draw 80% of anglers came running up to us in complete shock asking why we put back C3 as apparently, it's known to be one of the favourite swims on Lake Mackona and it's had a lot of podium positions in the past! This wasn't what we wanted to hear, but we had done it now and it was our decision as a team to put it back so we would just have to crack on with what we had now and that was B7.

Considering we led from the start last year, the match seemed to start off fairly slow for us because after the first scoresheet which was the 13th hour we had only landed two fish for a total weight 18 kilos and were sitting in 14th place. Whereas the leader at this point B3 had got off to a flyer and was on 18 fish for a total weight of 146.13kg and the swim we had put back C3 was on 81kilo. But it was still early stages and anything could happen so we didn't let it get to us and we carried on fishing the same methods and tactics as last year and we began to chip away at a few more fish and before we knew the second scoresheet came around in the 25th hour and we had now gone from 14th into 2nd place with 19 fish for a total weight of 168 kilos! It was very close between five of us for second place until sixth, as first place was making a very good lead as they were now on 284 kilos. We knew we would have to have a good night and some very good days to begin to gain on them. But the night was completely unsuccessful for us and we didn't catch anything at all whilst others around us did, and by the 37th hour we had dropped from 2nd to 8th position. We sat and looked at the scores and we knew that if we wanted to podium then we need to change our tactics at night and hopefully have some good spells during the day, and that's exactly what we did as that day we managed to land 32 carp in a day and go from 8th place right up to 1st with 51 carp for a total weight of 414.57 by the 49th hour. This now meant that the famous blue and white checkered flag was now moved from the previous leaders into our swim, as this indicates what team is winning at the time. There is also a flag for the biggest fish landed during the match as well and at that time it was 20.900 kg. Happy days even though we were now sitting at the top of the table there was only 50 kilos separating the top four places so now it was time for us to dig deep and try and keep the lead.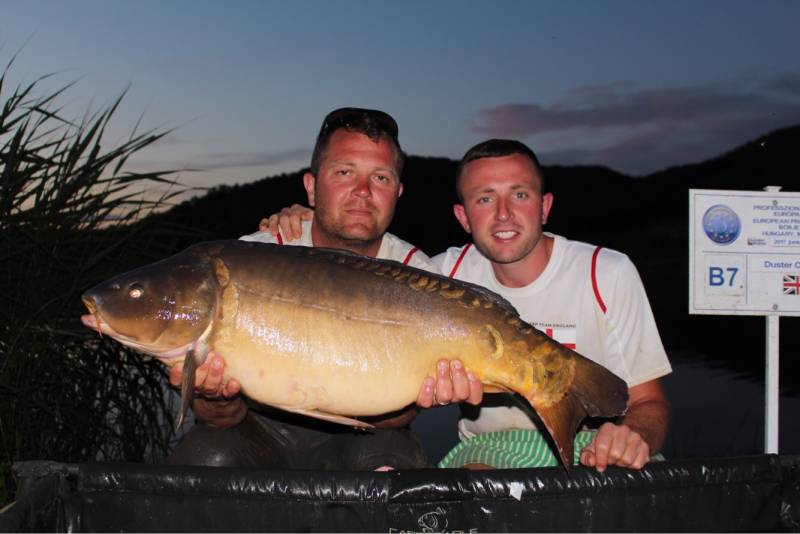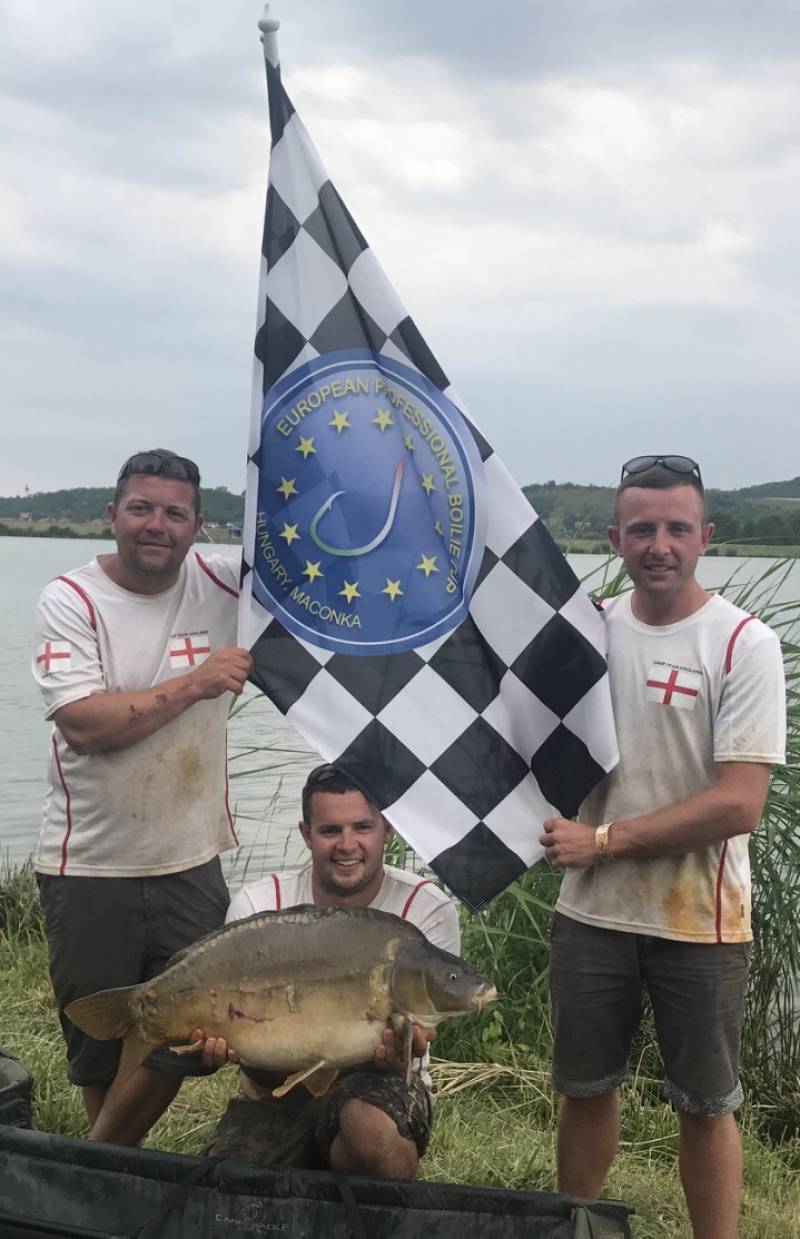 The next scoresheet was the 61st hour so just over half way through the match and we were still in 1st place by 30 kilos. Then the scoresheet after that was the 85th hour and we had now caught over 100 fish for a total weight of 909.93kg with a 109-kilo lead which was a nice buffer but there was still lots of time left and anything can happen but we were looking good for over a tonne of carp again!

That's exactly what we achieved by the 97th hour scoresheet we were now on 1070,32 kg, and to top it off the fish that took us over the magical 1 tonne mark happened to be the biggest carp that we had caught so far at a massive 21,700 kg (47lb) and after getting the fish officially weighed and photographed we were now looking at both flags in our swim the leaders flag and the biggest fish flag! Even though we entered the match for a podium finish, a biggest fish trophy wouldn't have gone a miss for the trophy cabinet but for us unfortunately we only had the biggest fish flag for a day as a team went and landed a 21,900 (beating us by only 200 grams!) Oh well as long as we kept our lead and stayed in 1st place we would be buzzing because by now you could see that lots of people were starting to feel it, looking tired and worn out!

We stuck at it and chipped away with a few more fish and by the last scoresheet at 109th hour before the final results we were on 123 fish for 1088,32kg but we knew that there were two other teams getting close to us so we were hoping to keep the lead for the last 6 hours!
The last 6 hours we managed to land another seven fish so in our heads we thought that this should have been enough to stay at the top, but nobody knew the final results until we had all packed up and gone to the presentation, a little bit nerve raking for us until the final results were put up on the board and we could clearly see our team name 'Duster Champs' at the very top as we had managed to land a total of 130 carp for a total weight of 1148,28kg of fish! This meant that me and Tom had now entered this match twice and managed to be back to back champions and Jamie had entered for his first time and we were all taking home a massive trophy each for a cabinet and another huge bottle of Champagne!

Even though by this point all three of us just wanted to have some food, relax and catch up on our sleep we were all absolutely buzzing specially to win it from B7 which was a different area to where we fished the previous year and it seems it was the right decision to put back C3. We are already looking forward to next year's event in June, where we will give it our best shot at potentially doing the treble!

Finally, I would like to say on behalf of 'Duster Champs' a massive thank you to all of our sponsors for providing our bait and tackle for this event. Another thank you to Peter and Radu who organised our transportation and accommodation before and after the match, without your help we wouldn't have been able to take part.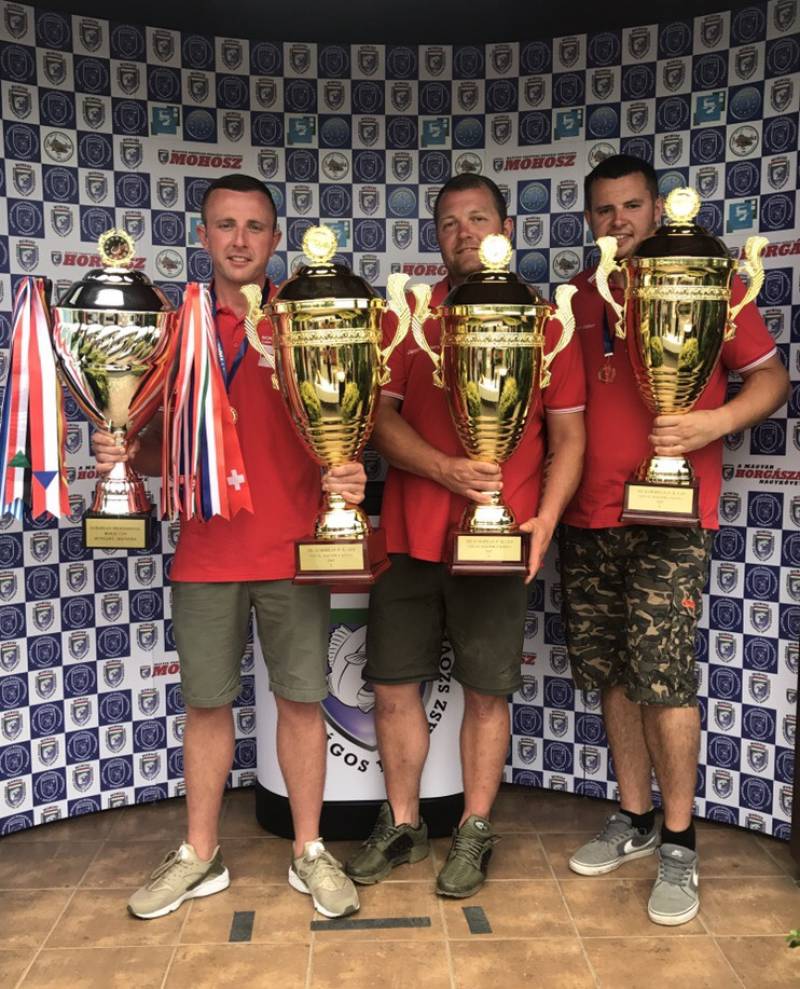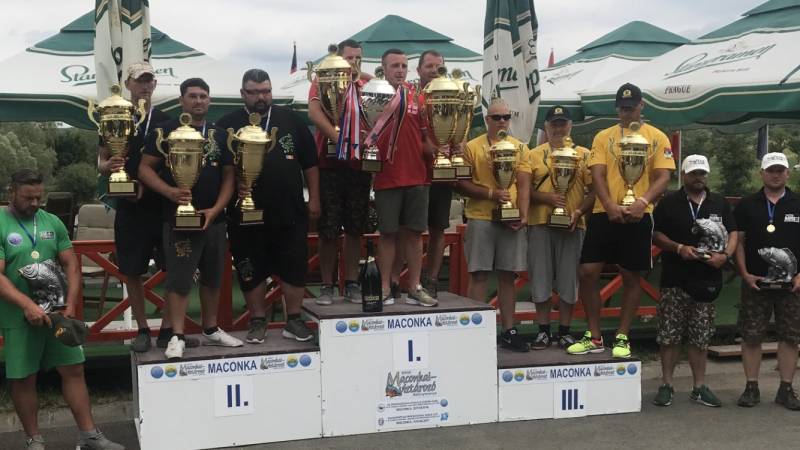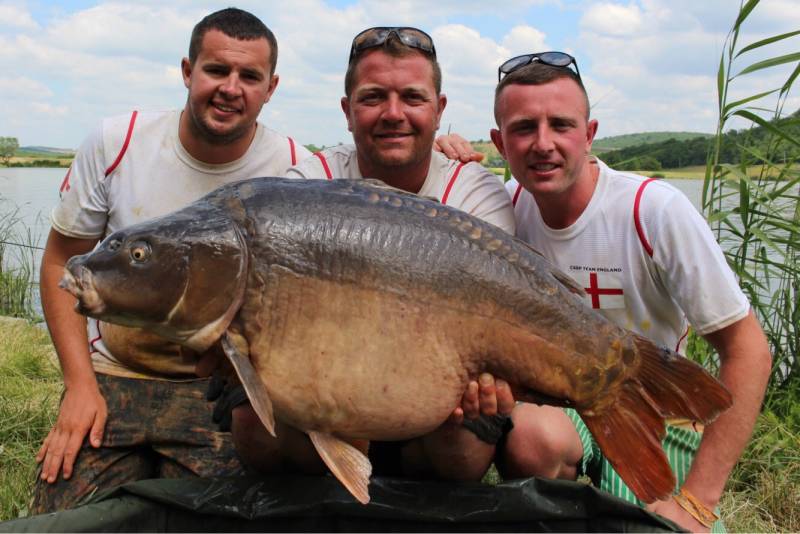 Share this article
0