Mainline
Articles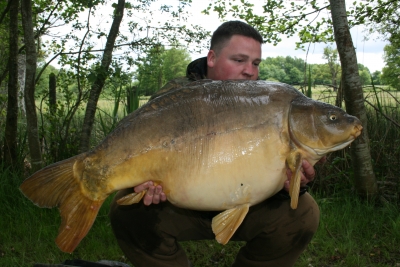 Tutorials
A Trip To Cherpont - A Week To Remember!
Young Mainline carper, Rob Greening recalls an 'arm aching' trip to Cherpont Lake in France...
Sitting on the minibus it all seemed very surreal… A year ago we booked our annual holiday that made time feel like it was going very slowly as we counted down the days, and all of a sudden I was sat down on a coach ready for a 15 hour journey knowing that the week ahead was going to fly by and I would have to wait another year to do it all again. By now I'm sure you have probably guessed it and have felt the same at some point - it was time for our annual lads French trip abroad upon which we have a week of good weather (hopefully), nice food, cold beer, warm banter and hopefully some big French lumps to boot!

This year, I was off to Cherpont Lake, in Saint-Feyre near Limoges. I'm not normally one for going back to the same venue twice (especially two years on the bounce) but after such a great trip last year, I made no hesitation in agreeing with the others that we were going to go back again (some of whom, have been to Cherpont nine times!).

Cherpont is set in 65 acres in the rolling hills of the Limousin region in Central Massif France and was created in the early 19th century, giving it a Cassini status. Cherpont is a 39-acre, river-fed, mature lake, in a peaceful, secluded setting with tree lined banks and beautiful views of the surrounding hills and countryside. Cherpont Boasts over 30 fifty-pound-plus fish with the lake record (a fish called Arthur) now over 60lb, around 150 fish over 40lb and a good proportion of the remaining back-up stock exceeds 35lb too. Cherpont to me is like a plus sized, picturesque estate lake set in a dense forest in the mountains, and you won't find a much better looking lake in France that is open to the public.

The journey soon flew by with the help of a couple of Stella's, my iPad and Sky GO and of course the laughs and giggles on the way as we were like a bunch of ten full grown adults acting like excited kids in a sweetshop. As time passed and we finally drove through the French mountain, I could see the lake in the distance at the bottom of the valley and it finally sunk in that I was back at Cherpont. As we pulled up, Dan, Jackie and Andy greeted us with a full English breakfast, as we had travelled overnight. Breakfast was wolfed down our necks in seconds and a few burps were exchanged, as the only thing on our minds was a lap of the lake and to get the draw for swims out of the way and get ready for the week ahead.

Upon walking round the lake, it was evident that the fish were up the Dam wall end by the outlet in a swim called Niagara. The fish hadn't spawned just yet, but it was nearing 'sexy time' and true to previous catch reports and form Niagara was teaming with fish prior to the carp getting jiggy. My dad was lucky enough to come first out the draw bag and opted for Niagara, but I managed to fluke a third in the draw bag and opted for a long range swim in the central part of the lake on the far side where it widens called S.O.S. A few factors made me choose to go in S.O.S over the various other favoured swims, but my decision was based on hoping that I would catch any passing fish that move out of the top end shallows to my left as we had a band of lower pressure coming in for the week, and also intercept any fish that the angling pressure may push out of Niagara to my right and back into the open water bowl of the lake.

Before long everyone was set up, all rods were clipped up to the spots and baited and we were all back round the dinner table at the lodge at 5.30pm talking about the spots we had found and all things riggy whilst we devoured a pulled pork roast dinner. I can honestly say Jackie's food is top notch and if I could take her home with me I would! All of a sudden and out of the blue, we were disturbed mid mouthful by a delkim receiver absolutely ripping off and knives and forks went everywhere as everybody jumped up. Niagara is lucky to be one of three swims located in front of the lodge where you can leave you rods out during dinner and breakfast, and right on cue my dad fishing in Niagara was away within hours of casting out. He landed a stunning 37lb half-linear mirror, and it was a great way to start the holiday with a real confidence boost, and it was a sign of the good things to come.

After dinner everybody was shattered, we had been up all night travelling and we wasted no time in getting the rods back out and having a little snooze. Cherpont is a very silty lake, with an average depth of around 3ft – 4.5ft in the middle, with approximately 4 to 5 foot of silt on the lakebed in most places. When casting out in Cherpont, no matter how softly you feather the lead down some swims are like literally like pulling for a break when trying to un-plug the lead from the silt. Leadcore and naked main line rigs are banned (tubing or unleaded leaders only) and the most common method of fishing Cherpont is using a leadclip set up, a long supple coated hooklink and a balanced bait with the hook point masked in foam and the lead gently unplugged out of the silt after the cast fished over a bed of boilie. I honestly cannot describe the depth of the silt as I have never quite fished a lake like it, but those who have fished Cherpont before will know exactly what I mean. Last year I fished the conventional boilie methods at Cherpont and was happy with my results, but this year I wanted to attack the lake with large quantities of chopped boilie and particle. The fish are on the big munch up prior to spawning this time of year, and unlike last year where I fished for a bit at a time using solely boilie, this time I wanted to really establish an area and give them some grub.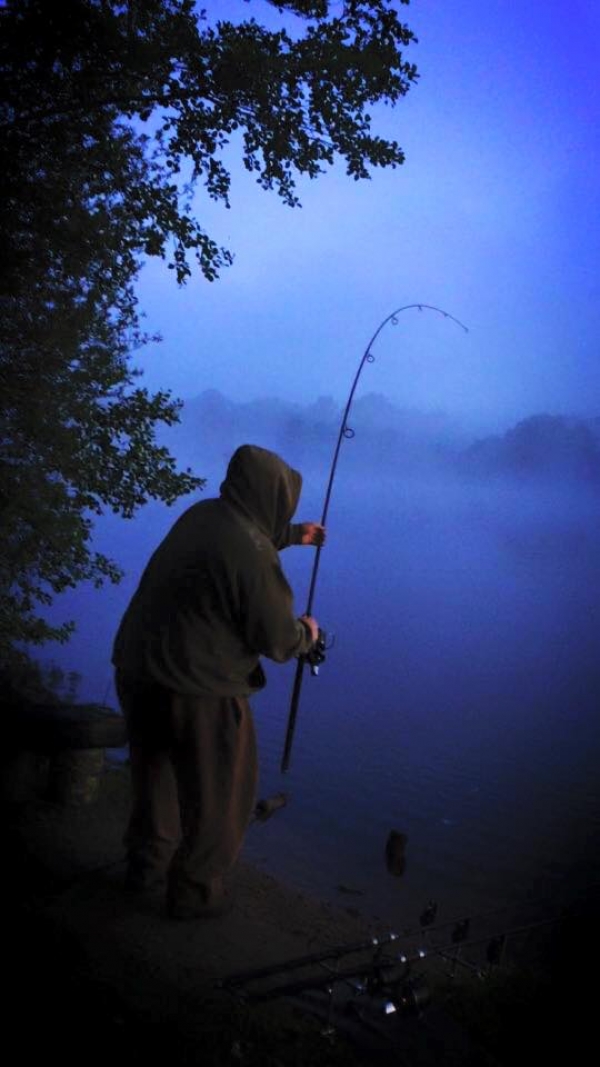 The main emphasis I put into my rig mechanics in my angling is for A) The rig to reset itself if ejected or disturbed, and B) the fish to hit the weight of the lead ASAP and cause the hooklink to tighten and the hook to flip and grab in the fishes mouth. Because I planned to fish tight beds of bait where the fish aren't moving much between each mouthful, the last presentation I wanted to achieve was the Cherpont standard of a long supple hooklink (which is a perfectly fine presentation, and one that I would happily use at Cherpont if fishing solely over boilie). Supple hooklinks and slow moving fish I feel cause a lot of ejected rigs as the fish spit the bait before the hooklink tightens and the hook turns and grabs, so I wanted to find a way to combat this and also fish a presentation most fish at Cherpont were yet to come across.

I wanted to be able to fish a short, stiff rig presented on top of the silt and nail those crafty, large, top heavy fish as they slowly sift through the silt sucking in each grain of particle, and I had a cunning little plan to combat this. I decided to fish little 4-inch stiff Fluorocarbon Combi Rigs, but fished on Helicopter Rigs with my top bead set about 2ft back an unleaded leader, using the Korda Safety No-Trace Helicopter bead set up (By far the safest helicopter bead arrangement around). The spot I found was a little firmer than the rest, and from leading around on the spot I expected my lead to be plugging about 12 - 18 inches into the silt so I set my top bead at 2ft above the lead to be safe and adjusted the top bead height with my catch ratio accordingly. The rig was also masked in PVA foam prior to casting out and this gave me a huge edge being able to present a short stiff rig that resets itself on an extremely silty lakebed. The spots I was fishing was a small deeper gulley (6ft surrounded by 4.5ft) on my right hand rod at 76 yards range, and the other two on the same line at 115 yards range on a firmer spot at 4.5ft which I was informed later n in my trip by the bailiff was the old river bed that used to run through. My hookbait arrangement was a trimmed down Mainline New Grange Dumbell Hooker that had been hardened and glugged in advance, tipped with either a pink or white trimmed down 10ml Cell pop-up. As well as the pop up adding a fleck of colour to help the fish 'sight out' the hookbait over loads of other chopped boilies and thousands of grains of particle on the bottom, the pop-up also adds a bit of buoyancy to the rig, thus enabling the stiff flourcarbon section to push the rig out straight and stay perfectly presented. The buoyancy of the hookbait also helps the hookbait to sit lightly on top of the silt, and also fly back to the back of the mouth easier when a fish sucks in the bait.

I got the rods out after dinner, and crashed out at 9pm after being up for nearly 36 hours. I had a few liners in the night, but woke up at 5am to a really foggy dawn and motionless rods. It was that foggy I could just about make out my rod tips, and it was a proper carpy and 'eerie' dawn. I laid there thinking 'wow, this is the life' as I watch the mist unfold as the sun gently peeped over the mountains in the background, but in the back of my mind I was laying there already doubting that going against the grain and the bailiffs advise of filling it in with particles and boilie was a mistake and I should have started off light with the bait before experimenting. All of a sudden and right on cue, my middle rod burst into life as I stared at the bobbin. The result was a scraper twenty male common full of beans and hormones that gave me a proper run around and it was a great confidence booster and a sign of good things to come. Shortly after a breakfast, I found out I was the only angler in open water to have caught, with two other bites coming at the dam wall end to my dad, and the angler next door to him called Phil so confidence was high.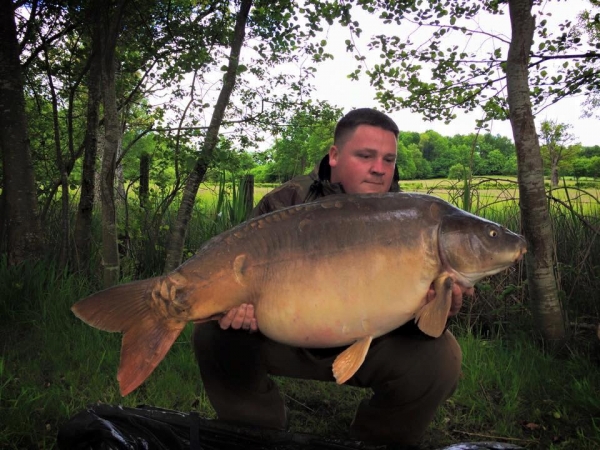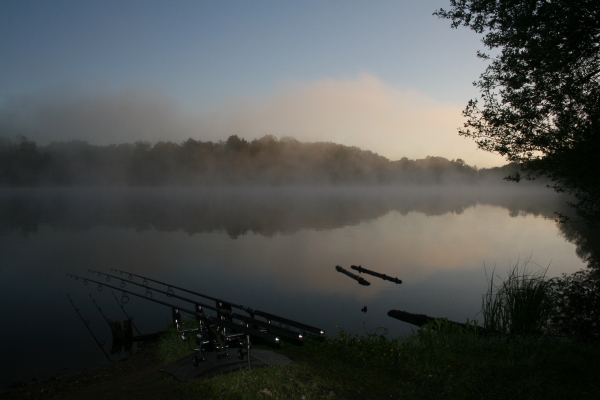 I had nothing Sunday daytime, but come the early hours of Monday morning I had three bites just as the sun was coming up, with the biggest fish being a 39lb 15oz common. Those three bites were split between all three rods, and again at breakfast it was confirmed I was the only angler fishing the main bowl of water who had caught a fish. The only other fish that had been out in the night were from Niagra and the adjacent swims at the top end, and two from the shallows at the other end of the lake. This was a confidence boost for me with regards to my baiting approach and tactics, and after breakfast I wasted no time in getting the rods back out.

An hour passed after getting the rods out and the right hand rod was away. Unfortunately I lost that fish due to a hook-pull, and at about 2pm Monday afternoon I also lost what felt another good fish on the middle rod. The second hook-pull unfortunately wasn't my fault, I picked up a trailing line along with the fish that I was playing, and the trailing line was connected to snag on the bottom acting as an anchor stopping me from bringing the fish back. After preparing to get the boat, unfortunately the hook slipped but on the plus side at least the fish wasn't tethered to the other line. It was now 3pm and dinner is at 5:30pm, so I decided to put some bait out and rest the swim and go to the lodge, have a shower and get freshened up before dinner.

The baiting up and resting the swim paid off, as after dinner I had a brace of upper twenty commons in quick succession. Rods were re-positioned just on dark, and after a cuppa and a social in my swim with my good friend Matty (fishing next door) I got my head down. Right on cue Tuesday morning as the sunrise started to break the early dawn mist gently rose off the water, I had two takes in quick succession resulting in a 31lb common and a 37lb 8oz common – the perfect start to the day! One thing I must note, was that all my bites were mainly coming on pink Cell tippers on the hookbaits so all three rods were switched over to a shaved down New Grange Dumbbells tipped with half a 10ml pink Cell pop-up.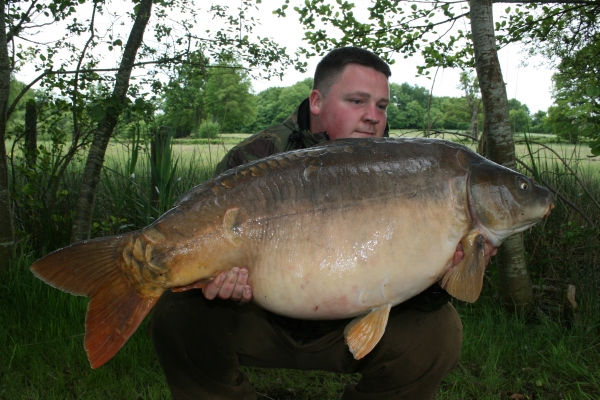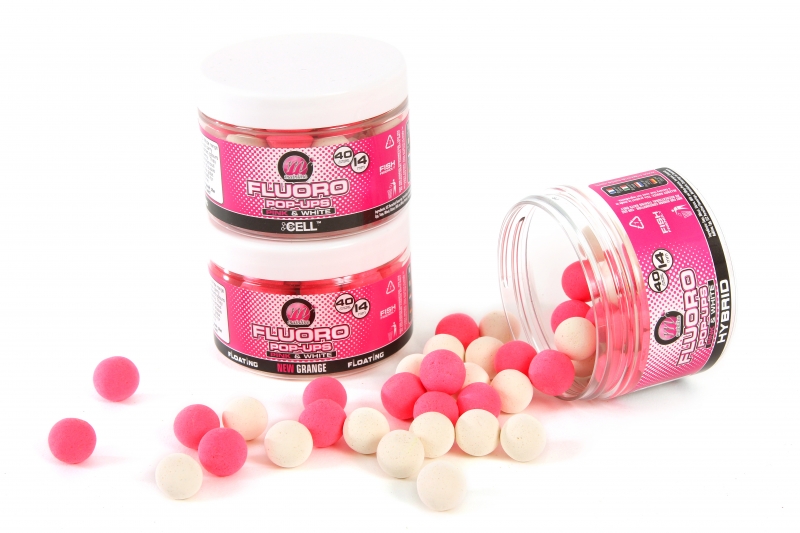 At breakfast it was made apparent that two of the other lads had got their first fish under their belts, and my dad in Niagara was also doing well as expected with 10 fish to his name. Mid flow at the breakfast table, my dad also interrupted our breakfast with a screaming take resulting in a 40lb+ mirror.

I was still the only angler in the main expanse of open water catching fish regularly, and I was already panicking that I was going to run out of bait. I brought 35 kilo of particle and 30 kilo of boilie with me for the week, but it was now Tuesday morning and I had already gone through over 30 kilo of bait. The fish were troffing heavily and excreting the bait everywhere on the unhooking mat when I landed them, and I couldn't wait to get the rods back out after breakfast.

Within 10 minutes after breakfast a fish was on the bank and the fish were ripping all three spots up. Admittedly (and not complaining) I had been unlucky with the average size of fish so far (one in three fish at least are normally 40lb plus at Cherpont) so I knew I was due a few lumps if the action was to stay the same. That afternoon the fish really got on the much and I landed a further five fish including a gorgeous 54lb mirror, braced with a 47lb 8oz mirror. I was floating on cloud-nine come time to reel in for dinner as I had achieved my Cherpont target for the week and caught my first Cherpont 50lber, but the fish were still ripping all three spots up so I couldn't have eaten dinner fast enough so that I could come back round and get the rods back out. Given the hectic spell of fish that afternoon, I was also now down to my last 20 kilo of bait and panicking that I was going to have run out very shortly!

I kept the bait going in and caught more fish steadily throughout the night and had more bites right on cue at first light before breakfast. By Wednesday afternoon the catch report sheet showed that I was up to 17 bites for 14 fish landed. Before Dinner I baited the spots heavily ready for my return, and at 8pm after dinner I was away again and banked my second fifty plus fish of the week with a fish called 'two tone' weighing 56lb 8oz. Buzzing was a huge understatement, and my dad in Niagara was also on about the same amount of fish and we were both having a trip to remember! I didn't even have time to take in the fact that I had just bagged my second 50lber of the week, as both the middle and left hand rod decided to burst into life at almost the exact same time and I was screaming up the bank for help with a 41lb 8 common and a 38lb 12oz mirror hanging on the end! (Top Gilly work by the way, Matty!)

I had a couple more bites in the night, and on Thursday morning as the sun peeped over the mountains and the mist rose off the water. Right on normal cue my spots were alive with plumes of fizzing and I banked two more fish just in time for breakfast. I was absolutely shattered, covered in fish slime and more importantly I was completely out of particle and only had 10 kilo's left of boilie. At breakfast I managed to pinch a 10 kilo bucket of particle from Dan the Owner which he had cooked that morning for the trip that was due to come out on Saturday (Thanks mate!) and I bought three jars of particle from the shop so that I could keep the flow of bait going in over the spots. Nothing happened throughout Thursday day time after breakfast, but my Dad in Niagra was getting take after take all day long, and it was apparent that a large proportion of fish had pushed up in Niagara at the top end and he was in for some serious hauling.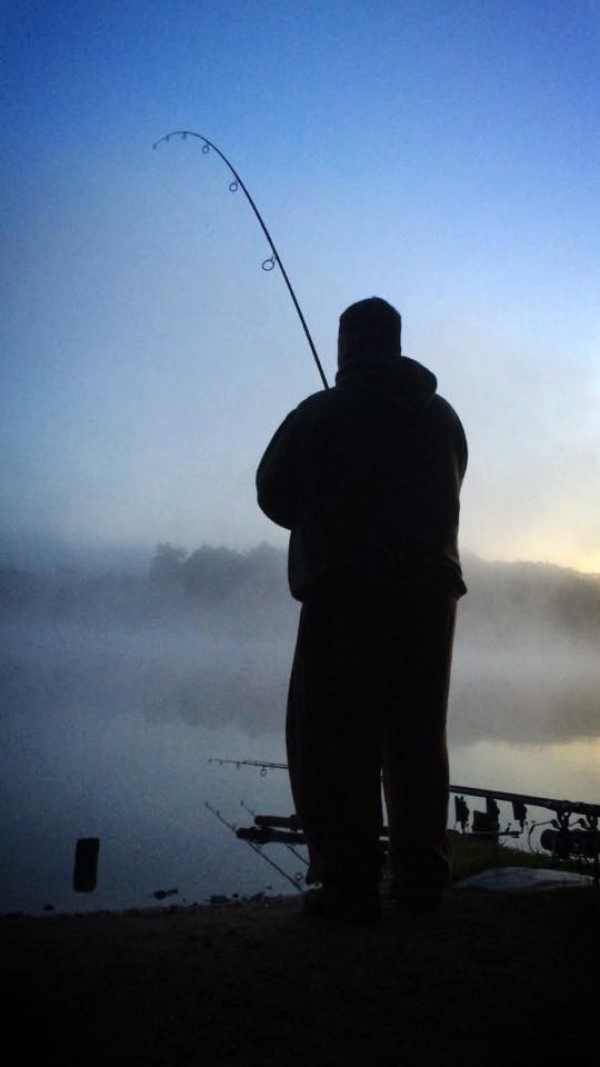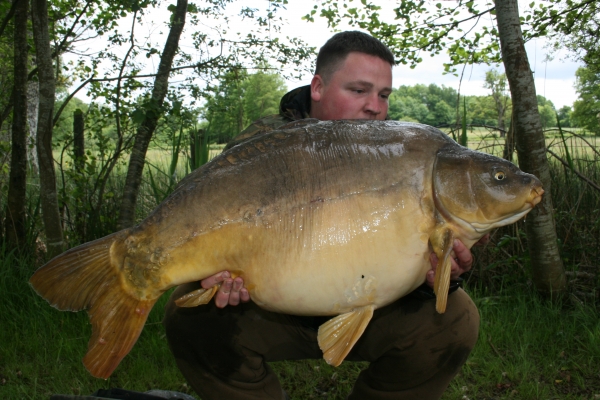 It looked pretty lifeless out in front, so I decided to rest my swim on Thursday afternoon, baited up the spots with a bucket of particle and another 5 kilo of chopped and whole new grange boilie and tried to have a little stalk around the rest of the lake. My plan for a bit of stalking went down the drain because as soon as I walked past my dad's swim I ended up spending the rest of the afternoon playing gillie and photographing fish for him, including his first 50lber of the week which he followed up with three forties! Awesome fishing or what!

Thursday night was social night, so we all put a bit of money in the kitty and played the traditional 'Cherpont Dice' game that the bailiffs host every Thursday after dinner. True to my gambling form I won sod all, but it was a great laugh and gave everybody a proper chance to have a catch up and a social. True to form though, my dad ruined the social evening as one of his alarms burst into life again, this time simply showing off with another 48lb mirror.

I managed to bank a couple more fish on Thursday night after eventually getting back round to my swim, but I awoke to bright sunshine and flat calm weather on Friday morning and the rods didn't produce the normal spell of action before breakfast - it was apparent that the change in conditions meant that a vast proportion of fish had moved up in front of the dam wall and Niagara, and in front of my mate Richard fishing in Moorings who also got amongst the action and was up to eight fish now. My suspicions were confirmed as I didn't have a bite throughout Friday daytime, but I did manage to winkle one more out after dinner just on dark.

The week went way too fast for my liking, and come Saturday morning I was depressed as I found myself packing up at 6am ready to head back home to reality. Right on cue though with the standard morning procedure I managed to winkle out a goodbye fish whilst packing up as the sun rose, and it was the perfect way to end what was a very enjoyable week. All in all between our party of 10 anglers we landed 85 fish, 56 of those coming to my dad and I. I managed 31 takes for 25 fish landed and my dad managed 34 takes for 31 fish landed. As part of my dad and I's haul, we between us landed three fifties, 15 forties and a vast proportion of the rest averaged mid 30's. It had been an awesome week at Cherpont and I was truly gutted to leave, but during our goodbye breakfast I wasted no time and eagerly booked up another trip for next year!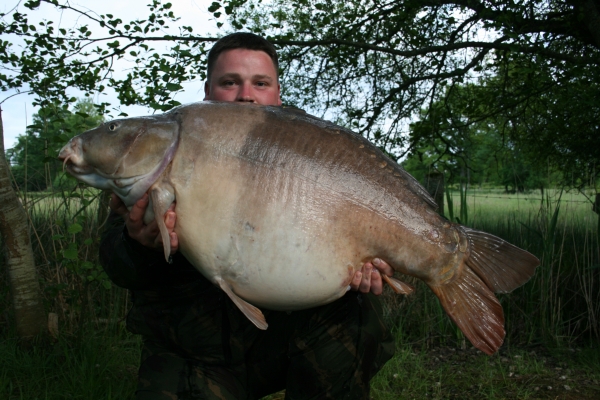 Share this article
0