Mainline
Articles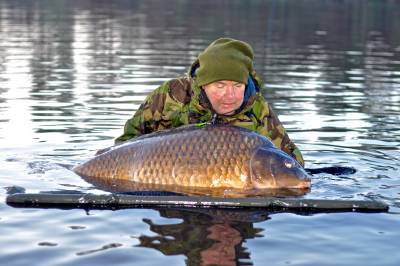 Tutorials
Winter Rainbow
Mainline carper, Alan Taylor and friend Alex Pistols travel to the famous Rainbow Lake in France for cold, wet blustery February trip, but one that was certainly memorable!
Winter fishing can be a bit hit and miss, wherever you carry it out home or abroad. I had not long returned from a grueling two-week trip (January) to France, with 90k winds and torrential downpours it was hard going, the long wet days confined to the bivvy added to the long fourteen hours of darkness - unsafe to be in the boat, even with a life jacket, in fact some days it was forbidden by the fishery boss to be afloat, it was that dangerous. The bad weather came up from the Bay of Biscay and had been known to sink the odd ship. We were now at the beginning of February and more of the same weather was forecast.

This trip I was going to be fishing with Alex Pistols, who had been three times before. All winter trips, his last trip being a year ago, so he was as keen as mustard and full of enthusiasm. Just what I needed, he had me looking forward to it as much as he was. We were to be fishing peg 16, and on queuing for our train to depart the man said "lane 16 please " we looked at each other with a wry smile, hoping it was a good omen for things to come, as it happened just a start of the many coincidences that occurred that trip - spooky!

Anyway 700 miles later we arrived, "jus oui arriva" as Del Boy would say, Alex got the local weather forecast up on his phone, whoosh too clever for me, they were now giving 100k plus winds with rain the whole of the first week. Still we were at Rainbow and you are only ever one bite away from the fish of your dreams here! On the Saturday we managed to get our houses erected, unfortunately two people never - both ending up in wrecked bivvys. We unloaded the mountains of gear and got ourselves comfy, deciding not to fish on Saturday night, rather sprinkle in a bit of bait, rest the swim and have a good nights sleep, which can only be achieved with no rods out.

Sunday morning we made a start, I needed to spend sometime in the boat with my echo sounder, prodding stick and 'donking' equipment, although I had fished swim sixteen before it was sometime ago and in the summer. The weather was as forecast wet and windy, making feature finding and mapping out the swim difficult if not impossible, come the end of the day I was soaked through and exhausted and felt as though I had learned very little. I had managed to get two rods out, all be it in a bit of a 'drive by' in the gusting strong wind, not how I would have preferred, but I was fishing, a Stick Mix made up from the Hybrid Stick Mix and Hybrid liquids, with a single air dried hookbait. The plan was to do everything properly once the wind subsided. Alex had managed similar and had one rod on the Brazilian, sometimes the real hot spot in the swim, which required immediate action when or if a take occurred, being a massive fir tree laying in the water without much fir, named after a lady's haircut, I am told.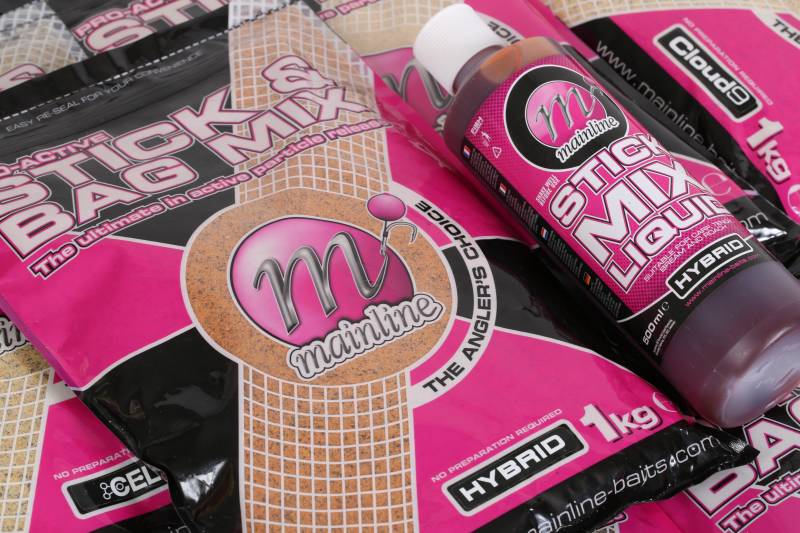 The weather didn't improve and by the forth day I am up to three rods, but all 'drive by' so I was not that confident. Then for the first time on dark the wind and rain died down, and we even heard a few carp crash out in our vicinity. That night I was off the mark with a nice common of 48lb and Alex had two a twenty and a thirty from the Brazilian spot. We joked that numerically a fifty would be next and low and behold a spanking looking common of 53lb graced my net. Apart from the continued terrible weather we were having a good trip, helping each other out where necessary, taking it in turns cooking and washing-up - I only had to play the old age card now and again!

Well would you Adam and Eve it! Alex is in on his Brazilian rod, extracting it expertly from the fronds of the Brazilian into open water he maneuvers' a massive mirror into my waiting landing net, "oh I think you are going to be extra happy with this one" a new personal best and stunning mirror of 68 lb. I had now got up to my full quota of rods - four, all fishing on big floats to keep the line on the surface, fishing around the back of some dot islands straight in front of me, in depths of 4 to 5meters. One of the problems with this method is the resident Coypu take a liking to your float and eat it, or they swim through the floating line. Monday morning just before light I had a single bleep on rod number two, one that had been had by the coypu the previous night. So I looked out expecting to see one swimming through my lines, none there, then the bobbin drops back? Bream I am thinking as by now we have had a few. On with the coat and boots grab the head torch whatever it is has gone well left and come towards me, picking up my left hand line in the process. I give Alex a call and he is soon by my side, I leave him I charge of my left hand rod and get myself comfy in the boat. There's a lot of water sloshing about in the boat from the overnight rain, and as sometimes happens the motor battery standing in it has made it lose power! Alex is paying out line and I am happily gaining some and approaching the fish, when the battery dies completely, don't panic Captain Mannering I mutter to myself what else could possibly make matters worse? Clunk, clunk, clunk what now? I lookup and I am winding a massive birds nest through my rod rings! S**t I think as another and another follow until the whole lot is jammed. I look over the side of the boat and see two floats side by side happily bobbing around. I have some how managed to not only wind the line on from one rod but managed to wind the other one as well! As Alex was paying out slack I was winding it on, right plan one scissors always have a pair in the boat, now which line is the spare? It's like cutting the fuse wire on an unexploded bomb, but to make matters worse they are both the same colour! "Say la ve" as we say in France or "oh bollocks" as we say in England, the rod and reel now are surplus to requirements.

So I lean over the boat snip and start frantically pulling the spare float out of the water, I hope, YES, I look back over the boat and the other float has disappeared? Hmm, that's not supposed to happen, I wrap a bit of line around my hand that's disappearing under the boat and the boat starts moving. Oh he is still on happy days then the boat starts to move off the fish is towing the boat with a load of braid wrapped around my hand, I am expecting to see my fingers drop into the bottom of the boat at any minute. My mind is now racing thinking of the possible consequences of my hand and the attached carp, anyway I am getting more and more line round my hand, the line lay is not particularly impressive I must say, and it's all happening pretty quickly; Stop Knot, beads, float - won't be long now, right landing net. I hold this by the spreader block and just poke it over the side at the very instant a carps head pops up and big scoop and in it goes! I can't believe my luck I look up to the heavens, and think that's another tangle my dear ole Dad has got me out of. When we used to go fishing, when is was little, he spent most of his time getting me out of tangles rather than fishing himself, thanks Dad love you.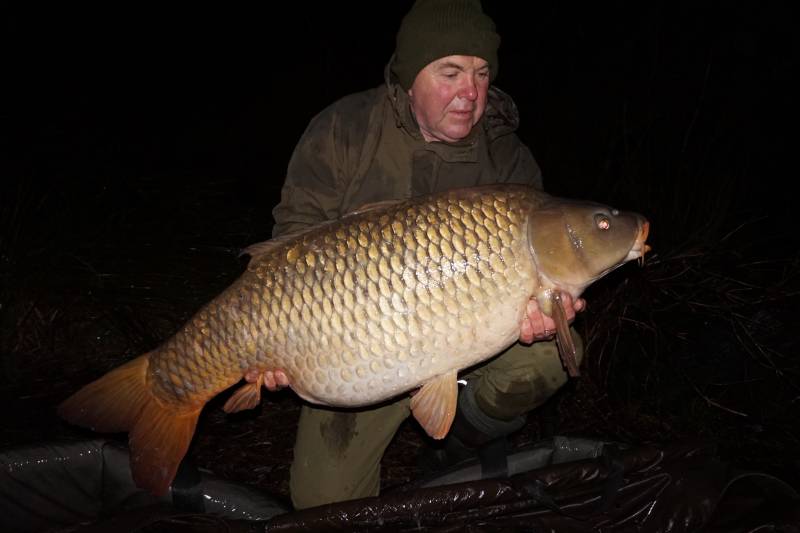 Right where's the bank it's beginning to get light and I can just make out Alex as I slowly row back. Alex is ready and waiting for the meet and greet ceremony, he can't believe the state of the boat where there's line everywhere! "How big is it?" "Not sure didn't really see it?" I reply. I am hoping it will make fifty-pounds, he comes out with the weigh sling/retainer and carefully puts it under the fish it's a lot kinder to the fish than just the rolled up landing net mesh. Oi! Oi! This weighs a bit and I have the light end! We place it gently on the well soaked unhooking mat as the sling is drawn back, Alex says "I think I recognise this fish" and his next words sent me into melt down, "It's the Perfect Common!". The fish of my dreams, and possibly the biggest one in the lake at the moment. OMG! Sure enough the massive head and shoulders fill the mat. I am like a big jelly with a cherry on top, up it goes 86lb 4oz!

Panic sets in as it dawns on you what a responsibility you have to make sure that fish goes back in the same immaculate condition it came out! I ain't got a hope I hell of lifting it and holding it out for the usual captor and fish shot and to be honest that don't worry me, I don't need many photos for this memory. So a few quickies in the water and my worry scare over as it swims away. And as often happens and quite happily I never had another bite after that and went home a very happy camper.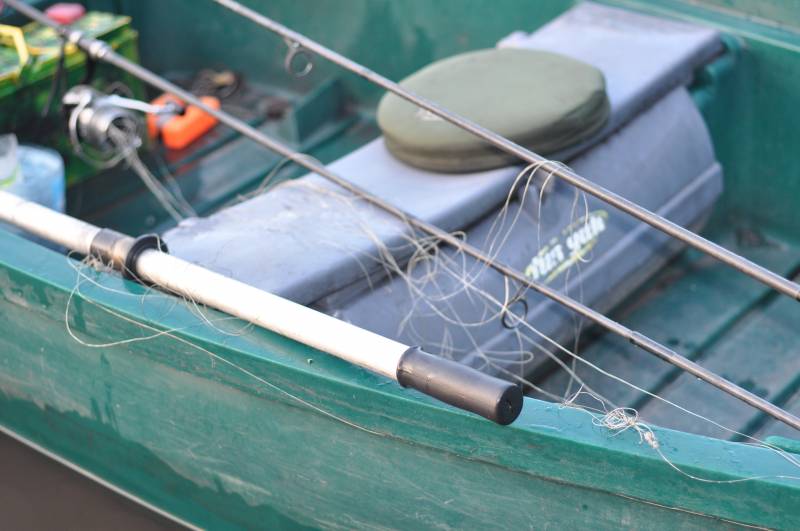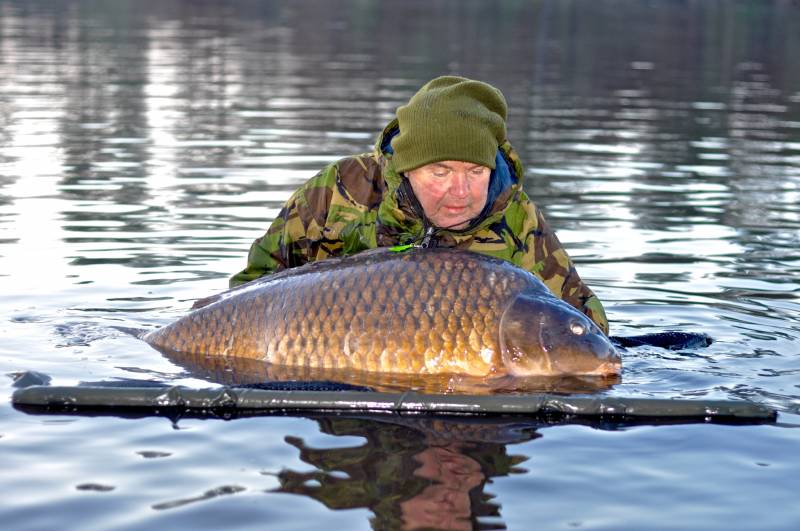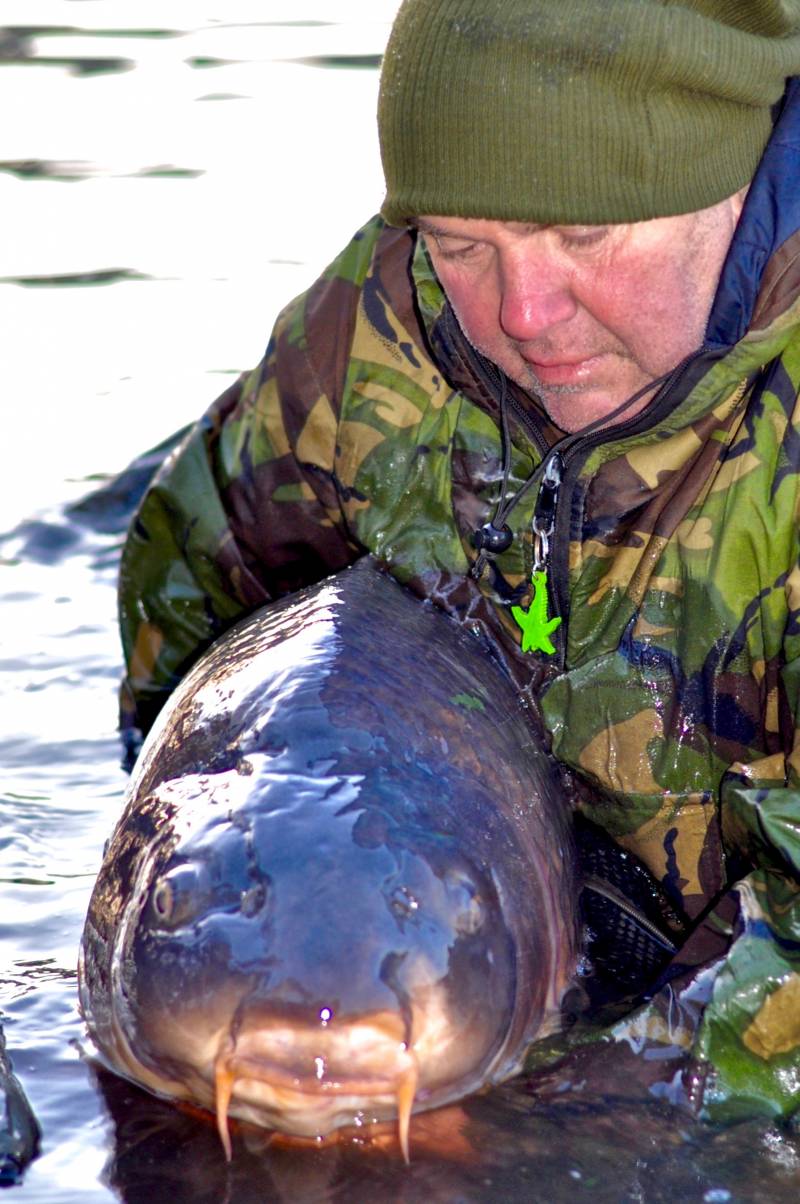 Share this article
0