Mainline
Articles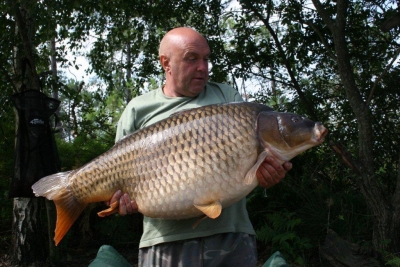 Tutorials
FISHING ABROAD
In this article, experienced Mainline carper, Alan Taylor, lets you in on some the edges he has used to catch some massive carp when fishing abroad!
Lots of lakes in France frequented by English anglers are often under more pressure than English lakes, every swim is taken and often fished the year round, especially if it`s a good water containing extra large carp or lots of carp. Consequently the carp in these lakes are under constant pressure and although results tend to be good, as they need to be, to attract repeat bookings, a little "Edge" and a little bit of thought can often turn a good trip into a real red letter one, by catching more than average or one or two of the big boys in the lake.

These are a couple of the approaches I have used successfully to do just that, and help me account for, three 60lb commons on the bounce (60lb 8oz, 61lb and 68lb ), and a 80lb mirror ( 2nd biggest in lake), 70lb mirror lake record and biggest one in the lake.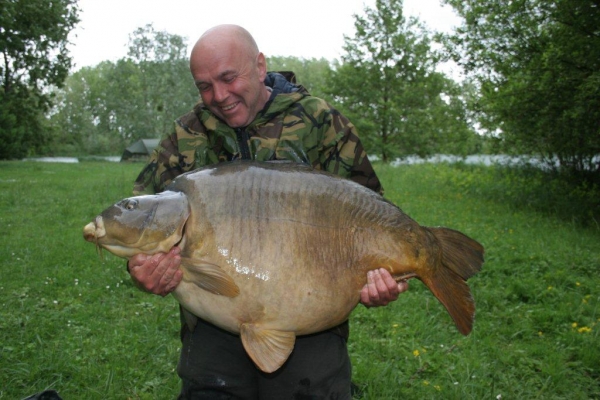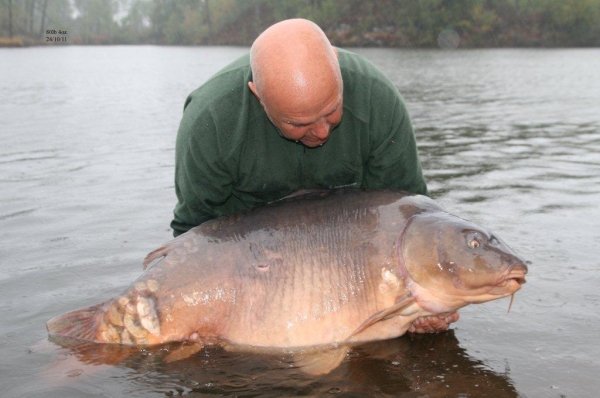 Let's start with particles, and forget spodding, as most lakes in France you can use a rowing boat or remote controlled bait boats. From what I have seen 90% of peoples particle mixes are made up from 90% Hemp, bought by the sack and cooked or from those nice plastic pots already done for you and the the customary small tin of tuna (You must not forget your WHOLE tin of tuna, like the man on the telly says) why bother with such a small amount a couple of tablespoons of fish and a drop of brine or sunflower oil.

Firstly the particle mix, try to be a little bit different and imaginative this is one of my mixes, 3 parts HEMP, 2 parts BUCKWHEAT, 1 part TARES, ½ part MAPLES, and then 1 part from the following, which can be purchased from a health food shop, MUNG BEANS, ADUKI BEANS, CHICK PEAS, HARICOUT BEANS or anything similar that takes your fancy, and then finally a very small amount of yellow maize, red maize and chipped maize, try to avoid anything that is too bright or visible as this will often scare rather than attract. Now we are getting somewhere with a mix that is very different from your average, in smell, taste and appearance.

I now like to enhance the taste and smell and make it super attractive, if you want to stay with the fish/tuna line I would suggest a good quality fish oil, a nice fish sauce , and tinned fish but try sardines as well or in place of the overdone tuna.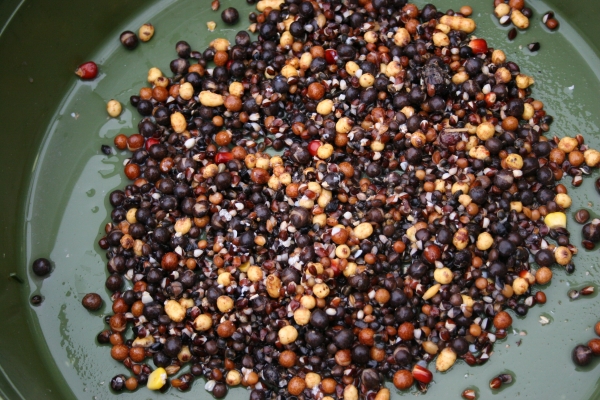 Personally into my particle mix I add the ACTIVE ADE PARTICLE AND PELLET SYRUPS , these really add some zing, massively boosting their taste and smell, I have used them all, the PINEAPPLE one being my all time favourite, sometimes mixing it half and half with the COCONUT, I include 10ml to each 1 kg of particle but on occasions have used double, I have found it impossible to overdose. These syrups are specially formulated to draw fish into the baited area and induce a competitive feeding response. The thick, syrupy liquid being denser than water disperses as it reaches the bottom, spreading a highly attractive cloud.

Once again I see the majority of people do the same thing and once again do what everyone else does and the best you can hope for is the same results as everyone else, the particle is spread in all directions from the side of the rowing boat or released from the remote control, then a nice neat mound of bait in the form of a pva bags is placed or cast amongst the loose feed with the hook bait attached, this is ok and works on hungry runs waters, but why not try something a little different to the norm, this is what I do using the ACTIVATED GROUNDBAIT MIXES.

Prepare your particle mix as you would then remove as much liquid as possible, but retain this liquid in a container, the particles will still be damp so start adding some of your chosen ACTIVATED GROUNDBAIT at this stage, mixing it well into the particles it will immediately begin to adhere to the particles now add 10ml of ACTIVE ADE PARTICLE SYRUP to each kilo of particle and once more mix thoroughly, then introduce more ground bait and a little of the retained water that the particles have been cooked in, initially it will be fairly sloppy, but continue to add ground bait and working it well into the particles and syrup until the complete mixture begins to bind and can be squeezed into balls.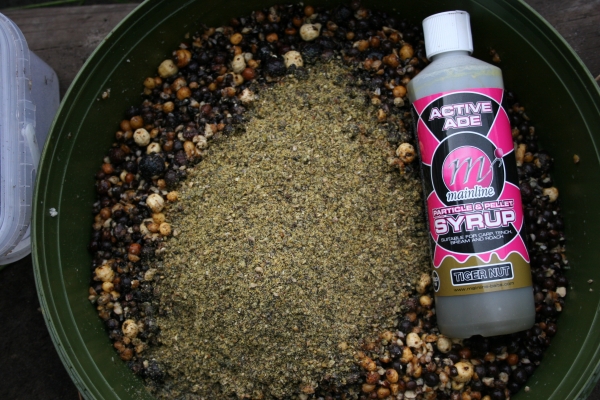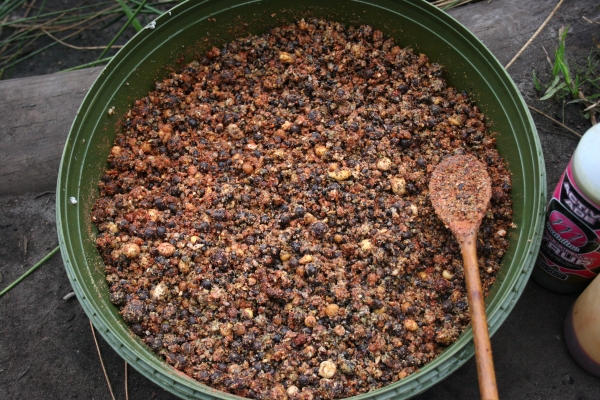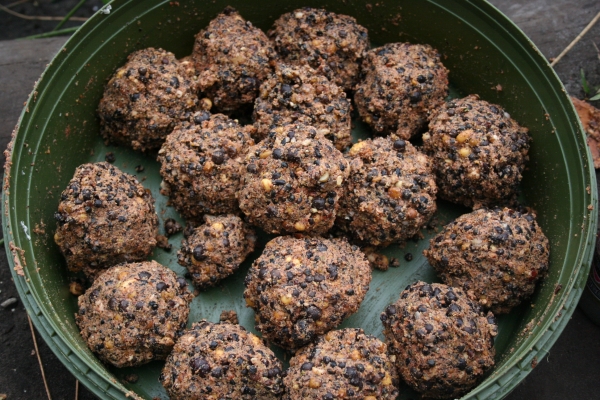 Now these balls are ready for either dropping over the side of the boat or loading in your remote control boat along with your PVA stocking or bag, instead of one heap standing out like a saw thumb amongst loose particle there are lots of little piles of bait.

Of course boilies can be added to either the particles or the ground bait, but once again don`t just add whole boilies or all the same diameter or ones simply cut in half( as these look exactly the same as whole baits from above no matter which way up they land). Squash some so they are broken onto uneven parts or cut them into 3 or 4 pieces, I like to bite mine into irregular shaped pieces with jagged edges, each one being unique in size and shape. Once again if you have air dried your baits these can be re glugged in the ACTIVE ADE SYRUPS or the ACTIVATORS or one of the HOOKBAIT ENHANCEMENT SYSTEM glugs, all these add attraction to air dried baits which are pretty bland.

Nuts are often used in France because of the nuscience fish like poisson chat, or crayfish. The norm is for people to pile these in thinking the more they use the more they will catch this rarely if ever happens and it's not good for the fish or the fishery. Once again a rowing boat or remote control is used to drop your nuts, in any depth over 3 feet and this goes for the afore mentioned particles, these will spread out considerably obviously the deeper the water the greater the spread, this spread will also be governed by the undertow, wind etc. so when the fish come into your swim they will have to move from individual nut to nut, straight away you have rig problems as their sucking and blowing of individual small items can soon be regulated giving the tethered hookbait little chance of being picked up, being easily distinguishable from the freebies and little chance of being picked up. Far better to once again make up a ground bait as before, just replacing the particles with the nuts of your choice, this way small tight patches are found by the fish where they hoover up the baits on the spot, almost eliminating any rig problems.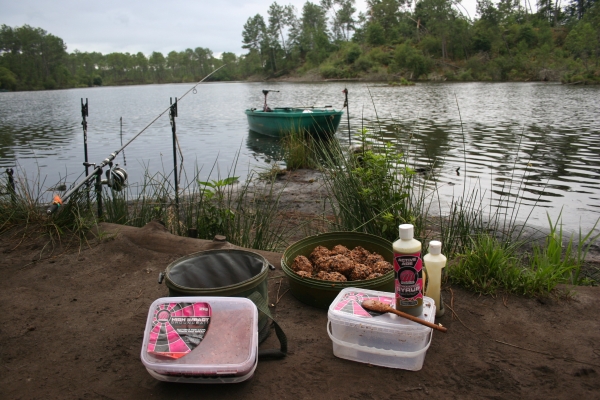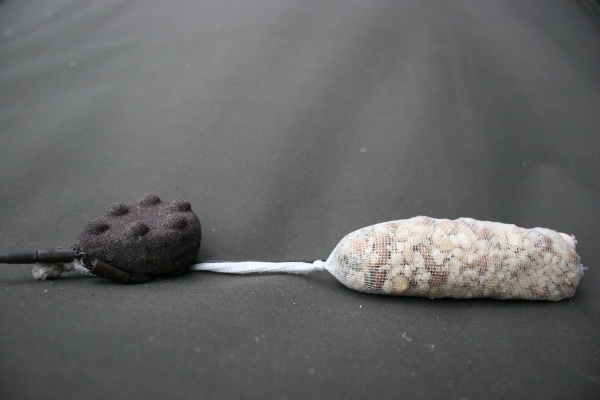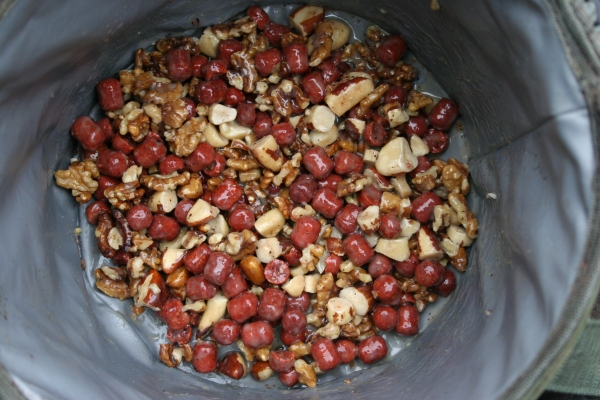 These methods and tactics have helped me catch carp from a range of European waters, so give them a go and make any fishing trip across the channel a memorable one!

Tight lines, Alan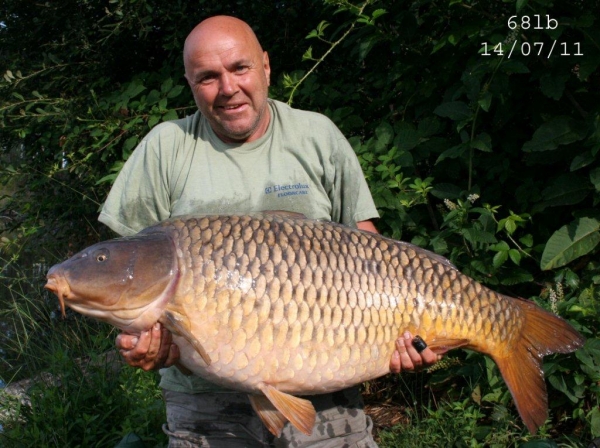 Share this article
0