Mainline
Articles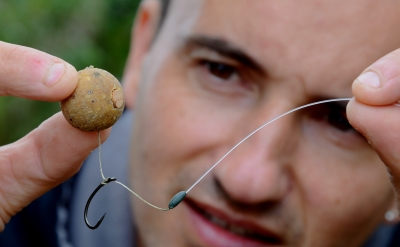 Tutorials
Pop up or bottom bait? The best of both worlds
Nowadays, anglers mostly use pop ups to balance a presentation. The ever so famous snowman has become the fashionable set up. As there are lots of contradictions out there, I am going to try and give you a different point of view on what a more or less dense bait can bring to our fishing. 'Bruno Meduo'
Fishing has definitely taken a different twist in the last 15 years. 15 years ago no one would have dreamt of going fishing without having pre-baited his swim. It was compulsory in order to boost your confidence, this because we didn't have all those ploys to have a quick bite. PVA, Sticks, method mix, stick mixes, bait rocket, bait boats etc… all this was only just emerging. One had to bait up his swim a couple of days prior to fishing so as to be more confident and get steady bites. Nowadays pop ups, mixes meant to make PVA sticks, pellets and other stuff have thrived contrary to the business of bottom baits which has decreased considerably. Anglers also have less time to carry out their passion and as such use everything that's out there and attractive to catch a fish as fast as possible.

In this respect, flashy pop ups have become a must. They will beat bottom baits head over heels in almost any fishing situation and this, I'm sure is due to their visual attraction. Some studies have actually shown that a carp's sight is much more accurate than we actually thought. In gin clear water flashy hookbaits can be seen at ten meters range. This is particularly obvious when surface fishing and when you see a carp sucking a lump of bread which doesn't smell of anything but which is white. Despite an undeniable and obvious visual attraction, a snowman presentation means that your hookbait is much lighter. When one sees what a carp can suck up when feeding one can easily figure out that the lighter the bait the easier it will be sucked up, even sometimes by mistake. I think for myself that younger carp have got a much better eye sight than older ones and keeping this is mind, I prefer using lighter bottom baits than a flashy one.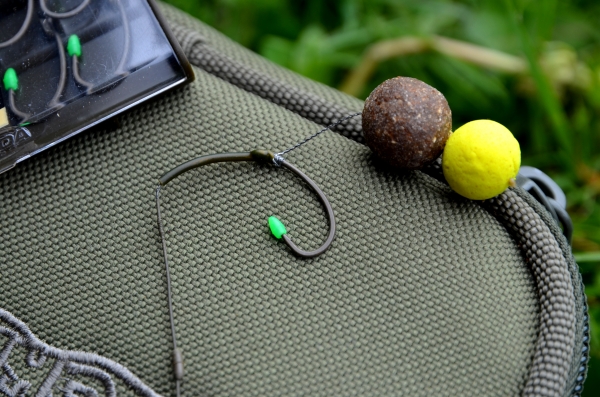 This means that my bait lies on the bottom of the lake bed, just like my freebies but is much lighter and easier to pick up. I thus reduce the bites of younger and smaller fish which are often the first ones to feed. To achieve this, I use a drill and cork so that my bait slowly sinks to the bottom, but will lift up at any movement. I sometimes make a pop up heavier switching the cork with lead (see picture). For example a 28mm boilie can weigh up to 15 grams. 20mm bait with cork inside only weighs 2 grams. The same goes for a pop up made heavier. On some waters my results have sometimes doubled, and particularly on high pressured ones.

I nevertheless use pop ups on their own in very precise situations. On the Seine River in the heart of Paris it has become very complicated to bait up a venue without seeing it being colonized by catfish. Single bait fishing has become the only alternative but it doesn't always pay off either, and when carp are really shy or moody I tie on a pop up without any freebies and cast it in the river bed. I can't tell you how many times I saved a blank doing so. In Rivers, carp often behave very strangely and can be aggressive chasing little white fish which are an easy source of protein for them. A yellow or white pop up moving in the stream can make them become aggressive and grant you a bite.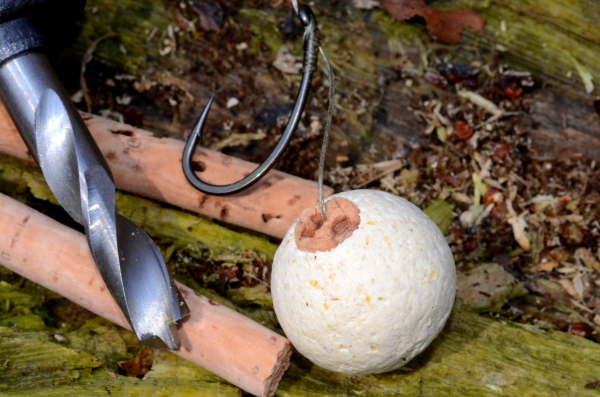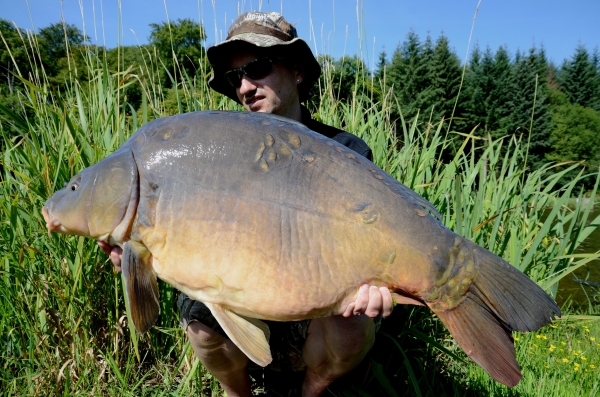 The second situation is the one of a zig rig. Lots of lakes are now covered in weed etc. A real table covered with food and full of mussels. These mussels hang on the stems of this weed and carps have figured out they could get easy food in different depth. In this situation I had good results lifting my bait sometimes metres from the lakebed. I also resort to zig rigs when fishing pressured lakes where carps don't feed any longer, or rarely from the bottom. They have come across bad experiences doing so and consequently they swim over the baits and only feed on particles rising from pellets or seeds anglers drop on the lakebed. The general rule is to start by presenting your bait 2/3 depth from the lake bed then adjusts according to bites and observations.

Once more, the colour yellow is far from being the best, but just like fly fishing, this colour can change according to the weather and light of the day; oddly enough, a friend of mine had good results fishing with a tiny piece of black foam cut and coupled with some yellow foam. Some days, only the colour black will grant you more fish. This can't be explained. Let's come back to the density of hookbaits. Thanks to my experiences and personal analyses, I am positive that balanced hookbaits dropped slowly on the lakebed will catch more fish than a pop up or straight forward bottom baits. A bait rising up when moved by a fin or a big white fish swimming passed or feeding on particles is a plus a carp will not ignore. Mechanically speaking, the bait can be sucked up accidentally and much faster than any other classical bait. Here are a couple of methods I like to use, to create balanced, slow sinking hookbaits:
Tip 1
In order To create balanced hookbaits from a bottom bait you will need the following tools: 1 drill, scissors and a cutter, a standard bottom bait and a cork or foam stick.
Tip 2
To achieve a balanced bait using a pop up boilie or a dumbell you will need the following tackle: Dumbells or pop ups, a shot, a drill, N-trap braid and Kaptor wide Gape hooks.
Try these balanced bait tactics and you will love it. I am convinced and keep using them.
Bruno Meduo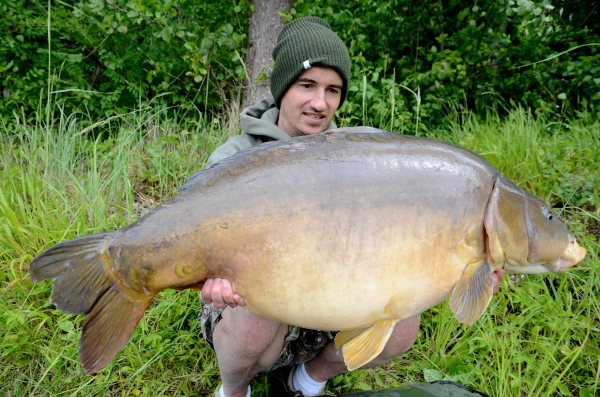 Share this article
0