Mainline
Latest News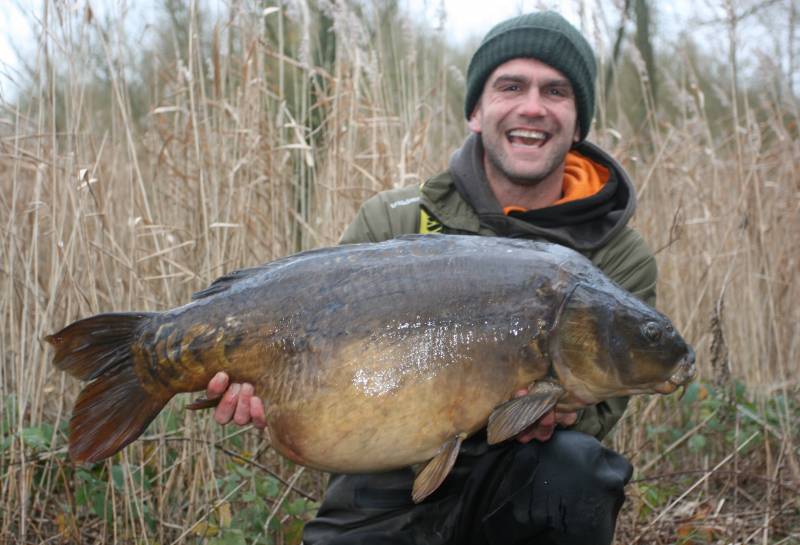 Winter Haul For Scott Maslen!
Mainline backed carper, Scott Maslen has been in touch following a special winter session at Oxfordshire day-ticket venue Orchid Lakes. The Eastenders actor said:
"I had an epic session last week on Orchid Lakes, fishing a four night session where I laned a total of 12 carp. I was fishing in a swim known as the 'Alamo' at a range of about 80 yards into open water - fishing over a bed of bait consisting of hemp and particles, corn, maggots and 10mm Cell boilies. Hinged Stiff Rigs armed with Hi-Visual Dumbel Pineapple Juice pop-ups were dispatched over the top attached to a simple leadclip arrangement and 4.5oz lead.
The first night on the bait was quiet so I decided to place one road round to the left of the swim in open water with a little bag of Spod & PVA Pellet mix to which I had added the Pacific Tuna and Pellet Enhancer Liquid Match Additives, and I managed a couple of doubles 16 and 19-pounds so a great start on a new water and I wouldn't have blanked! I could now relax and enjoy it.
The action then started to pick-up and my next bite was from the baited spot and this one felt good a lot more solid! After a good scrap I slipped the net under an absolutely gorgeous looking mirror carp - get in! Which turned out to be a fish called 'Cluster', which weighed 38lb 12oz! I'd had one of the big girls and I wasn't expecting that so what a bonus!
The madness continued and fish of all sizes started to slip into the net, I even managed to land a new thirty, which on Orchid Lakes means you get the chance to name it, which I duly did calling it 'Bungle' it weighed 32lb on the nose - result!
When I thought things couldn't get any better I had a take on my right hand rod and as I was playing this fish, which felt like a good fish my middle Rod ripped off - so I basically dealt with the fish as quick as possible getting it in the net and jumped on my other rod and again it went solid!
This fish was giving me an absolute run around holding deep with occasional searching lunges my heart was in the mouth it took me off to the right into the reeds I just held the pressure and prayed and as luck would have it she came out and just plodded under the rod tip luckily enough she came up for some air and I slipped the already filled net under her and she made the other one look small, no wonder at forty-pounds-plus!
I was definitely having a red letter day! Orchid Lakes have been very very kind to me I'd always heard it was a great winter venue, but now I'd experienced it! I can't wait to get back down there, and I suggest anyone thinking about it should do the same - get out there go fishing!"