Mainline
Articles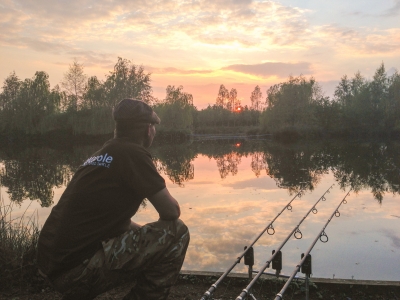 Tutorials
My Introduction To Mainline Baits
Les Bowers recall the events and indeed reasons behind his realisation that he needed to be on the Mainline team...
I've been a member on my syndicate in Somerset, Leverets for just over a year now, having originally been kindly invited on a guesty with a good friend Jase Dunn. During that initial session I was lucky enough to land three fish, with one of them being a sort after fish known as 'Shaker'. Well obviously I was keen to fish there again, so I enquired to the owner farmer John on the possibility of being a member and as luck would have it, someone hadn't paid and I'd be allowed the ticket. Before he could change his mind or the other person paid, I got down there as quick as possible to hand over my money. Thereafter, I fished the venue exclusively to all other waters. It took me a while to acquaint myself with the swims and lye of the lake and I'm still learning now, but it's a beautiful lake, very quiet and well worth the effort. All the syndicate members get on well together there, which is refreshing and it's a little peace of heaven in the middle of nowhere.
Although as one of the directors of Rigmarole, I did have to change my plans recently and pop down to Todber Manor instead to see how my pair, Jase Dunn and Marcus Parker were getting on in the competition there. As it was everything was fine and they had qualified. Over in the next peg, were a couple of good friends of mine, Rob Marsh and Lee Merrit, so I had a wandered over to see them and how they were doing - I needn't have asked as they did extremely well and also qualified. As we chatted I mentioned I was off fishing myself later that day, but my bait hadn't arrived in time. So my intentions were to just fish single hookbaits - not ideal, but it was better than staying at home. Lee said to me that they had a few kilos of bait left over that I was more than welcome to take it. Well I'd never used the Hybrid or Cell boilies they gave me before and wasn't sure if my water would respond to it, but nevertheless thanked them and set off for Leverets.
The weather was quite hot and I decided on a swim known as the 'Grebe', which looked out onto two islands. The right-hand island had a small bay that cut into it and I could see the odd fish showing there - so that was to be my middle rod fishing the shallow water there that averaged about three to four feet deep. The right-hand rod was positioned off the end of the same island over a bloodworm bed in around six to seven feet of water where the bottom shelves off. That just left the left-hand rod, which I decided to use as a roving rod, trying new areas of the swim to see if I could nick an extra fish or two, perhaps casting at any showing fish.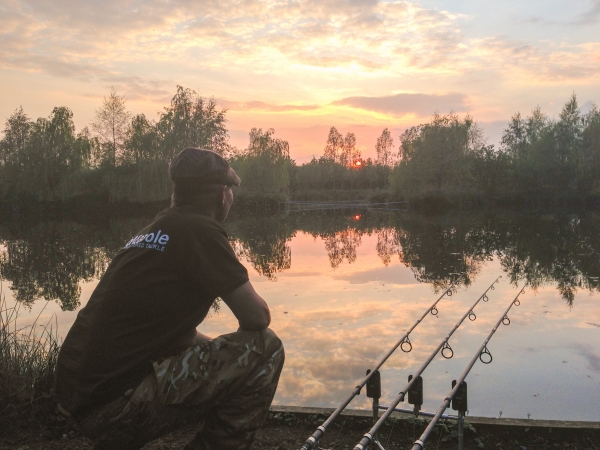 Rigs were kept simple but strong; six-inches of Rigmarole 'Skinful' with a line aligner over the eye of a Hunchbaxs hooks in size 6 leaving the hookbait free to move about on the Hair. The hookbait itself was a Hybrid bottom bait with a small white pop-up sat on the top to form a Snowman arrangement that looked wicked in the water. As I find landing fish a whole lot easier without the lead attached, I also used a 'Freefall' lead clip to drop the lead on the take. For the sake of a lead it's worth it for, as you never know what you might be attached too - it could be a special fish. Blending in perfectly with the light weed that covered the lakebed a Potties Weedy lead was attached to complete my set-up.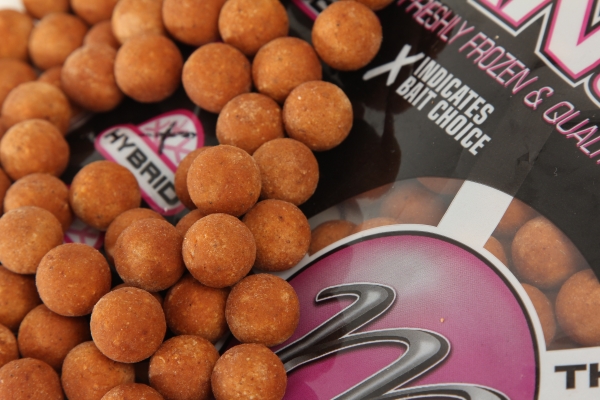 More or less straight away I was catching from the island bay. My first fish being a low-twenty, followed by a stunning looking thirty-pounder and the action just kept on coming with a number of high-doubles and twenties coming from my approach of topping-up with Hybrid and Cell after every fish. The left-hand rod produced a few takes too, bringing my tally up, but the right-hand rod remained quiet and hadn't produced a fish by next day. I was sure it would and I fired some more freebies over the top to keep the fish looking.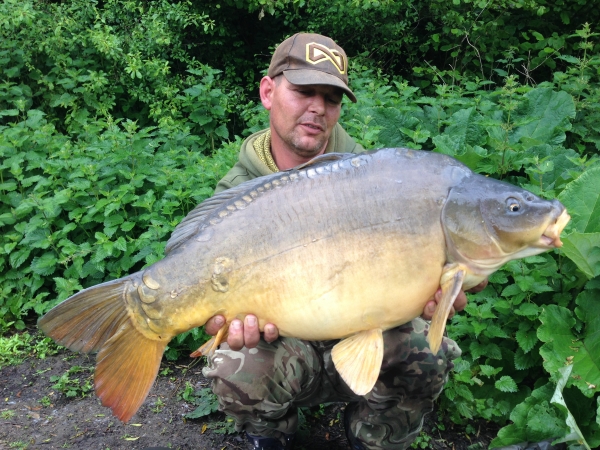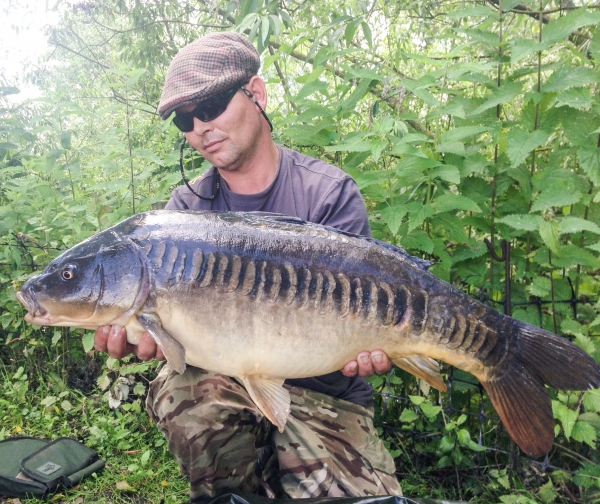 Later that day I had a ripping take from the right-hander, where the bobbin slammed into the rod (I love that sound) as I jumped-up from my seat to grab the rod. Immediately the hooked fish took line, as the rod hooped over even though the clutch was set quite tight it was still managing to take line - taking me on a merry dance around the swim. First trying to go around the island then swimming towards me and cutting across the other two rods, before I got a glimpse of it about a couple of rod lengths out. It was clearly a good fish and I prayed it was a good hook hold. Although I needn't had worried because the hook was firmly embedded about three-inches into the fishes mouth, as I finally slipped the net under it at first time of asking.
I could see it was a good fish and I called across to my mate Ian on the other side of the lake to come help and do the pics. He wound in his rods and set off to come and help. On his way round he was attacked by the resident geese, that were protecting their eggs - they had his joggers around his knees! It was hilarious; I wish I'd got a picture of him, but thank you mate. Anyway the fish was still in the net when he arrived in my swim, as I'd got everything ready on the bank and had unhooked the fish in the net. Ian then conducted the weighing process, as I was just too excited. Up on the scales it went and over the magical forty-pound mark to 40lb 4oz, yes! The fish was known as 'Arnie' and hadn't been out for a long while - I'm sure it's a male fish as it's pure muscle and gave a good account of itself. The photos were done quickly and Arnie swam off strongly, back out into the lake. This was my introduction to the wonders of Mainline Baits and what an intro it was!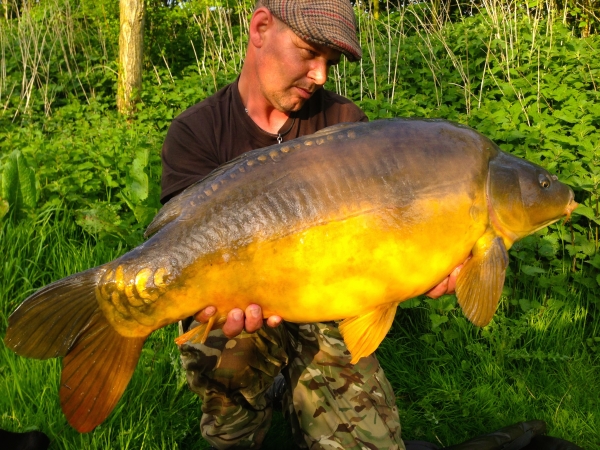 Share this article
0