Mainline
Articles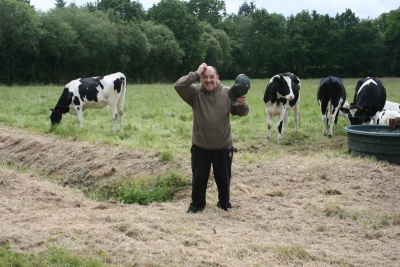 Tutorials
Del's Adventure!
Here's the first installment of a NEW Blog from Mainline consultant Derek 'The Don' Ritchie. With a fully packed Motorhome that's taking some getting used to, The Don leaves England to set off on his French adventure!!!
Our journey so far:- The penultimate day
Picked up our custom built trailer aka Del's burger bar thank you Scaff John. I then drove to Mainline to pick up our bait, 100 kg of Cell Boilies. First disaster while reversing the trailer which I have never done before I stacked it and caught the back of the Motorhome and broke one of the backlights! The clock was ticking down, instead of packing up the Motorhome I was running around like a headless chicken trying to repair the damage. You try and find a rear light lens for an old motorhome which is almost impossible, so we had to repair the damage with tape and glue, my mechanic Stan did a fantastic job. After arriving back to the house 3 hours later we started to load the van and the trailer and somehow lost the keys to the garage and the trailer I think I was having a senior moment. Eventually I found them in the Motorhome it is strange how they hide themselves it's a bit like that mysterious man who wraps the line around the tip of your rod when your rebaiting it, you never see him.

We had booked the ferry for the next day Oh my God the weather forecast was for force 8 gales, so we didn't want to sit at Dover for the next 24 hours because they had cancelled the crossings, so we changed our booking to the tunnel.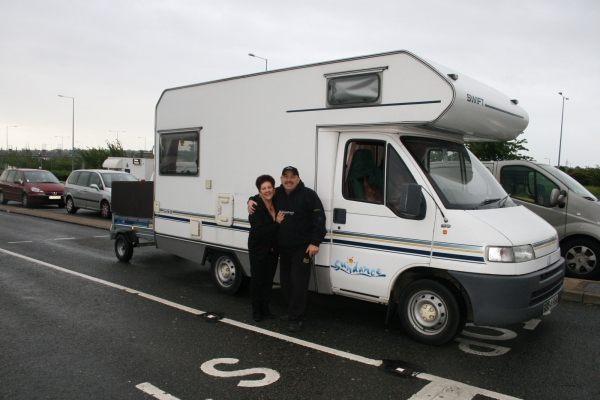 The day of departure
3am got up got out of bed dragged a comb across my head.( Beverley that is) for obvious reasons. By 4am we were gone destination Fishabil. Arrived at Calais and we were on our way, about an hour in I hear a load bang I looked at Beverley and she looked at me, I said don't worry probably something has hit the van so we carried on, we didn't take any notice as the van was battling against the wind swaying so much we were almost seasick. It was that bad that a BMW towing a Horsebox was turned upside down in front of us. An hour or so later we stopped at the services to fill up with Diesel, after paying I said to Bev what's that hanging down, it was only the front headlight hanging by a thread, so we repaired the damage and carried on. Then a lorry over took us and a stone hit the windscreen a nice little chip, cheers mate.

Getting excited as we neared our destination, I pulled into the village were the lake is and followed the road out of town, the satnav said we had reached our destination, but we were in the middle of a field and couldn't turn round as I still wouldn't reverse in case I did more damage to the van (Campervan virgin) it's so hard to reverse a Trailer when you have never done it before. HELP!!!! We managed to phone Mark the owner of Fishabil who was intrigued to know how we managed to arrive in the middle of a field with only cows as friends. Mark and Tony the Bailiff arrived to rescue us, they were busting theirs sides with laughter, and after Mark reversed the van for me we followed them to the lake. Hooray!!!! We have arrived.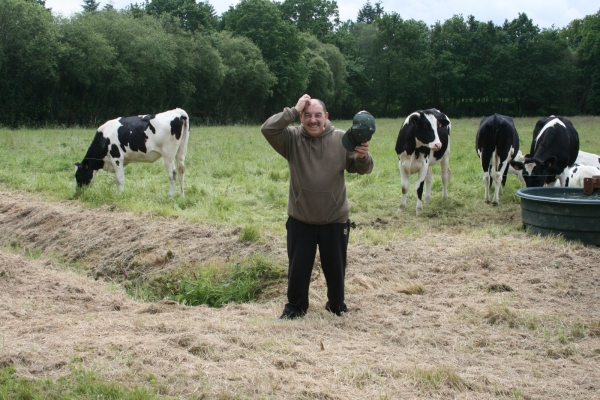 Fishabil
First impressions what a fabulous place! Beautiful lake side apartments recently totally refurbished, overlooking 86 Acres of stunning water! There is everything you could possible want here, including pushbikes to ride around the lake it's that big. We were fed and watered the roast potatoes were to die for, well done Karen! Bed.
I can't fish until Sunday night as there is a match on. Rameau d'or this is a Shimano match for match anglers. Sunday night 13 people from Bowlers Angling will arrive so I would imagine there will be a bit of banter, can't wait for Sunday night to come and get my rods out when we can "Get it on with the Don", and "Get on it, like a car bonnet" in words of Mark from Fishabil.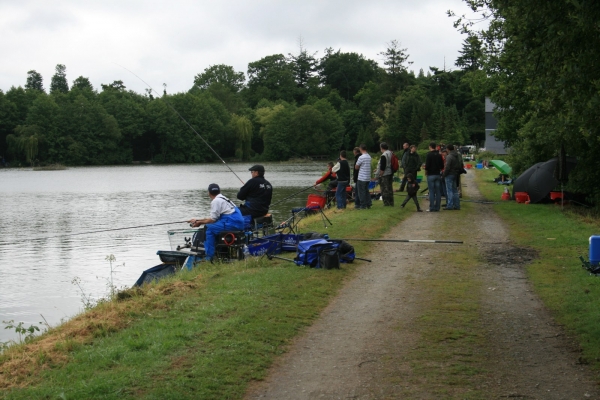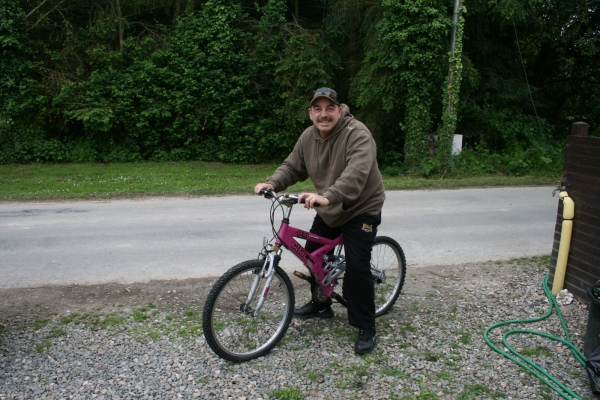 The boys turned up from Bowlers just as the prize giving for the match had finished, some of them were shouting "Get it on with the Don" when they saw me. One of the lads on the bus was quite ill, as he had been out on the lash the night before travelling here. When we had finished clearing up after the prize giving Tony the Bailiff drove my gear to the Dam Wall to the middle swim, I got set up and got on the throwing stick, about 1.5kilos of Cell 18mm boilies out there, on a large spread. One hour in, Bingo! Middle rod 22lb common, 1st fish out of the lake, while I was bringing that fish in, the lead got tangled with the left hand rod, caused a bit of a mess so I cut the line and started hand lining the fish in and it came off. Throughout the night 3 fish, all low 20's, two commons and a mirror, put out another kilo of boilies at first light, left hand rod one of the Dr Who fish that live here, a Sturgeon 20lb, just finished sorting it out had it in the weigh-sling when the middle rod went off, the ATT alarms singing a song, when I leant into it I knew it was something a bit different after 15 minutes of pain to my arm, slid the net under a nice big Mirror, 35lb!!!! COME ONNNNNNNNN!!!!!! Tony came up to take the pictures before the breakfasts when the middle rod rattled off again 27lb Mirror which I let go straight away then it was time for breakfast. What a breakfast full English with all the chaps.

Until next time,

Del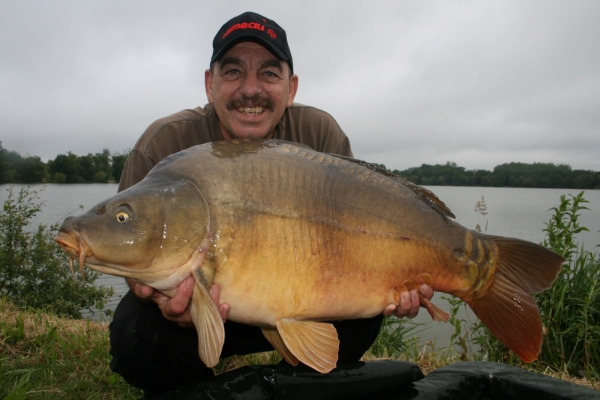 Share this article
0