Mainline
Articles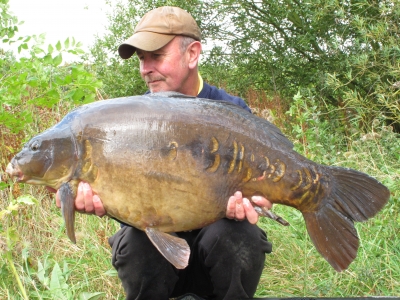 Tutorials
A LIFETIME OF MAINLINE
In this article one of Mainlines longest serving and most experienced Consultants, Mike Kavanagh explains that when it comes to bait, its been a lifetime of Mainline!
I've been using Mainline bait since the company was formed. I knew owners Steve Morgan and Kev Knight before Mainline was a twinkle in their eye, but as soon as I heard they were going to form a bait company I knew it would be a success because they have never done anything by halves. Their connections with the food industry combined with their own angling experience was going to ensure any bait they produced would be thoroughly researched and scientifically formulated using the best ingredients available, so the moment they invited me to give it a try, I was in! Like Steve and Kev I have never looked back since and can't see a time when I would ever need to thanks to the quality of the bait they supply and their continuing investment into ingredients and recipes that ooze success! Talking of which, here's a little bit about the way I've successfully used the bait over the years.....

Just before I do, the first thing to point out when talking about success as far as I'm concerned is the circumstances someone finds themself in; and the time available to them to go fishing. Anglers who are fortunate enough to be able to plan their fishing around when the conditions are right and be able to go when they are, who have been able to pre-bait swims without interference I would expect to do well. If they aren't, then they are definitely doing something wrong! I'm one of the many who I suspect like you have a full time job outside of fishing and a family to consider. I have to fit my limited time on the bank around all the responsibility that entails, so success in my case is gauged on those constraints. I think the point I'm making in relation to bait is you will only reap what you sow, or rather have time to sow. Bearing that in mind, to make sure I'm in with a good chance of catching from the off, rather than rely on one food source/attraction, I give myself what I believe is an edge. For the last 15 years I've used three or four different Mainline boilie types together at the same time, a bit like a bag of mixed sweets. Most established bait companies have two or three recipes that stand out in their range which tend to do better than the rest, fortunately Mainline has a range of boilie baits to select from that are as equally effective as one another. I can think of only one they have produced that didn't take my fancy (CP2000) and that I believe is no longer in the range. The baits I've used together in the past are Activ-8, Fusion and Grange. NRG, Liver & Marine, and Fusion. Maple-8 and Essential Opal, and more recently New Grange, Pulse, Activ-8 and Cell.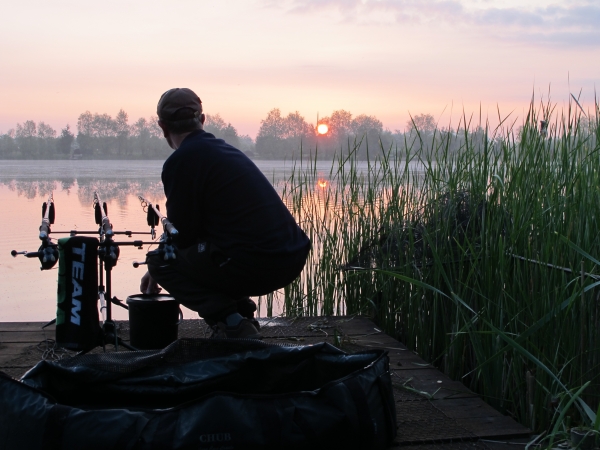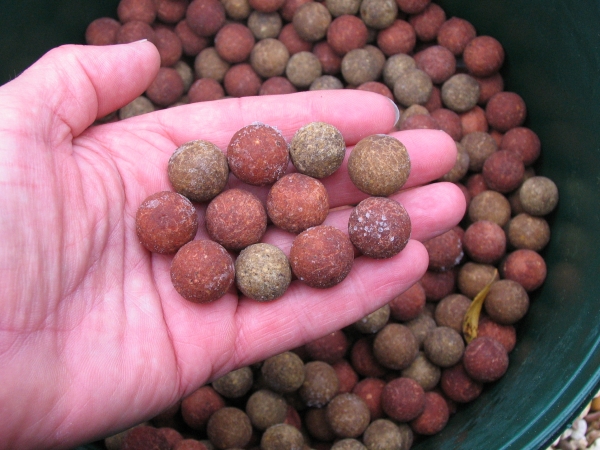 When it comes to pop-ups, the absolute out and out winner is the pineapple. I've made my own pop-ups with Mainlines Polaris Mix, which I believe is the best pop-up mix I've ever used. I've also used them straight out of the tub with confidence and with results that justify my confidence in them. When I've made my own I've used a one egg mix with 6ml of pineapple, 1 drop of N-butyric acid and 2ml of Sweet-Ade which apart from being sweet has a lovely coconut aroma all of its own. Admittedly a powerful combination, but a lot of the time I use a pop-up on its own without free offerings and I want a food signal with maximum attraction seeping into the water column for as long as possible. In fact the finished bait despite the flavour levels is tasty! If I do use free offerings with my homemade pop-ups they will be one of my boilie combinations lightly scattered randomly about the swim or pellets soaked in a mixture of pineapple and coconut syrup.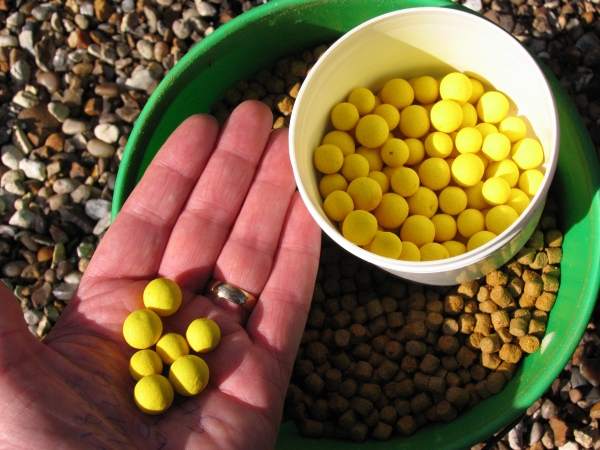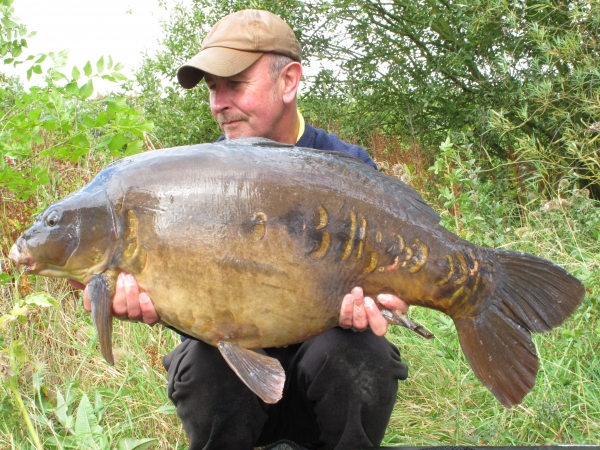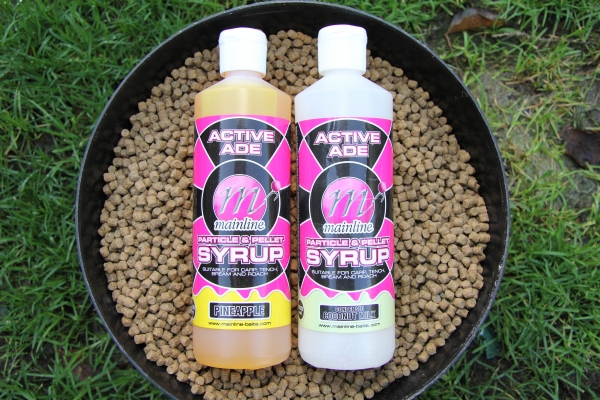 I've also done well with a Polaris mix comprising 2ml of Indian Spice and 2ml of Sweet-Ade rolled into 12-14mm pop-ups fished on top of a Pulse Hooker snowman presentation. Planted in amongst Pulse and Fusion free offerings, that combination accounted for three forties last year from Mainline Monks Pit Cambs, two of those came as a brace.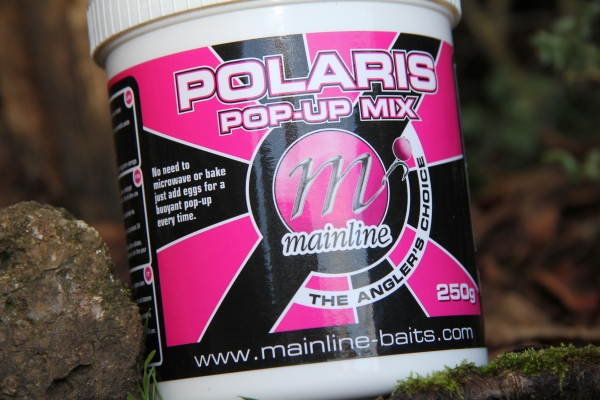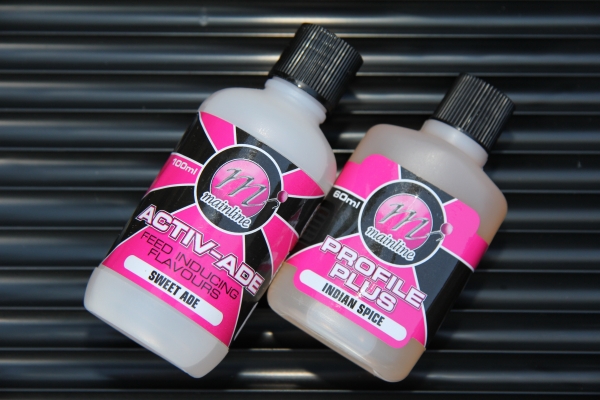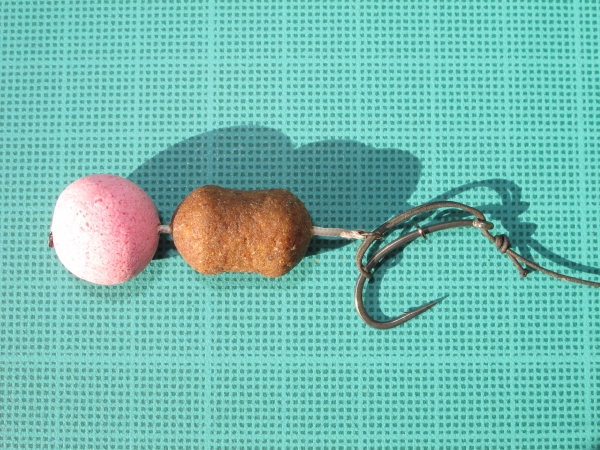 I've used a number of the pop-ups in the Mainline range over the years with good results straight out of the pot, but if I had to choose just one it would be the pineapple; Response or the Profile version. Talking of flavours, the Response Banana and Pear with a generous helping of fructose sugar is particularly effective when added to maize while it soaks prior to being lightly simmered until softened. During the cooling down period a little more flavour can be added to put the finishing touch on it. I haven't mentioned flavour levels because it depends on the quantity of maize being prepared, but as a guide I would add 10ml to 3kilo of soaking maize along with a table spoon of sugar, and then add a further 5ml after cooking.

One last thing I forgot to mention about the boilie baits is generally they are suitably firm straight out of the bag, but if I want harden them up I air dry them in trays for 24hrs and then re-freeze them. If at certain times of the year I want to both harden them up and boost the attraction, after air drying I coat them in the dedicated Hookbait Enhancement dip or activator by rolling them round in a bucket and then re-freeze them. When the bait is defrosted the dip / activator is sucked into it further which hardens it even more. If you're doing a short session I've found it well worth choosing the coated baits which obviously instantly leak concentrated attraction. Of course using the dips for added attraction isn't just restricted to bait. Some lead coatings like Atomic Tackles Dung Lead can be soaked in dip which will absorb it like sponge. Sat next to a lone pop-up at a range that can't be reached with free offerings is another edge worth remembering. I hope you've found this short insight useful and if you'll excuse the pun, food for thought!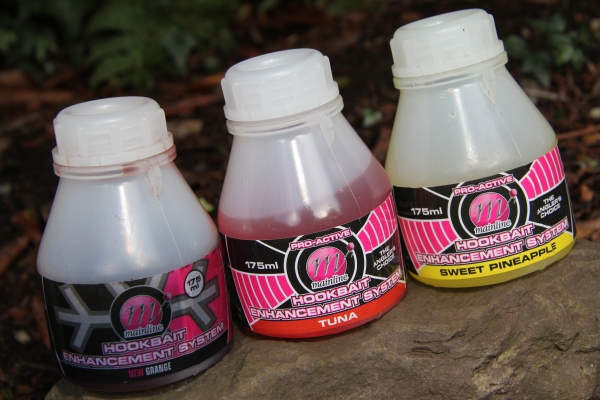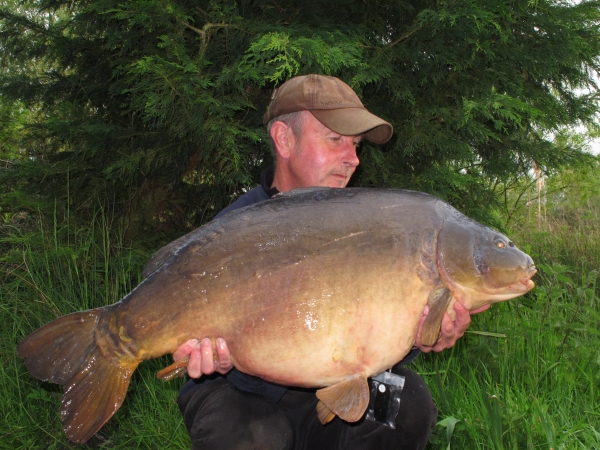 Share this article
0