Mainline
Articles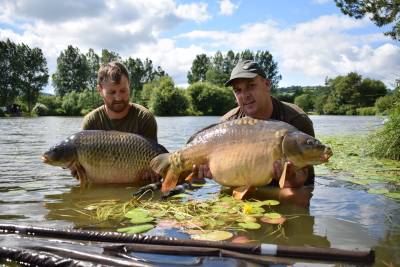 Tutorials
My WCC Journey 2016
John Cooper recalls his match sessions fishing the Welsh Carp Championships with angling partner, James Dawson...
So this is 2016 and I decided to enter the Welsh Carp Championships again with my partner James Dawson and this year we decided to enter our qualifier on home turf a lake called Whitesprings, a day ticket venue in Swansea. With me being head bailiff at the complex and jus recently getting sponsored by Mainline Baits expectations were high. Here's my story of how it unfolded…

It was early morning when I woke on the morning of the qualifier not sure if I was excited, nervous or just outright confident, but one thing I did know was it was game day. I set out to the venue early to ensure I could have a good walk around and not have to rush any of what could vital decisions. Not sure why though, as I'm at the lake every week, if not fishing on my bailiff rounds. I wasn't sure if it was going help at all. However, it still felt right so I just got on with it and took some notes. My partner James wasn't going to arrive till after the draw, so that meant more pressure, but I love it really. We were all called together ready for the draw to commence where our names came out third and my first choice of peg was still available. Peg 7! I shouted with a huge smile on my face knowing that this peg has been doing fish almost everyday for the past three months. I waited around to see out the rest of the draw as I wanted to know who had what, as in my eyes this was the most dangerous qualifier of the comp. I quickly called James to tell him the good news that we were on peg 7 and to get him to hurry up.
Tens minutes later James arrived and we set of to our peg full of confidence. With the thought in mind that I'm going catch so it was a case of the other competitors not only having to catch, but catch more than me. The hooter soon sounded for the start of markering and baiting, this is where my tactics and little edges started as I didn't have to marker or find spots as I know them already - like the back of my hand. A nice slow set up just in time for the starting horn to be sounded. All four rods went quickly and quietly out onto the spots. Before we knew it we were into the first fish of the day. First blood Cooper and Dawson. The captures kept coming at a steady pace not only for us, but for a few other pairs as well. I knew a few pairs around the lake had had a couple so we had stay focused. The first 24 hours soon passed us by and we had led from the off and were still leading, with John Flewin and Ethan Thomas in a close second and slowly but surely eating away at our lead. Until the unbelievable happened. My right hand rod peeled away and after a few problems the fish was 10 yards out with James armed with the net ready to do the business then suddenly his rod slowly started losing line off the spool and he was in as well - a double take. This was our second of the day as we had one a few hours earlier resulting in a combined weight of 27lb for the two fish. Five more minutes passed and mine was in the net. 'Get in' I shouted knowing that this was one of the members of the complex 'A team'. James soon landed
his and what looked to be another 'A team' fish could this be true we thought. We called the marshals to come round and do their thing. First up was my mirror onto the scales she went and weighing a superb 35lb 8oz and I put her into the retainer for the double take trophy shot. Next up was James common and would you believe it this fish was 35lb 8oz as well not only was it a double take, but it was one common and one mirror both weighing 35lb 8oz.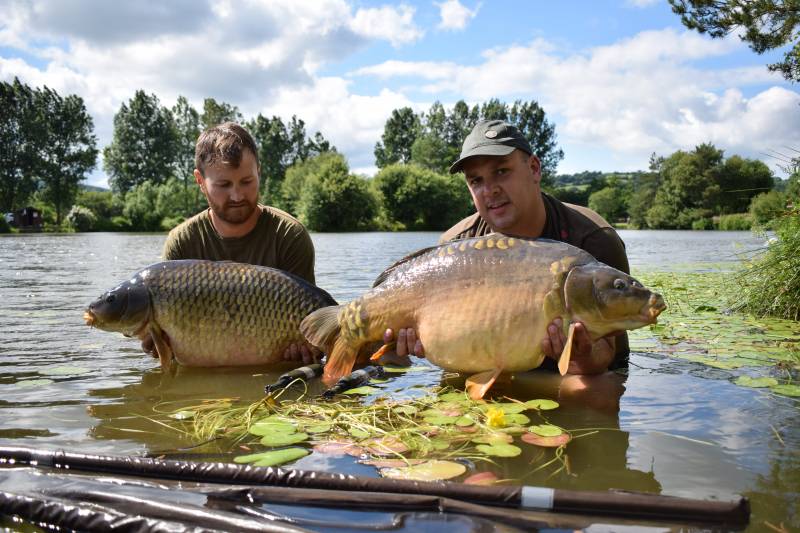 Was this history in the making and would we ever see this again down in Wales I'm thinking most probably not. We set up the cameras and everybody snapped away. These two fish put us over 70lb in the lead. We then decided to crack open a few beers to celebrate our best moment in our carp fishing careers together, as we have been fishing together for 15 years plus or more. It was time to relax and enjoy what had just happened after all, all we had to do was qualify for the finals, and didn't believe any other peg could catch us from this point onwards except Peg 10 who had John and Ethan on there. With John being one of my bailiff team he could cause us a few problems however we were confident of qualifying anyway. One beer led to another and before we knew it we were up into the last 12hrs of the qualifier. A quick check of the scores and I think we were in first place, but only by a few pounds, then John had a fish of around 17lb I think, which started to make things a little interesting and those beers last night were not such a great idea. The rods were back out on the spots for one final push although not really needed. With one hour to go James was away with his sixth fish of the comp not sure of exact weight, but what I do know is we were still 6oz away from first. Time ticked away and second place it was and into the final we pushed. All in all, a great qualifier.
The next few months passed and the final was soon upon us. With the final venue being on a club lake called Fendrod it wasn't going to be a walk in the park. Having done a few nights previous to the final to try and work out a little bit about the lake as I had never fished it before this resulting in a few fish and the only thing learned was it was like a shallow bird sanctuary with over 200 birds residing on the lake. So trying to learn anything or even get any bait in to see how the fish respond was a non runner. However, we decided on doing the night before the final on the lake jus to do a bit of prep and watch watch what was happening and to see if the fish would move. It rained heavily that night so it was food and an early night. Up early the next morning around 6.30 we decided to take a few laps and on our first lap round along a bank the locals call the road bank we get down the the bottom end and the last fishable peg and saw a lot of fish just head and shoulder out. This didn't stop they just kept on going we finished the lap and decided on a full breaky just to settle the nerves. We were soon at the carpark for the draw all with note pads in our hands. First up was lake regular and venue favourite and low and behold he chose the hot peg. We stood waiting for our names and listening to see if our second choice peg was taken and 2, 3, 4 then it was us and still our second choice was free so we called it in and loaded up the barrows to set off to get set up. Whilst setting up before the sound of the starting hooter we saw over 40 fish top out only 20 yards out as you can imagine we were keen to get the rods out and catch whilst the fish were there. Rods out and waiting all armed with a 6-inch fluorocarbon 'D' rig with a Mainline Cell 12mm Balanced Wafter we put out around 100 free offerings of Cell 15mm boilies as well, so confidence was through the roof. Our tactic throughout the final was to bait every 2-3 hours with a mix of 10mm, 15mm and 18mm Cell boilies.

We didn't have to wait for long as my left hand rod was away and the 12mm Cell Wafter proving its worth, the first fish slipped over the net cord and on the bank, which what I thought was the first fish of the final. It was game on and had to keep going and keep focused. The marshal arrived for the weighing etc. then said "down to the next peg as they got one", on his way back past I asked "any size?" he said "no, but he's had five", this was in the first 2hrs. This was going to be a big ask, but we were up for it. The day passed with a couple more fish to show for our efforts. Late that night I had a screaming take which resulted in a nice little mirror.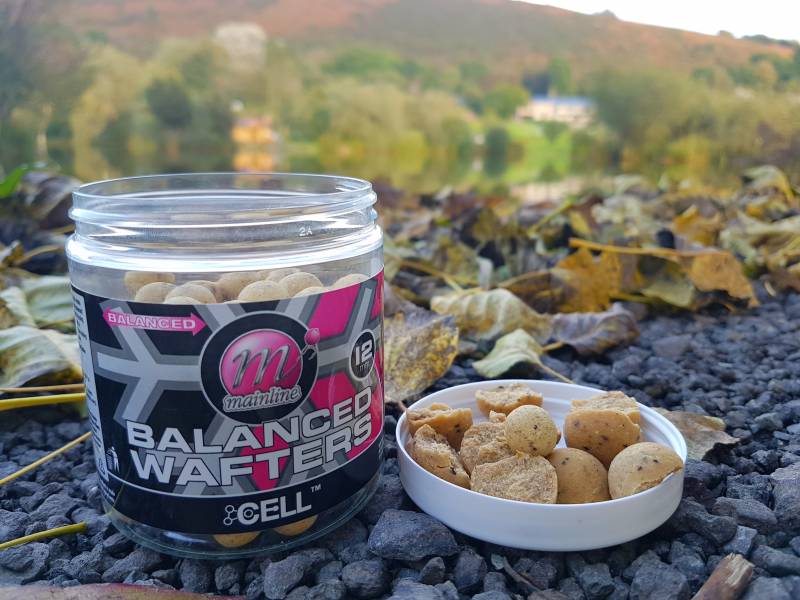 We again called the marshals however they came from the other direction this time I thought to myself they've had another one have they so I asked the question and to our disbelieve I got this reply "Not just one they've had another ten!" This meant second place was more likely if they kept up this catch rate. Saturday passed and dusk was upon us for us without a fish to show for our efforts. We decide on an early night ready for action early next morning. We were now looking at the last six hours and still in second place, but with a few pairs now pushing up close to us. After a little team talk we decided to change the tactics on one of James rigs and hit one out into the centre of the lake where we had seen fish topping. 15 minutes after casting he was into a fish that had dropped the lead and was giving him the run around. He finally won the battle and what was the best looking carp for us in the final we weighed it and came in at 20lb 4oz. This turned out to be our last fish and damn did we need it as news got to us that the lads in third had just had a 17lb fish that put them only 4lb behind us. The last 2hrs passed with the scores staying the same we were Wales number two. I must add that the boys who won had a staggering 289lb which for the lake we were on isn't known. We packed up and enjoyed the presentation. Along with our 2nd place prizes we also won biggest fish of the comp, so couldn't be happier. Home was our next stop for a well deserved shower and some good home cooked food. By 4pm we were on the phone organising our next trip out. We love the sport and some say its a way of life and they not far wrong. Roll on next year where hopefully we can become WCC Champions.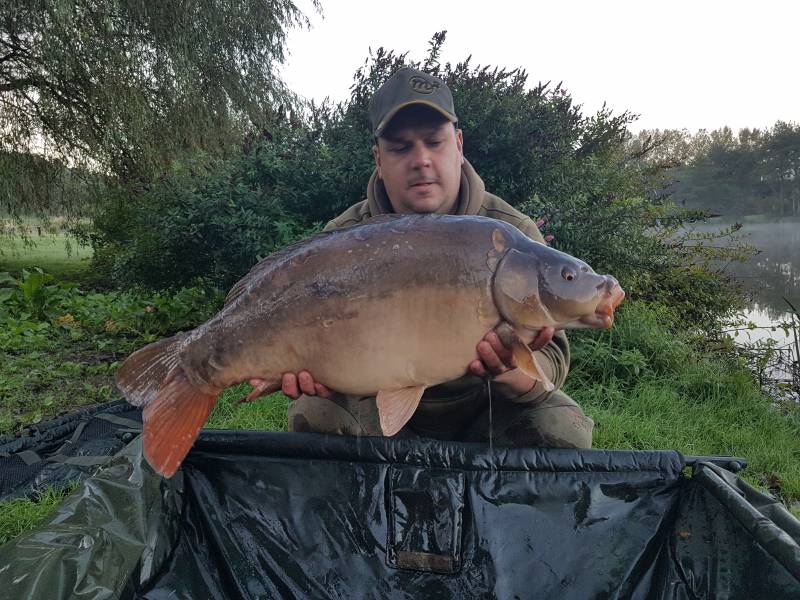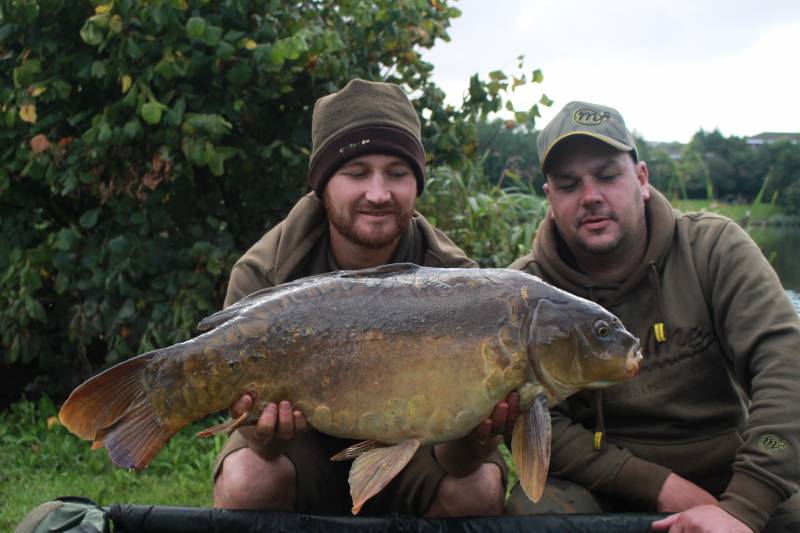 Share this article
0