Mainline
Articles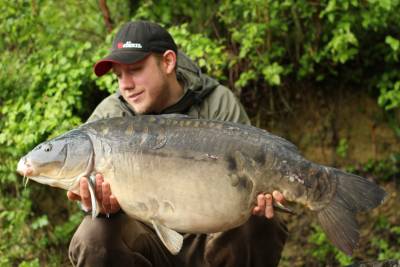 Tutorials
Marne Valley Result!
Nick Hill recalls a recent and very memorable trip to Marne Valley in France - armed with Essential Cell and full of expectations...
On the 6th of May I made the long trip to Marne Valley's Juvigny Lake in France for a mate's birthday. Going on past catch reports from the lake I had set myself a target of six or seven fish and hopefully a lump or two for the week. There was only four on the week before and we did see one leaving who informed us that there was only 14 fish out up to 37lb. This was a little concerning and we were worried one or two of us could struggle going on past reports, but Pimmy the birthday boy had been here five times before was still confident we would all catch.

Once inside we set about walking around the lake where we noticed the fish were fairly spread out but were mainly held up in front of peg 9 and 6. We stopped back at peg 2 and all put forward our choice of swims. Pimmy the birthday boy had first choice and amongst us we all chose a swim without the need for a draw. I chose peg 4, which was the only swim we didn't see a show. This may seem strange but there was method in the madness. The main points were the fish were held up straight opposite in front of 9 with the lake only being around 190yards across and square in shape. It also offered a spare swim in the corner to the left, which gave the carp sanctuary and a lovely shelved off margin to fish to. A lot can change in a week and I was confident in the fish moving onto me at some point and the margin was sure to hold a few fish throughout the trip.

Once in the swim I settle on two rods on a small raised gravel area in open water at 56 yards and the other cast from the bank as close to an overhanging tree on the margin as possible. The first night I didn't see much my side of the lake but at 11pm I had a stuttery take on one of the open water rods, and after a strange but easy battle I had my first ever grass carp in the net. It looked like an upper double and being the only one on my side of the lake I slipped it back without bothering the others for photos. The rest of the night was quiet.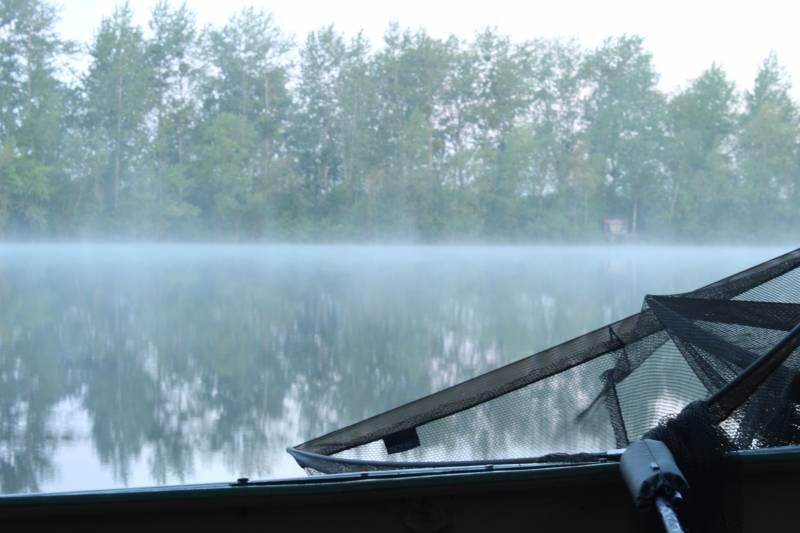 Day Two: I decided to make a slight change to my margin rod after seeing a few fish along the margin in the morning and not a single beep on the alarms. I decided to get tighter, which required getting the waders on to cast around a large tree which prevented me getting along the overhanging tree on the margin. By doing this I could cast into some small trees on the bank, attach my hooklink and place my bait within inches of the overhanging tree. I must note that this tree didn't reach far into the water so any hooked fish could swim straight under the tree and out into open water on a tight line at the rod end. I baited around 30 of the new Mainline Essential Cell boilies broken and whole and a few handfuls of matching Response Pellet.

A couple of hours later that rod was off and the fish bowed straight out into open water as I was fishing locked-up. What followed was one of the hardest battles I've ever had, the fish went on multiple runs at almost 100yards, and hugged the bottom at the rod tip for what seemed like forever. After around 40 minutes I finally see I was attached to a small ghostie, and after one gulp of air was ready and in the net. The needle went bang on 23lb and my account was well and truly opened.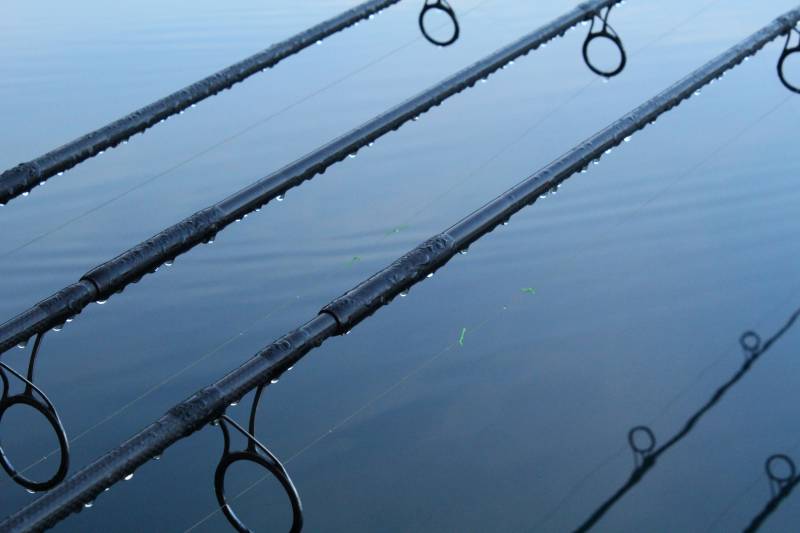 That night while having the BBQ social I told Pimmy where I had my take from, which lead us to talking about the washing line method using two rods one in the front of the swim and the other on the margin I was fishing to. By attaching the two together via a quick link and adding tension, this creates a washing line across the water to carry your used fishing rod across. Once back and one cast onto the bank I attached the two rods against large bank sticks up in the air my washing line was set for the week, there for no need for the tricky cast in waders and added disturbance. So across went my end tackle, I under clipped it from my washing line attached a 4oz G-force dumpy pear to my lead clip and my ever faithful G-force size 4 curve shank blow back rig armed with a pink Salty Squid Balanced Wafter to stand out for quicker bites. To place my rig I used a landing net handle with a baiting spoon attached to the end, I placed my rig in this along with a handful of crushed and whole boilies and a couple of handfuls of matching pellet before sending it out and dropping it at the base of the overhang. Now I just had to set my rod on the alarm with a nice tight clutch and that was surely a bite.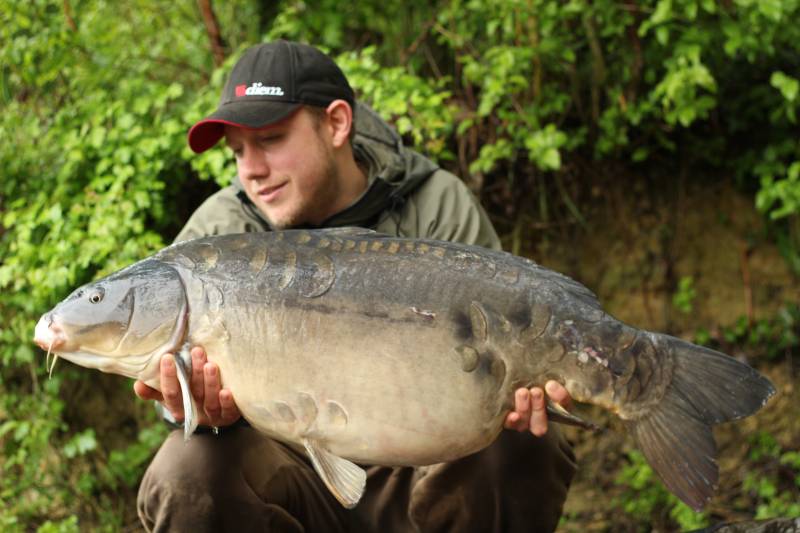 Half hour later and it was away! I put the quick bite down to the minimal disturbance, this was a deadly tactic and one I was looking forward to exploiting throughout the week. A short battle commenced before a dumpy 33lb common lay in the net. A few quick self takes and she went back and the washing line was back in use. I landed one more that evening, a small 24lb 8oz common on the same rod before it went quiet for the evening. That next morning all hell broke loose, with a take on first light from the margin resulting In a 31lb 10oz common, then within 15minutes of replacing that rod while the fish rested in the floatation sling that rod was away again. Just as a 24lb mirror slipped over the cord my open water rod roared off, lucky for me I had a second net set up and ready to go. After hugging the deep margin for a short while the battle was won and a larger mirror went in and it was a cracker to boot. Result!

Luckily Ross had seen the chaos and was on his was round to weigh and photograph. The larger mirror was the pick of the bunch at an irrelevant 38lb 9oz. The rest of the day produced another three bites all coming from the margin rod with a 26lb 10oz common, a low double but gorgeous zip linear and a 28lb common.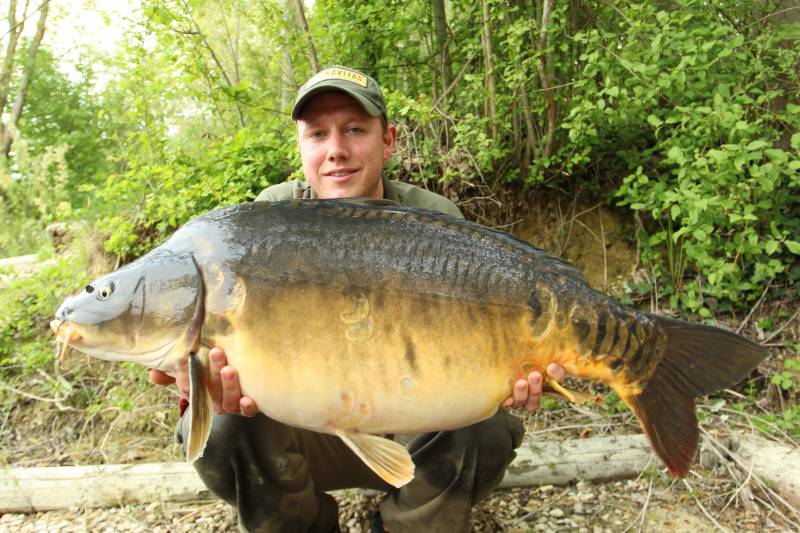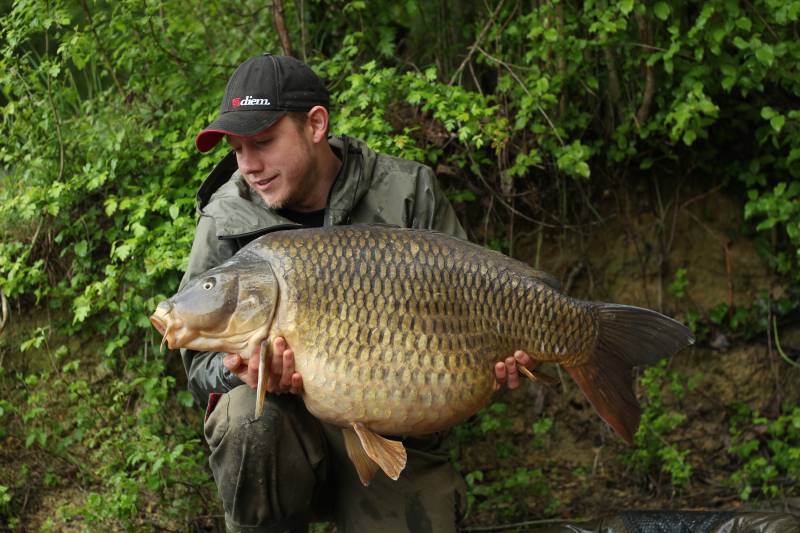 Just as I was thinking the margin was patrol route for the angry males I had a funny slow pick up and only a small knock on the rod tip, which I was onto in no time. The battle that followed was typical of a big fish, with a heavy weight to it, I applied steady pressure as it didn't kite or run at all but came in a straight line before getting to the margin where it held the bottom for the next 10 minutes with its extra weight. Once it began to tire and slowly make its way up the water columns I see its huge frame followed by its big rubbery lips breaking the surface before the net was slipped deep under her body. Wow! Looking into the net I instantly signaled across to mark I had a lump sulking...

Mark and Stu both reeled in and made their way round to help out with my prize along with Chris the owner, who had just arrived to see how we was getting on. Once on the mat it was apparent it was one of the largest fish in the lake. We took extra care when hoisting it up on the scales, the needle stuttered above and below the 60lb mark before Chris stepped in to announce the exact weight at bang on 60lb and a new PB for me. Day Three and I had already exceeded my target with 11 fish and a new PB, I was ecstatic. Photographs followed thanks to Mark and a soaking from Stu for the new PB along with a memory shared with friends that I will never forget.
The rest of the week went on as it started and I ended the trip with 31 fish, which included 1 x 60lber, a 48lb 12oz mirror, a 47lb 2oz common 14 x 30lb+ fish to 39lb 14oz, 10 x 20lb+ and 4 doubles. What a week, I will definitely be back. The lake record for most fish caught in a week was 56 fish, which we smashed with a combined total of 81 carp caught in just one week. Amazing!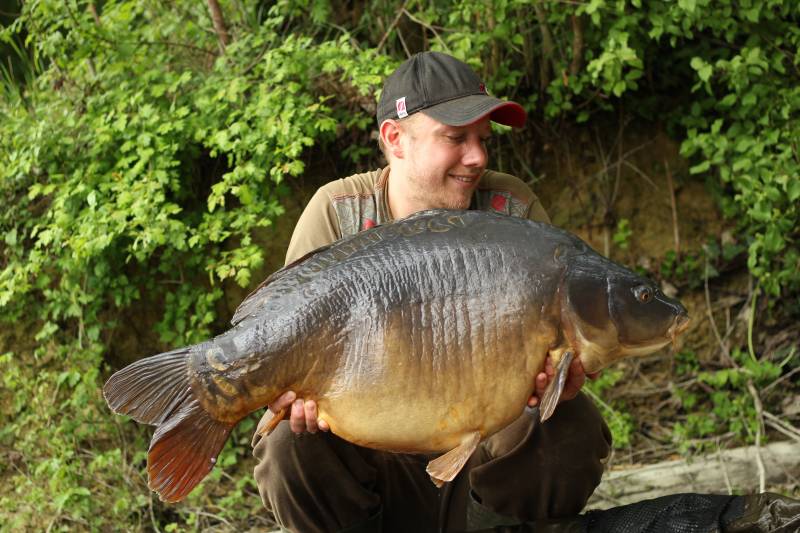 Share this article
0