Mainline
Articles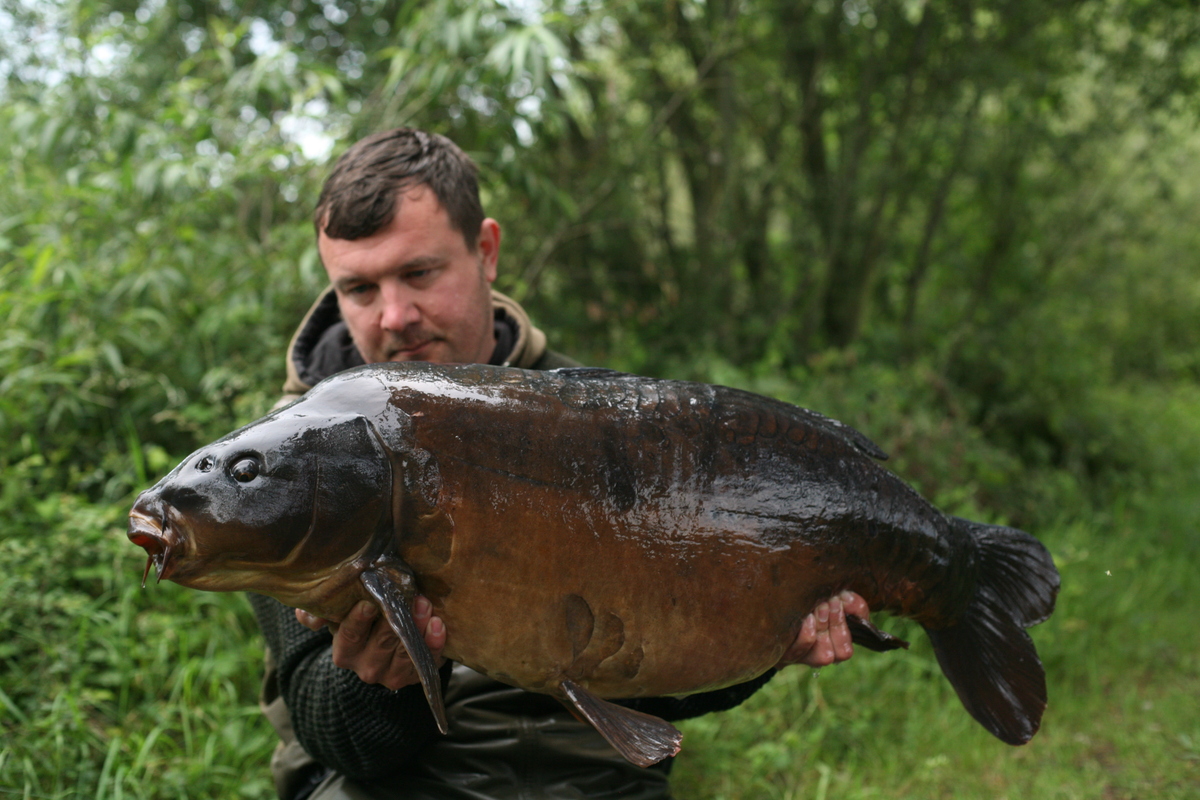 Tutorials
Chasing The King Of The Pond
Mainline angler, Dave Springall met up with fellow Mainline carper, Lee Randall recently to find out how he took on a new challenge of a 45-acre pit containing just forty or so carp...
So Lee, why and when did you first decide to head over to Berkshire? Being based in Dover it's a pretty serious drive.
As with most of these scenarios, I had seen some amazing photos of some lovely old carp as well as chatting to friends who fished there. I had enjoyed a solid couple of years back home in Kent including an incredibly successful spring over on Larkfield No.2 and I was really in need a fresh challenge. Living out where I live I knew that at some point I was going to have to do some driving to continue to target the type of carp that I like to catch and this seemed about as good of a time as any.
You had a little taster the previous year, didn't you?
I did yes. I went for a couple of sessions on a lake that I really fancied of about fifteen acres with a fairly low stock. I wanted to just see exactly what was involved with travel time, levels of commitment and exactly what would be required to commit to a proper campaign at some point so I made a couple of trips and I was instantly sold on the area as a whole. It's a lovely place to angle and a brace of rare 37lb'ers to kick off didn't do me any harm either!
But you chose not to stay on that lake. What swayed you to the lake that you ended up targeting this past spring?
I was always aware of the venue and after actually seeing it in the flesh and some shots of the stock I just knew that's where I had to be. It's a large boating lake of around 45 acres, weedy and holding only around 40 carp. It's wild, overgrown and with very few proper swims. Waders are needed for every cast and to land pretty much every fish. I think it gets pretty well left alone due to it being less than comfortable which suited me just fine. There are some really special old fish in there but the biggun is just in another league. To me and many others who are familiar with the lake it's right up there with the best around and at 45lb+ it really is an amazing creature. It was then that I knew I had to find a way to spend some decent amounts of time there the following spring.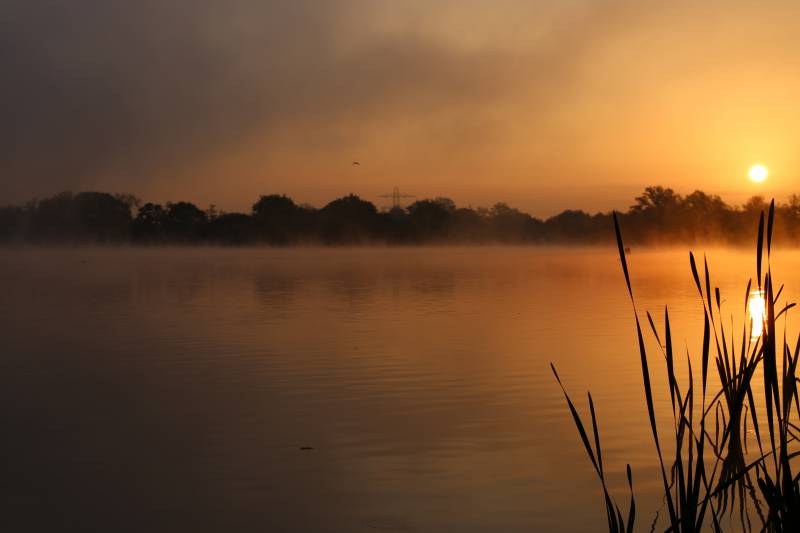 Once the decision was made to make the commitment what steps did you take in preparation? Let's face it you're far from being a full timer!
It's wasn't easy. I'm a mechanic by trade and have my own garage where I work part time, mainly weekends these days as my weekdays are spent working at Invicta Angling in Kent which is a super busy tackle shop. I'm also a Dad of three boys and I literally just got married a week ago so I'm not blessed with lots of free time to dedicate to carp fishing. Luckily for me my boss Tim is an angler and understood what I wanted to do. He kindly agreed to let me work lots of shifts through the winter and early spring including weekends and bank holidays so that I could cut down to a three-day week from the beginning of May to get some decent length sessions in to make the long drive to Berkshire worthwhile.

I serviced my car and got myself some breakdown cover in case of any dramas on the 260 mile plus round trips that I was now faced with. Other than that, it was the usual bait and rig preparation, which I had become well accustomed to fishing at range in Kent over the last few seasons.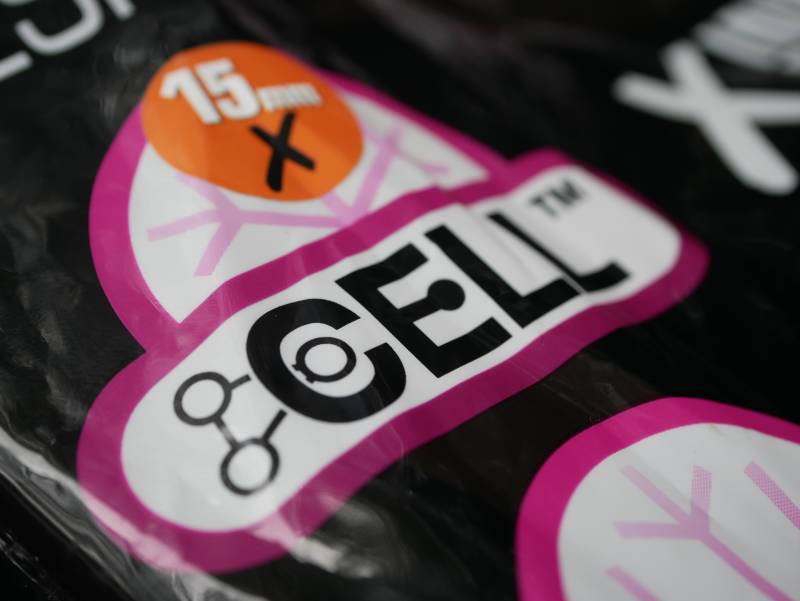 What was your though process when it came to bait for this new venue?
To me it was very simple. I couldn't drive all that way and leave anything to chance. My boss had only agreed the reduced hours at work for a period of six weeks so I really needed to make the most from every chance that I got. With this in mind there are three main baits that I rely heavily on that for me all carp will eat regardless of where I may or may not be angling. A mixture of Mainline Cell, Activated Hemp and Activated Tiger nuts formed the mainstay of my armoury. Being so busy I have very little time to prepare particles or nuts properly so these new jars have been a real godsend for me. The Cell speaks for itself, proven beyond belief and again had served me so well in the past. It's just an obvious combination for me and I don't use any special versions or mixes, just straight off the shelf the same as anyone else.
So talk us through how it all came together over the first few nights.
My first trip was after finishing work on a Wednesday at the beginning of May which saw me get the lake at about 8pm so I would end up not fishing until the following day. I had a small amount of information to go on from a couple of mates, but on the whole very little really. After arriving at the lake I gained a little more information from one of the lads that there had seen a couple of fish on the end of a wind. I managed to get into a swim that I fancied and went on to find a very nice but small clean area amongst weed, just big enough to fit two rods on at just under 90 yards range which looked as a good a place as any to start. The planned Cell, hemp and tiger combo was delivered and the waiting game began.

The first morning was pretty grim on the whole with nothing to report other than a strong cold north easterly wind and only a couple of shows, both of which were 50 yards or so from the spot. It felt like winter if I'm honest. That night I decided to stay put and put another half a bucket of bait in which resulted in a fish called the 'Little Leather.' A really rare one at 25lbs and a great way to start after just two nights on a big low stock pit. My fun didn't last long though unfortunately as the rest of the session passed without action and after watching the fish all stay miles out of the back of the spot at range I went home knowing that I really should have followed my instincts and moved after the second night.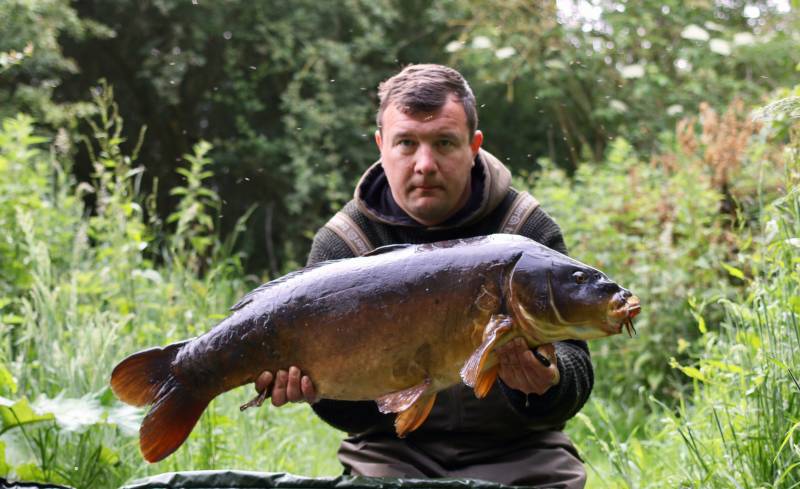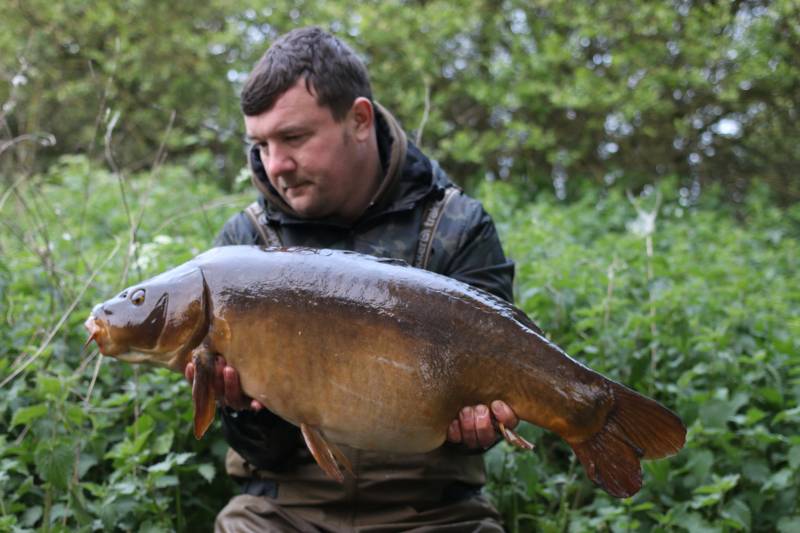 Sounds like you were getting dialed-in from a very early stage, so what happened on the second trip?
As before I got there at around 8pm after work but this time to find lots of fish in another swim right in edge with a few shows just three rod lengths out. I set up in the point swim and opted not to fish that night. I slept from 11pm until 4am and at first light they decided to put on a big show which started at 140 yards range and as the morning wore on they eventually drew closer coming in as close as just 70 yards out. I remember counting the vast majority of the shows at about 90 yards and after the carp finished their acrobatics I decided to have a lead around in that specific area.

Unsurprisingly I went on to find a bar at 90 yards right where they had shown the most. Clean gravel surrounded by weed and big enough for all three rods. Twenty Spombs and a few casts later I was in business in some lovely conditions hoping that they would be back at the same time tomorrow. The next three nights produced a mix of fortunes with a really small common and huge tench on the first night, the unfortunate loss of a seriously powerful fish on the second night and then on the last morning one of the oldest in the lake in the shape of the 'Original Common' at 27lb 12oz. Over the three nights I had used around 8kg of Cell mostly in crumb form and 15kg of hemp, 2kg salt and around a kilo of tigers.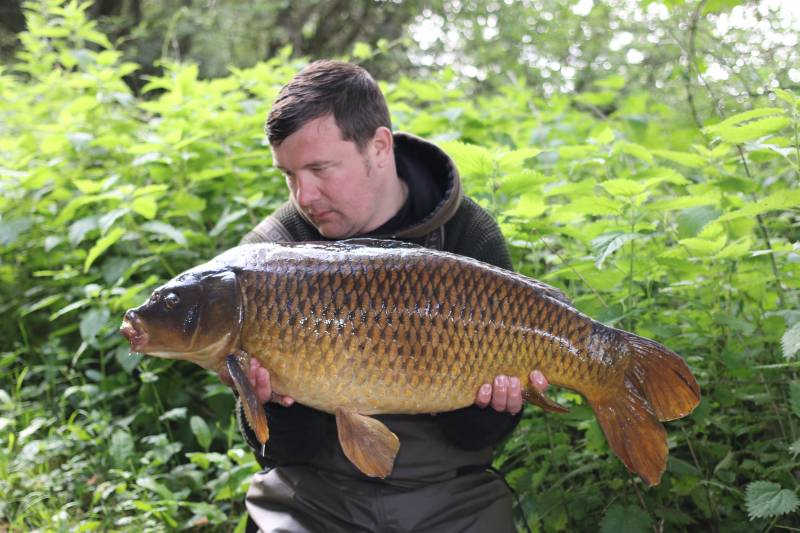 What approach did you settle on with regard to rigs and presentations at this stage?
To be honest I didn't change much at all from my previous Kent based angling. I had been fishing at 120-130 yards range with heavy mono for quite some time so to find a nice spot at around 90 yards out was super comfortable fishing for me which allowed me to be accurate with both baiting and rig presentation. Just basically carrying on where I left off in Kent really which was finding clean areas amongst large thick weed beds and baiting them consistently. The main change was that I was allowed to use leaders on there where in Kent they're strictly prohibited.

I used long lengths of lead core, just to combat the weed really coupled with strong 0.40mm line, 4oz distance leads on safety clips and either balanced hookbaits or pop-ups on big size 4 hooks. The long drive, time out of my schedule, rugged nature of the lake with only a few carp to go at means that there is literally no room for mistakes so I fished as brutally as I could to hopefully avoid too many mishaps. Just proper big pit, big carp fishing really over lots and lots of bait.
Sounds like the spot was always going to be a good one and the bait was working early on. How did the following trips unfold? Did you manage to get so
As it happens I did. However I now had to miss a week as the carp had decided to spawn so that gave me a week to get prepared to hopefully carry on from where I left off. After spawning had finished I arrived for the next session and found very little go on apart from a nice, warm south westerly trickling into the same swim. I started off with around fifteen Spombs of the usual mix and just after first light another double figure common graced the net. Not what I was really after but a nice result none the less and the shows were bang on the area once again. I knew I was in the right area and that the bait was working. After going on to see some really decent fish showing over the bait I felt sure that it just had to be a matter of time. I spent the day watching them at close range in thick weed before another 25 Spombs were deployed back on the spot just before dark.

The following morning I saw a small one pop its head out, again on the spot and decided to put the chest waders on at around 5.15am and stand out in lake for a better view of proceedings when without warning the middle rod went into absolute melt down. A nervy tussle resulted in a 25lb mirror, which turned out to be one of the same strain of fish as the biggun. It left me unsure as to whether I should recast or leave just one rod on the spot. After a little deliberation, I decided to go for it and luckily it went out there first time.

At about 8.30 after more shows I received a second take, which started off really slowly but then stripped what seemed like a good 80 yards of line from the reel on a crazy run and weeded me up on two separate occasions. The fight went on forever but eventually somehow the hook stayed in despite all of the weed and I was rewarded with an incredible 31lb fish known as 'The Leather'. I knew that this was 100% with the group off big fish that I had been watching the previous day in the weedy corner which was even more encouraging knowing that these fish seem to stick together and were no undoubtedly visiting my baited area.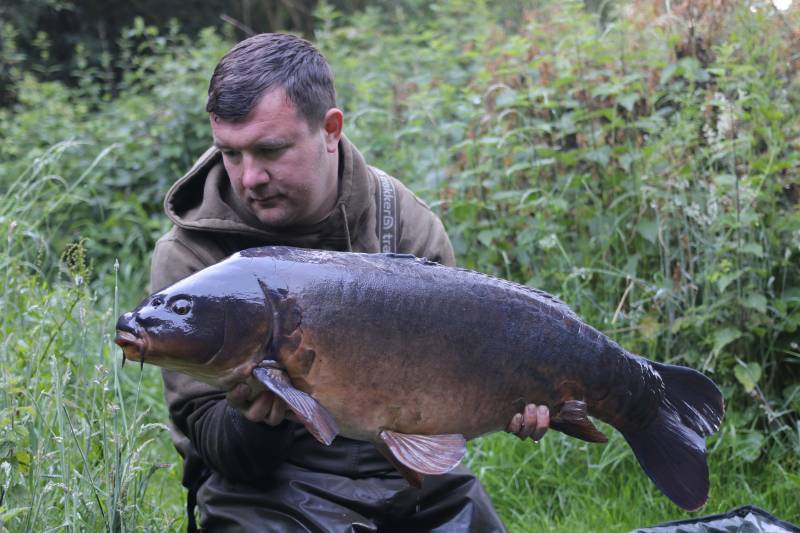 It sounds like it was really hotting-up now Lee, you had to have been pleased with that?! Was there any more action on that session?
There was indeed. Another bucket of bait that evening produced three more bites believe it or not. A tiny common of a round 8lbs, a mid-double common and another 31lb mirror. I couldn't believe it. A brace of thirties on a lake of this magnitude after only three trips to the lake. As you can expect my confidence was now literally through the roof. Everything was working just as I had hoped and it was starting to get a bit addictive if I'm honest! The final night sadly didn't produce a bite but I knew I only had a few days to wait and I would be back for more. Before I went home I baited heavily again with lots of Cell, hemp and tigers hoping to get back in there the following week as there was a crazy moon phase due to coincide with my next session.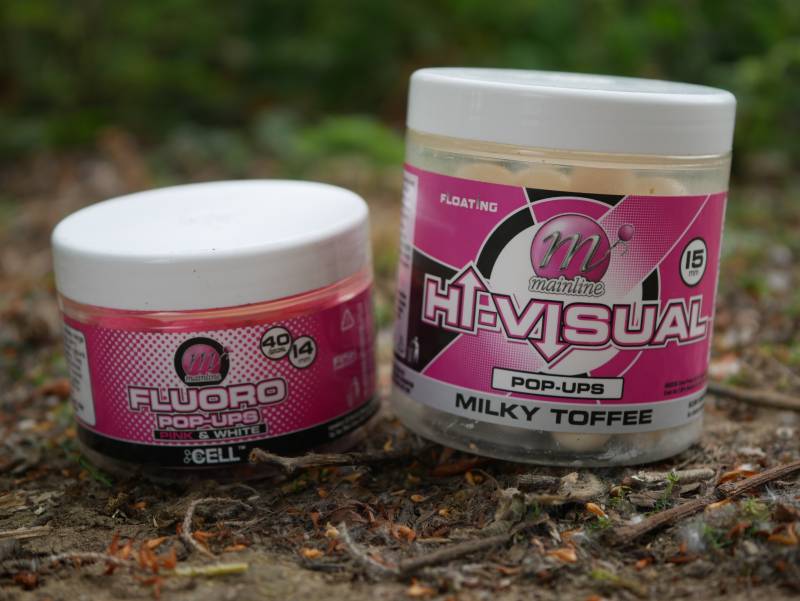 Some incredible numbers Lee for such a large low stock lake. So what unfolded next?
Well, as you can imagine, after catching six carp I was itching to get back. The spot was now well and truly rocking and I just knew I would catch more from there if given the chance. The weed was now coming up thick and fast meaning that it was one of the only really reachable spots on the lake that they would come to feed on.

Once again I arrived on the Wednesday after work at 7.45 and super eager I grabbed a bucket from the back of the car to go to the swim and stake my claim. After a quick walk around I was horrified to find the swim taken by another angler. As it turned out though luckily the chap was due off in the morning so I dropped into a swim not far away that I had also been trickling bait into every week for something to fall back on if the situation arose and opted to fish just one rod on the pre baited area.

As always I was up at 4am and the fish were once again showing smack bang on the bar on my main area which was still occupied by the other angler. I just knew it was all coming together they were now there each and every morning. At around 6am the single rod I had out in the in fancied area tore off out of nowhere. I was shocked as I hadn't seen anything and after a short battle a lovely dark mid double common was netted. Happy days indeed. Not only had my night away from the preferred swim not been wasted but it was now becoming more and more apparent that wherever I put bait they were eating it almost straight away. By 10am the swim I needed to be in was free and needless to say I was round there like a shot!
You must have been ultra confident by now, it must have left like you couldn't put a foot wrong.
I was, as even when I wasn't really where I wanted to be I was still catching. I spent the afternoon sorting bait and rigs and then put around seven kilos of mixed hemp and chopped Cell and a few handfuls of tigers out over two rods. Neither of the casts could have been any better that evening and I couldn't wait for the productive hours to come. True to form the shows started again at 4am and after one showed literally on top of my rods it was time to don the waders in hopeful preparation for a bite. A 6.30am bite produced a very rare and very spawned out 27lb mirror and once again it was starting to feel like something special wasn't so far away. It was becoming like Groundhog Day now and the next day was a re run of the previous one. Resting the area during the day followed by bait out, new rigs tied and two rods pinged out to the spot in the later afternoon in readiness for the witching hours that would inevitably follow.
The anticipation must have been huge at this point?
It was off the scale. It's funny, you come to a mega daunting venue like this just hoping that you don't blank for the whole season and before you know it you feel close to achieving everything you dreamed of in double quick time. But that's fishing, you just do the best you can and hopefully it all comes together the way you would like it too.
So with just one night left on this latest visit what happened next?
As I already mentioned It was the night of the new moon and it all looked absolutely perfect. I spoke to a good mate that evening he was saying: 'Mate I hope you got everything on the money tonight, tonight is the one!' I joked and said no need to worry everything was perfect. I didn't really take extra special care as I always take extra special care so apart from the favourable moon phase it was just another night, although it did have a very different feel to it I have to admit.

The anticipation grew and at 3am and I received a take. A slow and heavy battle ensued which annoyingly took the other rod out mid fight but luckily didn't stop me netting a good sized mirror. In fact it was one of the A Team and I weighed it in at a slightly spawned out 36lb 8oz and popped it in the retainer as by now it was now starting to get light so I wouldn't have to wait long to get some photo's done.

As much of a huge result as this was the downside was that I now had no rods on the area with the most productive time yet to come. I decided just to put just one rod back on the spot and the first cast gratefully landed with a really firm 'donk'. I sat back and put the kettle on for a well-earned brew, to take it all in and to text a couple of mates who were also there to inform them of my result and to ask them to come round to help do some photos.

The next thing I knew the single re-casted rod was away in the blink of an eye! An absolutely savage take that literally just flat rodded me and stripped a good fifty yards of line on its initial run. By the time I gained any control it was about 140 yards out and as the lead came off it erupted on the surface and started kiting well to my left. I remembered chatting the day before to one of the lads who said the biggun is notorious for coming straight to the top and going absolutely mad. So now I am attached to this beast and am thinking this could be it, this could be him?!

After what seemed like forever I finally had the fish just twenty yards out and at this point got my first good look at it. I then knew exactly what it was and just as my suspicions were confirmed it went on one more powerful run which had me shaking as it tried to get round the corner. Luckily all went well and I soon had him safely in the net. I peered into the mesh and sure enough there he was - the biggun. The most awesome carp I had ever seen. It was the sole reason that I had come here and blown away I once again phoned my two pals who came straight round .We were all gobsmacked and I feel sure it's a morning that all three of us will never forget. The guys were all excellent and I am so grateful that they were there to share this special moment with me. Everyone looked on in awe as we weighed him in at an irrelevant 45lb 3oz and the boys did both me and themselves proud with some fantastic stills and video footage of the incredible brace.

So just after just 17 nights spread over four trips and 1000 miles driving it was 15 carp for me and job done. I got married just a few days later too so all in all it was a pretty bloody good week and one I won't forget in a hurry.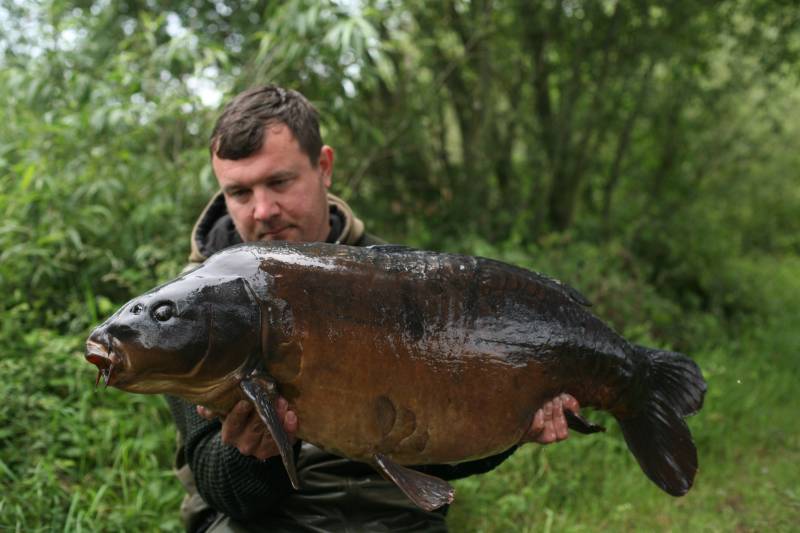 Share this article
0