Mainline
Articles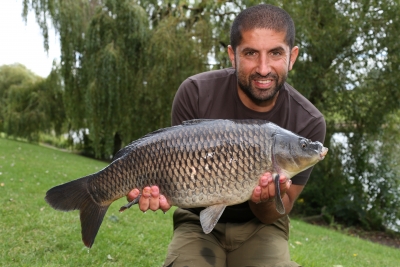 Tutorials
Balanced Bites! Part One
Mainline carper, Ali Hamidi reveals how using 'critically-balanced' baits couldn't be easier thanks to our new range of Balanced Wafter hookbaits!
Hookbaits have always played a vital role within my fishing for carp – yep, sounds a bit of an obvious statement I know, as you obviously need a hookbait to fish – but what I'm talking about here is specialised hookbaits and the attention to detail you can apply to your hookbait to gain extra bites.

After all, once you've done all the hard work of locating fish and finding features etc. your hookbait is pretty much the final part of your fishing approach. If it doesn't perform well, its highly likely that your rig will also be less effective and all the hard work that's gone into creating a bite will often go to waste.

With a busy job my time on the bank is often short and therefore precious, so I definitely don't want to let any such chances go astray. For this reason I pay as much attention to my hookbait as I do to other crucial elements such as strong line and a sharp hook.
In many cases this has involved making my own 'custom' hookbaits – things like Polaris pop-ups using various flavour combos and Cell cork ball pop-ups with a tiny amount of brown colour. Little tweaks to give myself an edge.

One of the trickiest hookbaits to roll would always be 'balanced' baits, as there is so little room for error. Food source liquids such as the Mainline Activators are a lot heavier than the high attract Response and Profile Plus flavours – so every mix would take a lot of experimenting and time to get just right.

As I've already said, time for fishing is not something I have masses off these days, so man was I pleased when the chaps at Mainline did all the hard work and released the Balanced Wafter range of hookbaits!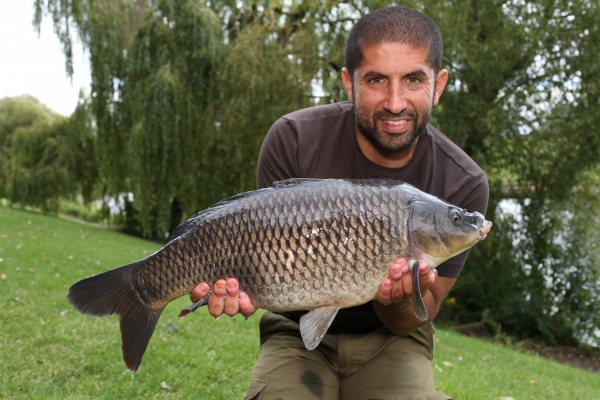 BALANCED WAFTERS – WHAT ARE THEY?
It's probably best that I start by explaining exactly what a Balanced Wafter is? Well essentially a wafter is a cross between a standard bottom bait and a pop-up – as the wafter holds characteristics from both. It will have some buoyancy, although not as much as a pop-up – just enough to sit-up off the bottom slightly on the Hair with the level of buoyancy countered by the weight of the hook.

This is a fantastic quality when boilie fishing, as it means your hookbait reacts to the investigation of feeding fish in a very similar way to your free offerings. It will hover and 'waft' on the bottom just like the free, 'safe' baits that are not attached to a rig and the weight or resistance that creates. Put a few boilies in the margin and gently waft your hand above them in the water and you'll see what I mean. They will roll and lift from the bottom a little.

When your hookbait can also react in this way it's obviously an advantage, especially when the carp of many fisheries are so pressured. Coupled with the fact Balanced Wafters are available to match your favourite flavours such as Cell, Hybrid and the High Impact boilie range – having a tub or two of these advanced hookbaits made easy, really is a no-brainer!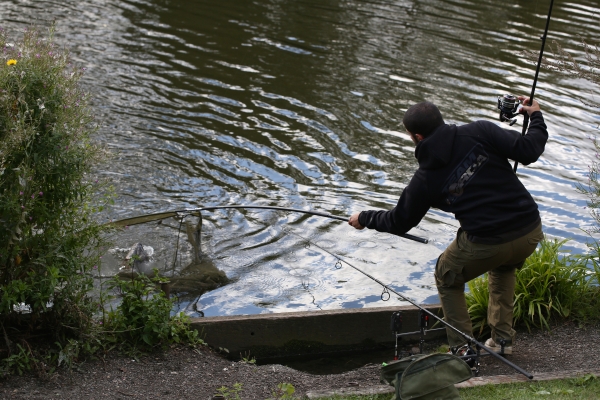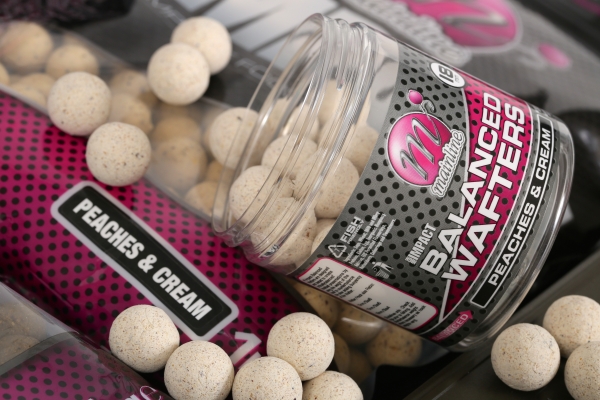 THERE'S SO MANY BENEFITS!
Containing that little bit of buoyancy Balanced Wafters sink very slowly once the lead hits the deck, but will also shoot-up into the mouth of inquisitive carp very quickly. These qualities can really help your rig presentation in some tricky situations and are a big part of why I like to include balanced baits within my approach so much.

The quick-fire reactions of theses 'critically-balanced' wafters when approached by fish are perfect for my solid PVA bag fishing – something I will cover in more detail in the second part of this feature. Then you have the slow sinking side of things, which is a major benefit to another big part of my carping – boilie fishing.

Creating a spread of boilies with the catapult or throwing stick is an awesome tactic, which encourages the carp to move between baits as they're confidence builds and they're guard lowers.

Now this is an approach that I may apply to number of scenarios, be that fishing a silty, perhaps choddy lakebed or one of light weed, as well hard clean areas of gravel or clay. The great thing about a Balanced Wafter is that they lend themselves to all of these situations – let me explain…

When I'm fishing over any type of bottom that could potentially engulf the hookbait or where lakebed debris is a concern I want to ensure my hookbait will sit above any of these hazards – even if the casting lead does not. Combined with a long hooklink a 'critically-balanced' wafter can achieve this perfectly. With a PVA nugget wrapped around the hook the hooklink is initially held vertical as the lead hits the bottom. The nugget dissolves and the wafter very slowly sinks under the weight of the hook – straightening out the hooklink and gently coming to rest on the lakebed.

The high level of presentation over light weed is simply awesome; what's more the same rig is just as good for clean or hard areas. Because on occasions I think the carp can be put off by a pop-up a few inches off the deck. With the fish feeding tighter to the bottom, a hookbait similarly close to the deck can be a far better match. With little in the way of debris my free baits will roll and move a little as the fish feed – with the Balanced Wafter perhaps only sat a few mill over the hook its appearance is exactly the same.

The fact that the wafter can sit above the hook is also another 'bonus' benefit, as it can hide the hook a little. We've seen time and time again on the Underwater DVD's how carp approach a hookbait, but suddenly spook and veer away at the last second. Have they seen the hook? Perhaps. All I know is anything that can help turn an aborted take into a bite has got to be a good thing.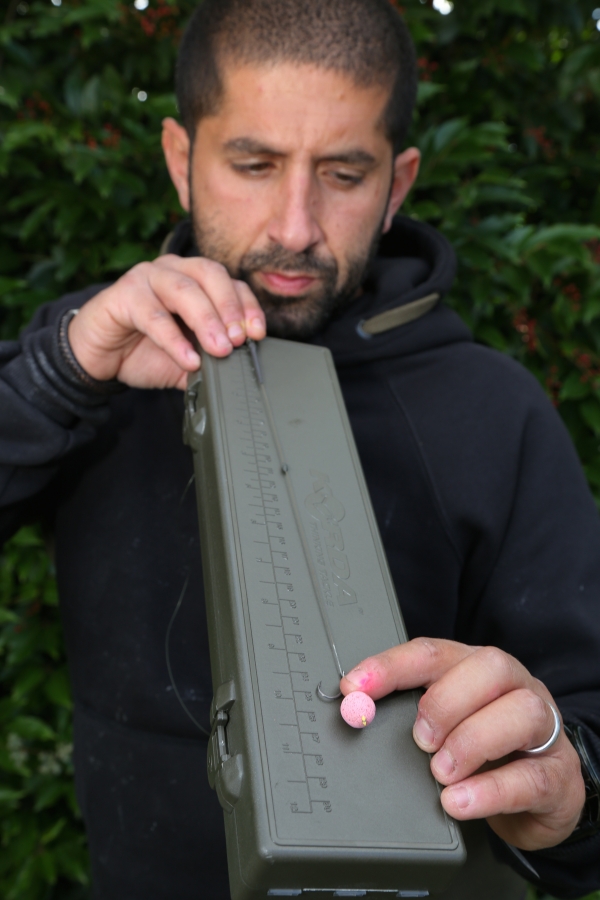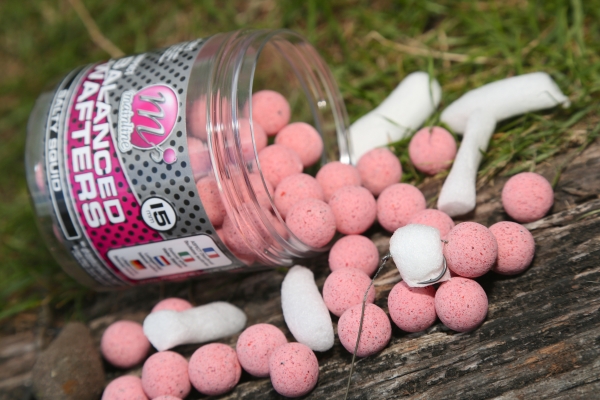 RIGS: KEEP IT SIMPLE!
Now although the principle of using a wafting hookbait could be termed as 'advanced' the rig used to present the bait certainly doesn't need to be. In fact the whole idea behind this range of baits is to provide anglers with the qualities and benefits of a balanced bait without any hassle – simply take one out of the tub and thread it onto a standard Hair rig.

As you can see the Long Hooklink Rig I'm using here is as simple as it gets, but don't be fooled into thinking that some crucial elements of sound rig mechanics aren't present. The N-Trap Semi-Stiff coated braid has just enough memory to push the rig out straight yet enough suppleness to follow the contours of the bottom. The sinker ensures the hooklink is nicely pinned down and the Krank hook is the perfect match for a Balanced Wafter. Hookbaits and hooks each purposely designed for maximum hooking potential within a simple Knotless-Knot Rig combined – it doesn't get any better than that!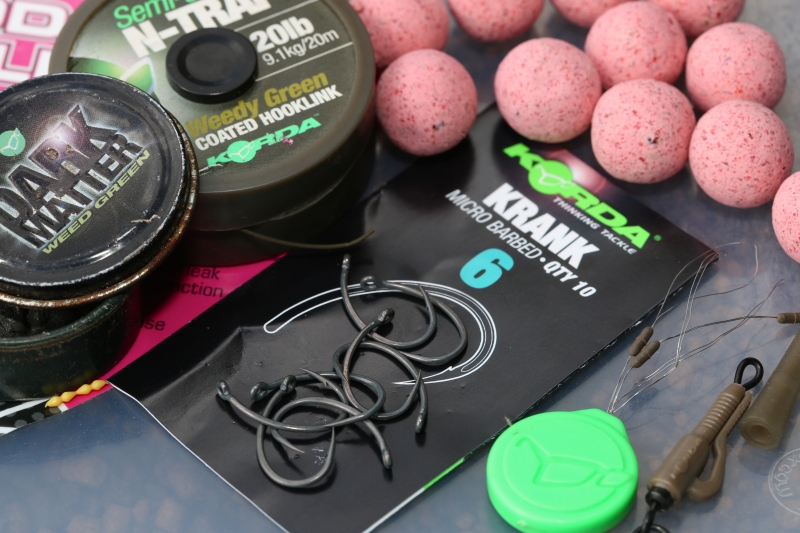 GETTING THE BALANCE RIGHT
Okay, so the rig is simple and easy to tie and you only need to buy a tub or two of Mainlines Balanced Wafters of the tackle shop shelf to fix yourself-up with this deadly approach, but there are a few important points you'll still need to follow.

Firstly, Balanced Wafters are available in three sizes 12mm, 15mm and 18mm, which as a rule of thumb match size 8, size 6 and size 4 hooks respectively. As in, a size 6 hook will contain the weight needed to sink and counter-balance a 15mm wafter. The hook will lie flat on the bottom and the hookbait will sit-up slightly just off the deck.

This is the case when I'm using the Korda range of hooks, but the weight of hooks can differ between manufactures – so it's really important that you always check the buoyancy of the hookbait by lowering the rig in the edge before casting out.

If you hook weight/wafter ratio is slightly out with your favoured hook, it's not a problem, as it's dead easy to add a little tweak to get the balance just right. One good method that works well with longish Hairs is to simply wrap a little wire taken from some leadcore around the Hair just below the hookbait. Then again check the buoyancy of the rig in the margin. You may even find it's just as easy to go up a hook size, which is something I'll do if I really want the hook to be pinned down.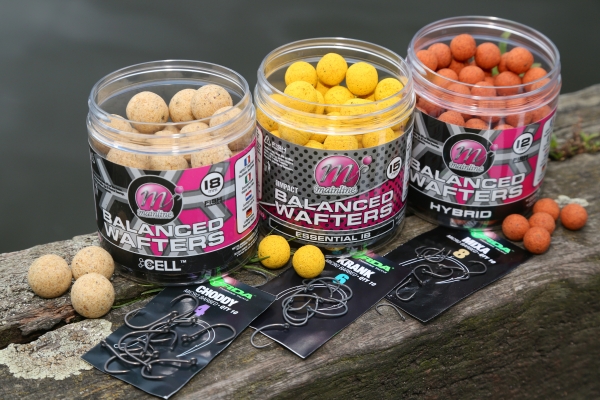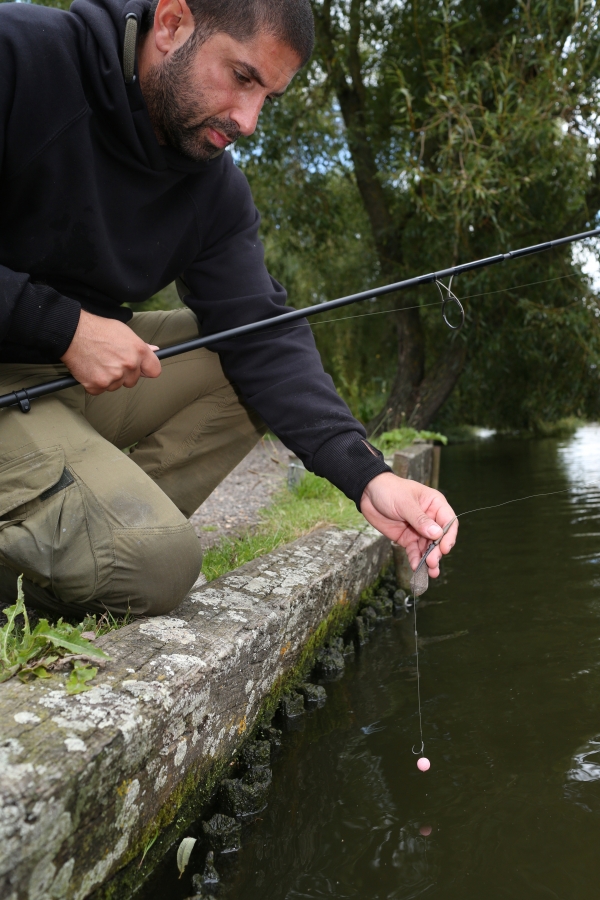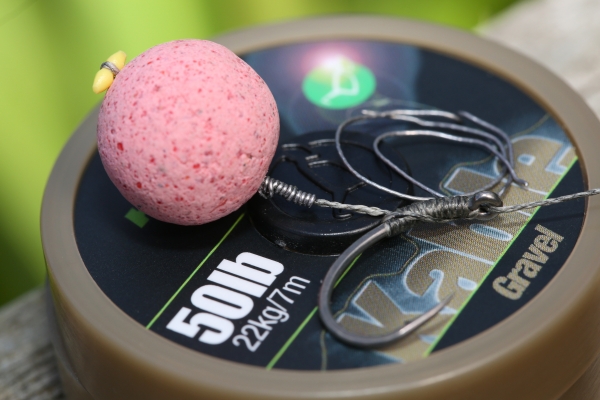 SUMMARY
I may find myself fishing a number of different venue types and fishing situations, from session to session. Big-fish waters abroad like Gigantica to some of the prolific day-ticket lakes around the UK, but certain things will remain within my approach no matter what.

Routine procedures such as checking the sharpness of my hook or casting accurately, things that help me fish well and above all with confidence. After all, it doesn't matter how easy or difficult a water may be or whether I'm fishing for one bite or several – if there is anything I can do to improve my chances it has to be included.
These Balanced Wafters from Mainline definitely fall into this category – an extra piece confidence that best of all will bring you extra bites!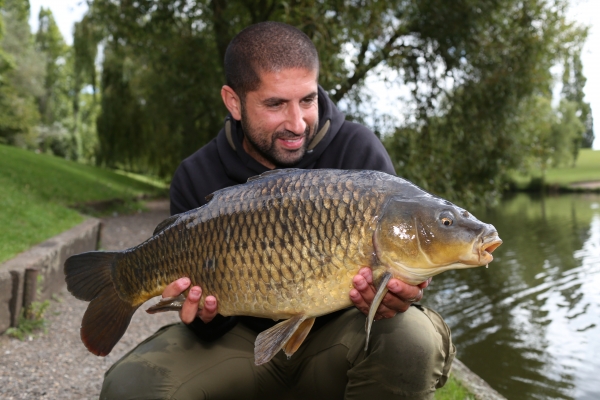 Share this article
0