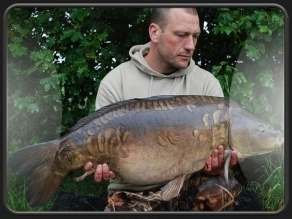 Information
Occupation:

Full Time Carp Angler (wannabe)

PB's:

UK Mirror - 64lb 5oz

UK Common - 32lb 10oz

Foreign Mirror - 0lb 0oz

Foreign Common - 0lb 0oz

Favourite Venue:

Wraysbury 1

Favourite Method:

Iím a boilie fanatic but will adapt my method accordingly.
Publicity
Have previously written for – carpology, carpworld, advanced carp and regular diary pieces in carptalk. Appeared on Carp tv. I was also privileged enough to have been asked to write a guest chapter in Mike Willmotts book, Carp Life, covering my exploits on Wraysbury.
My Bio
I got into my Carp fishing a little later in life than some, whilst in my late teens. Now at the age of 41 I feel as though carp fishing has saved me from the inevitable downward spiral, associated with growing up on the streets. Over the past twenty plus years, I've fished too many waters to mention them all but to name a few- Chipstead, Sundridge Lakes, Alders, Larkfield, Johnsons Railway Lake, Wraysbury1, Sutton at Hone, Yateley Car Park, Colne Mere, Conningbrook, Manor farm, Elstow2, Richmond Park and St Ives Lagoon. After having a phenomenal years angling, In the 2006/7 season, I was fortunate enough to win the Anglers Mail Carp cup. I'm the new kid on the block in the Mainline team, having only been using the bait for around nine months or so.
Jon McAllister's Gallery